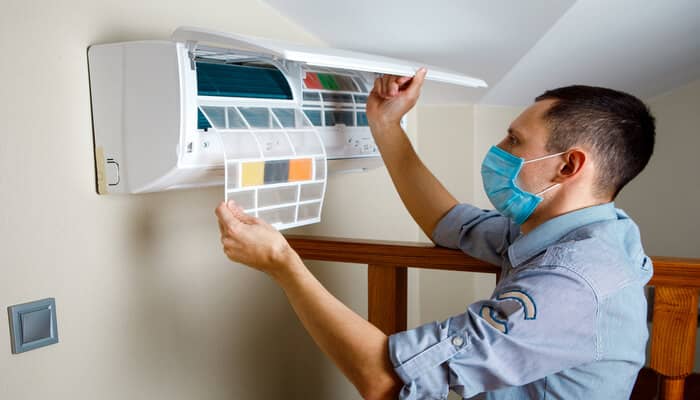 When looking for an AC repair service, there are several things to look for. Some of the most important ones are experiencing, Worker's compensation insurance, and customer satisfaction.
The following is a brief review of some of the factors to consider before hiring a repair service. It's recommended that you ask for references from previous customers or use your connections to find out what they think of the service.
Most Important things to look for in an AC repair service.
Experience
Whether you need to repair your air conditioner or install a new air conditioning system, you need to find an AC repair expert with plenty of experience. You should also check out the certifications and licenses of the AC repair experts you're considering.
Check EPA certifications for AC repair and ask whether they are members of a national trade association. If a company has membership in a national trade association, this means it regularly goes through industry training courses.
Additionally, check whether they are licensed and insured. Insurance is an important consideration because it protects you, your business, and the people who work for them.
Experience is important because even experienced contractors make mistakes sometimes, but a good company will cover these costs. If something goes wrong, a good AC repair company will offer a money-back guarantee.
Always read the fine print of any guarantee. If a contractor offers a guarantee, make sure you understand the terms and conditions of the guarantee. Having this guarantee means the contractor is confident enough to do the work.
A good AC repair contractor will be more than willing to offer you a guarantee, and they will not try to sell you a unit that is too large for your needs.
Air conditioners can break down at any time. Sometimes, they don't function correctly and you're in the middle of a peaceful night of sleep. It can be a very frustrating experience when your air conditioning system breaks down.
It can cost you more money to repair and can end up damaging other parts of your home. Luckily, there are many AC repair services that offer 24-hour emergency service. You can call a 24-hour emergency service to get your air conditioner back up and running again as quickly as possible.
When looking for an AC repair technician, experience is key. Experience means that the technician knows how to repair the problems your air conditioning system has.
You don't want to hire a technician who doesn't have enough experience and will only create problems for you. An inexperienced technician may also damage your air conditioning system or add to the costs of future repairs. A qualified technicians will keep their knowledge updated and learn new skills.
You can choose an AC repair company based on price, but make sure you're comfortable with their pricing structure. A lot of property owners don't stress about the price, so it's important to check out the AC repair experts' prices and availability.
Be sure to find someone who can come out within a time frame that works for you. This way, you can save money and time while they're working on your air conditioning system.
Worker's compensation insurance
When you're looking for AC repair companies, ask if they carry worker's compensation insurance. This type of insurance protects the company, its workers, and its clients in the event of an accident.
Injuries that result from work-related injuries or illness can be devastating. The best way to protect your business and your employees is to find an AC repair company with this type of insurance. Read on for more tips on how to choose a qualified AC repair company.
If you choose a contractor with workers' compensation insurance, you'll have peace of mind that they're a responsible businessperson and will take care of any mishaps that may occur during the course of your job.
It's also important to choose an AC repair company that carries this type of insurance because the industry is prone to injuries, including minor ones. Depending on the number of employees, this coverage may be very expensive, but it's worth it in the long run.
Workers' compensation insurance is mandatory for any HVAC company with employees. It covers injuries that employees suffer while performing their jobs and covers medical costs and lost wages during the recovery period. Premiums for workers' compensation insurance vary, and annual premiums can range anywhere from $300 to $10,000.
If you're looking for an HVAC repair company that will service both residential and commercial HVAC systems, make sure to look for one that has workers' compensation insurance.
In addition to ensuring your employees' health, it protects your business from the risk of being sued. If a worker gets hurt at work and sues the company, the insurance company will pay for their medical expenses.
It also covers ambulance transportation and diagnostic tests, as well as bills from hospitals and health practitioners. Worker's compensation insurance protects you if an employee is injured on the job.
When looking for an AC repair company, ask if they carry worker's compensation insurance. Florida law requires all businesses to carry workers' compensation insurance to protect the employees.
AC repair companies, as well as other construction-related businesses, are considered high-risk by insurers and have higher premiums. To ensure your peace of mind and protect your business, be sure to ask for a certificate of insurance from the company that provides your service.
Workers' compensation insurance is required by law for businesses with more than four employees. However, it is not required for sole proprietors or household employees. Unless you're using uninsured or under-insured workers, it's not necessary to carry this insurance. You can opt-out of it altogether if you wish. There are a few exceptions to this rule, however.