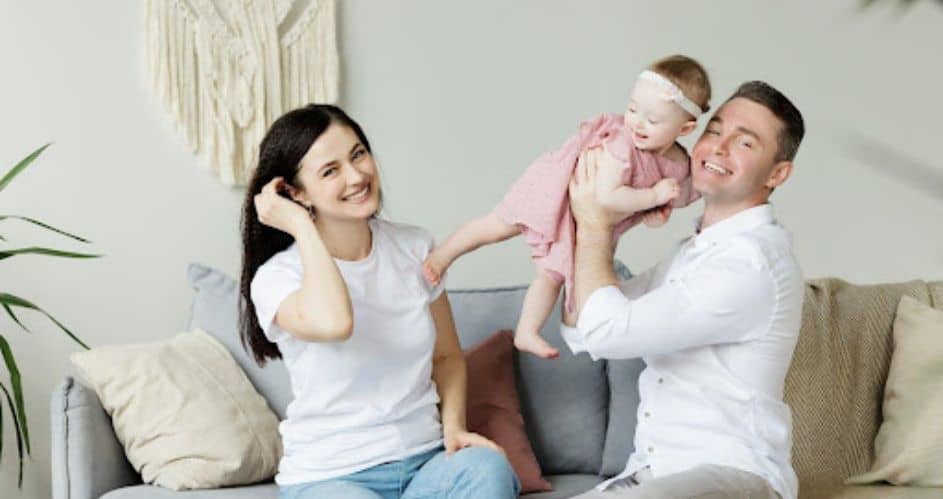 Congratulations on your newest addition to the family! Babies bring big love and cheery chaos to the house. But these little tiny toes love to explore.
You'll know when they grow from their sleeping for hours phase to the 'walking and trying to reach' phase. It's like their inquisitive little minds have set out on a mission.
So, you can't wait till their inner Dora the explorer finds you. It is time to baby-proof your home now.
Since Australia welcomes 982 babies every day, we're guessing a lot of parents need help with this. And so, we've rounded some perfect hacks that will keep your little one safe.
Safe and Secure: Baby-Proofing Your Living Space
Install safety switches
Installing safety switches can play a crucial role in ensuring the safety of babies and young children in the home.
Safety switches, also known as residual current devices (RCDs), are designed to detect and interrupt electrical currents in the event of a fault, preventing serious electrical accidents such as electrocution or fire.
In particular, safety switches can be installed on power points and electrical appliances to prevent curious babies and young children from sticking their fingers or objects into electrical sockets or equipment.
By installing safety switches from Sydney Electrical Service, parents and caregivers can have peace of mind knowing that they have taken proactive steps to safeguard their little ones from electrical hazards in the home.
Make Sure Your Smoke Alarms are Installed and Working
You might feel that a disaster, like a house fire, is too far-fetched. But statistics reveal that it's not! Annually, Australia experiences over 11,300 house fires causing more than 60 fatalities.
And the worst part is that the highest rate of occurrence is during late night and early morning hours between 9 pm and 6 am—the time when you're snug in your bed and your baby is snuggled up in their nursery.
That's why NSW's law has made smoke detectors a must-have. It doesn't matter what kind of property you live in or the age of your home.
You must have at least one smoke alarm adjacent to each sleeping area and every storey of your home.
So, install smoke detectors and maintain them. You must work with a level 2 electrician for the task. Consider hiring the best emergency electrician Sydney offers for such important electrical tasks. When it comes to protecting your baby, don't take any risks!
Cover All Electrical Outlets
Babies love sticking their tiny fingers in sockets, switches, and outlets. A natural curiosity puts them in danger of electric shocks or even electrocution.
These incidences can cause compartment syndrome, severe burns, and even death. To prevent such a horrible accident, use outlet covers or outlet caps.
These small plastic covers fit over the outlet and have a small latch or screw to keep them in place. Outlet covers are easy to install and remove.
Tamper-resistant outlet covers are the best choice for families with curious babies. These have built-in shutters that open only when a plug is inserted correctly and evenly. So, they are nearly impossible to pry open.
Secure Your Furniture & Appliances
Babies understand only one rule: if you like it, take it. So, even if you place something on your chest of drawers, thinking it's "out of reach," your little one will find a way to get it. So, you must ensure all your furniture is secure to the wall or floor.
You must have heard of straps and brackets. Those are what you need here! Baby-proofing straps ensure your furniture cannot be tipped over. On the other hand, anchoring brackets ensure they won't move from their place.
You must also watch out for appliances like the stove, microwave, and dishwasher. Use the anti-tip kits that come with these products.
However, please inform your landlord before drilling your rented property's walls. You can refer to NSW Fair Trading for any changes in tenancy laws.
Install Child Safety Locks and Gates
Although most homeowners in Australia prefer single-storey homes with an open plan, stair gates are a must if you have a two-storey house. You can install them on the top and bottom of the stairs. It'll prevent your little one from falling or crawling down the stairs.
Child safety locks are also a must-have. These keep your baby away from cupboards, drawers, and closets filled with dangerous items.
Cabinet locks are handy for the kitchen, where you store all kinds of cleaning chemicals and sharp objects. These child-safety locks are available in "push to open," "twist," and "slide" varieties.
You can even use a special kind of paint that alerts you when your little one is up to something! The good news is it's non-toxic, so you don't have to worry about your baby putting it in their mouth.
Don't Miss Out on Kitchen Safety
Seventy-five percent of Aussies prefer home-cooked meals over takeaways. So, the kitchen is usually the most used space in any Australian home. And your child will likely follow you in and out of the kitchen.
Therefore, you must pay extra attention to this room's safety. Install knob covers so your little one can't access the stove and oven. Also, place safety latches on the refrigerator and dishwasher doors.
Since stir-frying and pan-frying are the most preferred cooking style amongst Aussies, your child may be at risk of hot oil spills. So, use a stove guard designed to shield children from intense heat and splattering grease.
You must also keep hot liquids and food away from the edge of the counters. Hot water burns especially are very painful. Don't forget to use corner and edge cushions as well. They are easily available in any hardware store.
Take Measures to Ensure Baby Safety Outdoors
Do you have a balcony? If yes, make sure you secure it with a safety railing. In Australia, if your balcony is one meter or higher off the ground, you need a railing at least one meter high.
If you have a pool, you need to pay extra attention. Invest in a four-sided fence. And don't forget to install a pool gate or child-proof door.
Make sure the fence is compliant with Australian Standards for swimming pools.
You can also consider investing in a pool alarm. It'll alert you if your baby enters the pool while you are away from the backyard or busy with something else.
Also, you should regularly check your backyard for sharp objects. Remove or cover them with a protective layer so your little one doesn't get hurt.
Conclusion
Keeping your home safe while introducing a new baby is not impossible. It just takes some extra precautionary measures. Once you have child-proofed your home, you can enjoy quality time with your little one without worrying about their safety!
We recommend regularly checking all child-proofing items and updating them if needed. Your child's needs and activities will change as they grow, so you must stay ahead. Stay alert, and have a safe home!