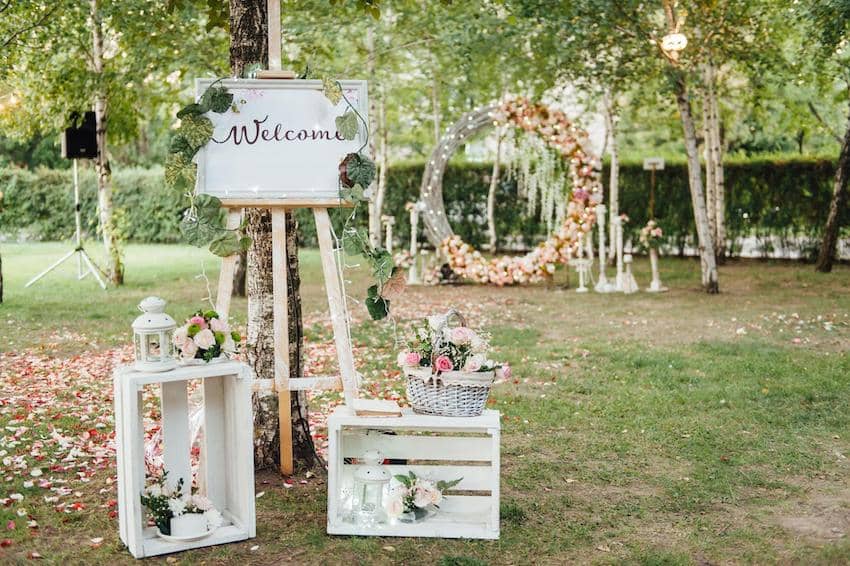 Getting married in your backyard is a cherished tradition that many people in the United States cherish. But hosting a backyard wedding doesn't just require a lot of planning – it also requires preparation of the yard itself.
In this article, we'll show you how to prepare your yard for a backyard wedding, from the ground up.
How To Transform Your Backyard Into Wedding Event
Planning Your Wedding
When planning your backyard wedding, remember to keep in mind the importance of authenticity. For example, if you choose a natural setting for your ceremony and reception, make sure to include plants and landscaping that match the environment.
And be sure to keep any decorations discreet – a blooming flower here or there is fine, but don't go overboard with wedding bells or streamers.
Choosing A Backyard Wedding Venue
If you are thinking about hosting your wedding outdoors, there are a few things to consider. First, research your local zoning laws to make sure that your chosen location is permissible.
Secondly, choose a backyard that will comfortably accommodate your guests. This also means that you can design modern wedding invites with some special details as it'll be reaching only a selected few.
And finally, be prepared for all sorts of weather conditions – including rain, wind, and hot temperatures. Here are some tips to help you prepare your yard for a backyard wedding:
• Work with a landscape architect or gardener to create a layout that is both aesthetically pleasing and practical. Consider whether you want an open or closed ceremony area, as well as where you would like the food and beverage stations located.
• Select durable outdoor furniture that can handle tough weather conditions. Choose umbrellas, chairs, and tables that can be easily removed if necessary.
• Make sure there is ample space for tents, marquees, and other staging equipment. And be sure to include provisions for lighting and sound systems.
• Keep the lawn mowed short and tidy, so guests can walk on it without getting their feet wet. Also, avoid using flower gardens or turf in your yard – these plants need lots of water during hot weather months and could cause damage if they get wet.
Deciding What To Use As Your Wedding Theme
Choosing a wedding theme can be a daunting task, but it's one that's key to ensuring your big day is perfect.
After all, what better way to celebrate your love story than by tying the knot in your very own backyard? Some useful tips for choosing the perfect backyard wedding theme are:
1. Think about the couple's personalities. What kind of vibe do you want your wedding to have?
Are you aiming for an intimate affair with just family and close friends, or are you hoping for something more festive and joyous? The bride and groom's personalities will play a big role in deciding what kind of theme to choose.
2. Consider the setting. What is your backyard like? Is it shady and private, or sunny and spacious? Do you want to feature natural elements like trees or flowers?
Or are you looking for something more manmade, like a pool or barbecue area? The setting will help dictate what kind of theme will work best.
3. Think about the couple's interests. What do they enjoy doing outdoors? If they're fans of hiking or camping, consider incorporating those activities into your wedding theme.
If they enjoy fishing or gardening, those could be great options as well. The couple's interests will help you decide what kind of theme to go with.
Like if they're adventurous and outdoorsy, a green wedding invitations design can reflect that.
4. Think about the couple's style. What does each of them prefer? Are you looking for a modern and chic theme, or something more traditional and elegant? The couple's style will help you choose the right wedding theme.
Groom's Dressing Room Preparation
If you are planning a backyard wedding, you will need to prepare your groom's dressing room. Here are some tips on how to do this:
1. Purchase or build a temporary dresser or cabinet. This will house all of the groom's clothing and accessories. Make sure the dresser is large enough to fit all of the clothes and accessories.
2. Arrange the clothes and accessories on the dresser according to color, style, and size. This will help the groom find what he needs quickly and easily.
3. Label each section of the dresser with a descriptive label, such as "suits," "shirts," "ties," and so on. This will make it easier for the groom to find what he needs when dressing for his ceremony.
4. Make sure there is ample storage space underneath the dresser for extra clothes and accessories. This will help keep everything neat and tidy during the wedding ceremony.
Bride's Dressing Room Preparation
Wedding planners are always on the lookout for ways to make their weddings as unique as possible. A backyard wedding is a perfect opportunity to get creative with your wedding planning and add some fun touches.
One way to do this is by preparing your bride's dressing room. Here are a few tips on how to prepare your bride's dressing room for a backyard wedding:
– Choose a theme for your bride's dressing room. If you have a specific idea in mind, look for ideas online or talk to your wedding planner about what would be appropriate.
– Decorate the walls with pictures of the bride and her fiancé or of happy memories from the couple's past. Have some pretty linens and pillows on hand to set the mood.
– Create a mini vanity area for the bride to put together her look before walking down the aisle. Include products that reflect her personality, such as samples of her favorite perfume or makeup products.
– If there is space, allow guests to step outside onto the Bride's Lookout Deck and take in the view while they wait for the ceremony to start.
Setting Up The Ceremony and Reception Areas
If you are planning a backyard wedding, it's important to be prepared. Here are some tips on how to set up your ceremony and reception areas.
First, plan your layout. Decide where the ceremony will take place, where the photo booth will be, and where the dance floor will be.
Then, mark out where tables and chairs will go. Finally, find an area to put down the aisle runner and decorate if desired.
Lauren Watts from usedhouseofvintage.com says When it comes to setting up for the reception, have plenty of table linens and napkins ready.
You'll also need plates, cups, and utensils. Have straws, ice cream scoops, and cake servers on hand as well. And don't forget the centerpieces! Choose flowers that can easily be dried or placed in a vase after the wedding.
Remember to have fun with your decorations! Hang flags from trees or poles outside the ceremony site, string lights around the patio or pool area, and add festive throw pillows to the furniture inside.
And of course, don't forget about the bride and groom! Dress them up in their best formal attire for photos before hitting the dance floor.
Conclusion
If you are planning a backyard wedding, there are a few things you will want to take into account beforehand. First and foremost, make sure that your yard is prepared in advance.
This means clearing any debris away, leveling the ground, and preparing any necessary infrastructure like an aisle or dance floor.
Next, plan out where all of your event dècor will go, and make sure that it is secure enough to withstand the weather conditions.
And finally, consider how many people will be attending your wedding based on response to the wedding invites and what kind of seating arrangements might work best. Once everything is finalized, relax and enjoy the preparations!