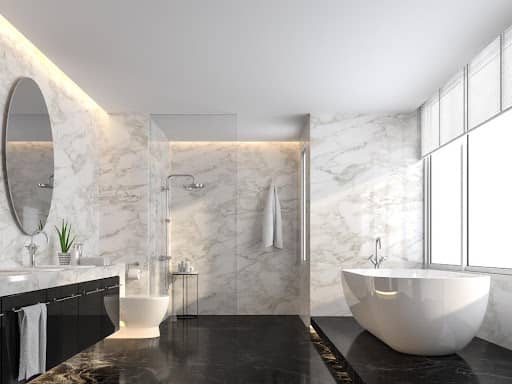 Modern bathrooms are all about style and comfort. Far from being just a place where people wash and bathe, modern bathrooms are considered a personal sanctuary where people can relax and unwind.
If you're planning to update your existing bathroom, take note of the following essential elements. These will help you create a modern and inviting spa-like environment.
Is your bathroom out-of-date?
Bathrooms that were designed and built a couple of decades ago are likely out of style in 2022. They usually have the following features:
1. A bright colour scheme
2. 12×12 square wall tiles
3. Dim lighting
4. Pedestal sinks
5. Shower curtains
6. Vinyl or linoleum flooring
If your bathroom still has these elements, it's time to give it a refreshing makeover. By making simple cosmetic changes, you can turn the 1980s bathroom into a stunning, modern space.
What makes a bathroom look modern?
1. Clean design
Modern bathrooms feature clean lines and geometric shapes. Wall edges are sharp, with mouldings omitted. Cabinets feature flat frames, smooth surfaces, and unadorned hardware.
Large-format tiles are preferred over the average 12×12 tiles in order to create a cleaner, simpler look with narrow grout lines.
In order to create visual interest, building designers typically contrast various textures or colours. For example, they combine light marble benchtops with dark cabinets.
2. Neutral colours
Contemporary bathrooms tend to go for light and neutral colours that elicit a fresh and clean feeling. These include off-white, grey, or beige.
However, feel free to use whichever colour you prefer as accent colours in order to give your space some character.
3. Modern vanities
Modern vanities feature a flat, frameless, backlit mirror. This ties in with the theme of creating a clean and uncluttered space. In contemporary spaces, vanities also feature floating cabinets to create a more open and airy feel.
4. Efficient storage
It's hard to relax in a cluttered space, so modern bathrooms often should have enough storage space for toiletries, towels, hairdryers, and more.
For smaller bathrooms, toiletries are kept in uniform boxes or containers and are stashed away on open shelves instead of bulky cabinets.
In some bathrooms, a recessed shelf is cut away to create space for soap, shampoo, and other personal care items.
5. Natural materials
Contemporary bathrooms feature natural materials like natural stone, wood, and concrete. Polished chrome is also favoured for its sleek finish.
If you're using wood, make sure to choose wood species that are water-resistant, such as:
1. Birchwood
2. Maple
3. Teak
4. Mahogany
5. Red oak
6. Lighting
Modern spa bathrooms take advantage of natural light. If your bathroom is naturally dark, consider adding clerestory windows or skylights to let in natural light without compromising your privacy.
Aside from these, modern bathrooms have simple and straightforward lighting fixtures. Built-in spotlights are preferred over exposed bulbs to create a clean ceiling line.
Do away with ornate chandeliers or other fancy lighting fixtures. If you must choose a statement piece, go with simple pendant lights, like in the example below.
7. Efficient plumbing fixtures
Plumbing fixtures like toilets and showerheads have come a long way in the past few decades. By upgrading these fixtures, you won't just make a huge difference in terms of your bathroom's design but also its functionality.
Modern toilets are more efficient when it comes to using water. If you'd like to splurge, some modern toilets also feature a built-in bidet seat, which makes cleanup a breeze.
Consider using a floating toilet to make your bathroom look more open and spacious. Meanwhile, modern showerheads are better at saving water compared to older models.
When looking for newer models, check the flow rate. If it's 2.0 gpm or below, that means that the showerhead can help you save water while showering.
8. Walk-in showers
While older bathrooms tend to have curtains, modern bathrooms feature walk-in showers.
However, be careful not to confuse walk-in showers with a traditional shower stall. Walk-in showers have at least one side open, allowing you to simply "walk-in" when you need a quick wash.
Walk-in showers are great because they promote an open and airy feel. They're also space-saving and are easy to maintain.
9. Soaking tubs
Soaking tubs are freestanding tubs that feature deeper dimensions compared to a standard bathtub. They're designed for long and comfortable baths and look amazing in a contemporary bathroom.
Unlike a standard bathtub, however, soaking tubs require more space. Aside from the tub itself, you should leave around 6 inches (15 cm) alongside the entire length of the bath as clearance. This will make the tub easier to clean and use.
If you're worried about adding a soaking tub to a small bathroom, consult a building designer. They can help you find ways to reconfigure your bathroom or find smart solutions, so you don't have to compromise on your dream space.
Give your bathroom a refreshing new look
Modern bathrooms are all about creating a calming environment where people can relax and recharge after a long day.
To create this spa-like feel, take note of the essential elements above. Keep these in mind for your next home renovation project, and you'll have a gorgeous modern bathroom in no time.