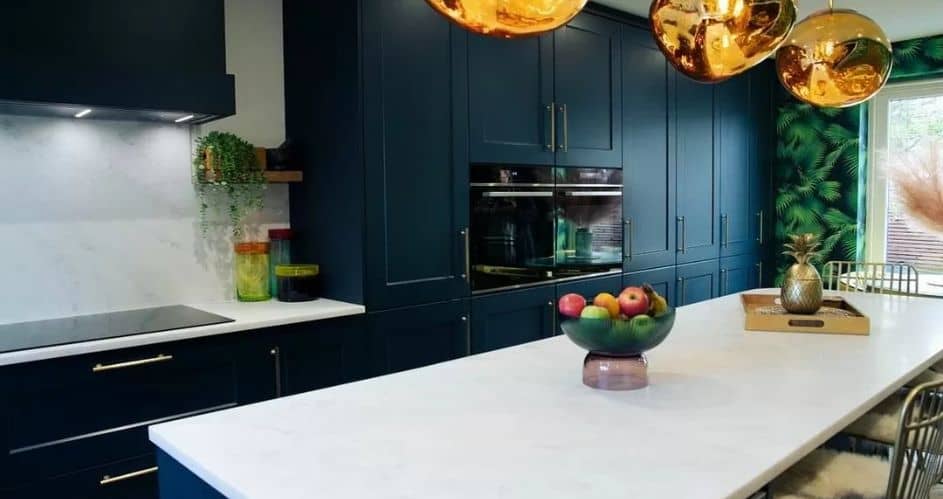 You have likely encountered the term "bespoke" while searching for a new kitchen online. This term is formerly used to describe pricey custom outfits and now refers to any good or service.
Today, almost anything can be ordered specifically for you, from wallpaper to vacations and hats to wines. How does that apply to the realm of kitchens, though?
A bespoke kitchen is one that was made with your needs in mind. It is designed to meet your requirements and precisely fit the available space.
Your bespoke kitchen will represent how you want to use the room and feel in it, from the colour of the cabinets to the appliances and lighting. The end product is a thoughtfully designed, one-of-a-kind kitchen that accommodates your needs and routines.
Finding a kitchen that is special to you and your needs can be difficult. Here are some reasons why choosing a bespoke kitchen UK approach might be ideal.
The Benefit of Bespoke Kitchen
You can design your ideal kitchen with a bespoke kitchen according to your precise requirements. A bespoke kitchen offers a variety of advantages, including improved functionality and greater space utilisation, as well as a distinctive design that expresses your personality.
Unique Design
The unique design is what distinguishes a bespoke kitchen. Each of us has a distinct personality that permeates our homes and heart—the kitchen.
You aren't just choosing from the pre-made options for a bespoke kitchen. Everything down to the precise size of a storage unit and the design of the cabinet handles is up to you to choose. By doing this, you can be sure that your kitchen will enhance the style of your house.
A generic off-the-shelf kitchen, in comparison, is built on a set of standard sizes that are unlikely to fit your space perfectly.
Additionally, there is less variety in the selection of doors, colours, and styles, so it will only sometimes fit your house. You can express your true personality on a blank canvas with a bespoke kitchen.
Adapted to Your Lifestyle
Your kitchen should complement your house and improve your way of living. You may have young children playing around and would like to involve them in the baking and cooking.
Or you may need a designated workspace in your kitchen because you work from home. Do you enjoy hosting parties? Your dinner guests will be impressed if your pantry serves as a bar. Your kitchen is undoubtedly used for more than just preparing and consuming meals.
The kitchen is now more of an interior design focal point; you should be pleased with it. Because you can design a kitchen to fit you and your daily life rather than having to work around the restrictions of a standard kitchen, getting a bespoke kitchen is the best choice.
Maximise Space
Imagine a kitchen where every square inch is used effectively, with no odd angles or corners of the wasted room. By choosing bespoke, you can deal with these issues from the start.
Your plans will be used to build bespoke units from inception that fit into the smallest spaces in your kitchen rather than trying to squeeze an existing design into your existing space.
And if you believe your area needs to be improved for a new kitchen, reconsider. You'll be amazed at how exactly custom kitchen designs can be tailored to your available space, from space-saving features to smart storage solutions.
Specialised Service and On-going Support
The specialised service that goes along with fitting a bespoke kitchen is another thing you won't find at a standard kitchen provider.
You will discuss your ideas directly with the kitchen designers rather than interacting with salespeople or store representatives. This lets you give them a detailed description of your requirements, down to the last nuance.
After hearing your ideas and grasping your unique needs, the designer may also suggest design options that you, your architect, or your builder may have yet to consider.
Once the design is complete, you can participate as much as you like in the process because it is to be as stress-free as feasible for you. You can be sure that the finished product will satisfy you because the support will be continued even after your kitchen is finished.
How Much Does a Bespoke Kitchen Cost?
Although a functional off-the-shelf kitchen is more than perfect for some people, others prefer to personalise a little more space.
If you don't intend to live in your house for an extended time, a bespoke kitchen is not the best choice because it will cost more money than a ready-made alternative.
But bespoke kitchen design is unquestionably the best option if you're building your ideal house, redesigning completely, or making changes.
A bespoke kitchen's carefully thought-out design is its most crucial component, and various kinds and price points suit every kind of budget.
Working with an experienced kitchen designer who knows how to tailor around your preferences is key if you want to accomplish something truly unique to you.
Although the phrase "bespoke" might bring up images of custom-built furniture or unique light fixtures, this is not the only meaning of the term.
Combining standard-sized cabinets with a few custom-made components will enable you to design a unique kitchen area. Refrain from disregarding bespoke because you believe it to be too costly.
Is a Bespoke Kitchen Worth It?
Investing in a custom kitchen may be the way to go if you want to increase your home's value and better use the kitchen area. A bespoke kitchen will last much longer than a budget option due to the high quality of the craftsmanship, materials, and fixtures.
A bespoke kitchen can be customised to fit into your space perfectly, enabling you to create the exact look and feel you want without compromising on function or design.
It is also more likely to be energy efficient than a standard unit; this means it's better for both the environment and your wallet.
Takeaway
A bespoke kitchen is a kitchen personalised for you. With the designer's help, you can express your desired outcome but simultaneously take the designer's advice to make your kitchen beautiful.
The bespoke kitchen has many advantages that will suit your needs, especially the service they offer after the project.