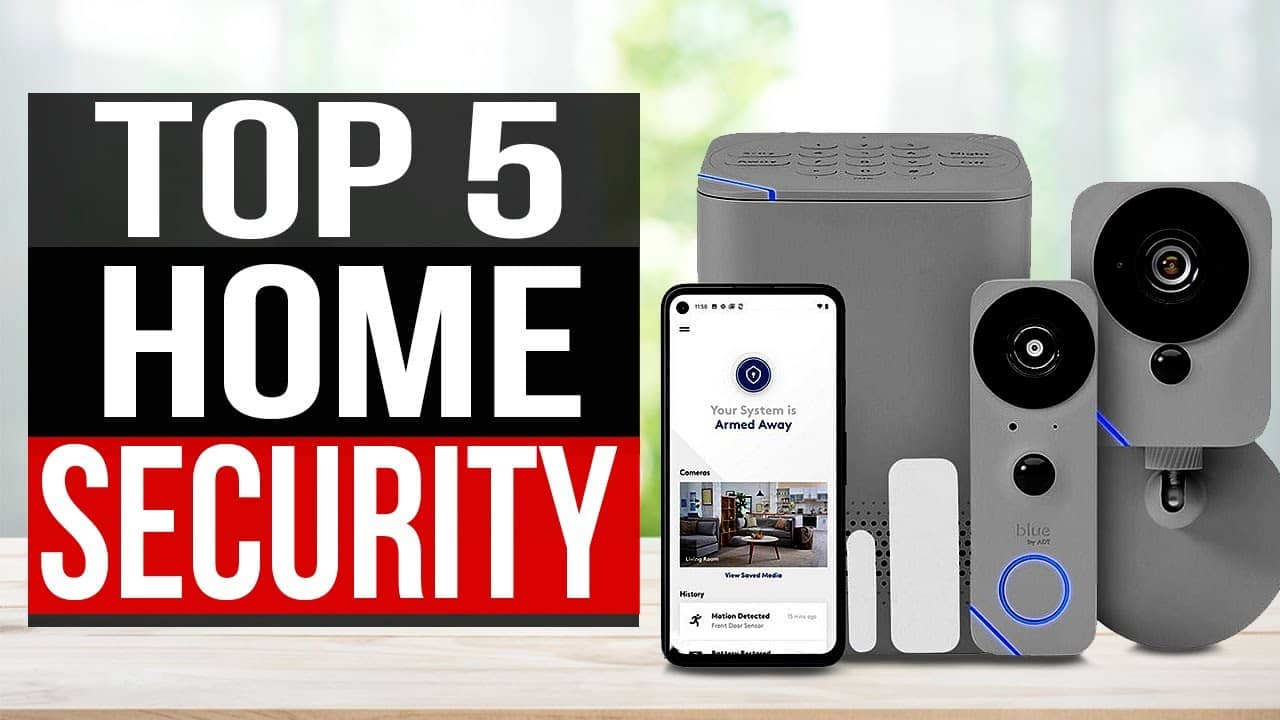 Your home is your sanctuary. You spend a lot of time there, relaxing, unwinding from the day, and making memories with the people you love most.
There's nothing worse than knowing that intruders could be hiding in the shadows, waiting to strike and destroy your  resources at any moment.
Luckily, with home security systems like those I have put together for this article, you can keep your family safe and secure in their home 24/7.
A Review of 5 Top Best Home Security Systems
Below is a list of some of the best home security systems.
Vivint
Vivint's home security system is the best overall system because:
1.It offers free installation services and a thorough walk-through of the house, so you know how everything works.
2.Vivint Smart Home stores backup recordings for up to thirty days after an event. It works with some of the best smart home assistants like Google Assistant.
3.It also integrates with Nest thermostats and Ring doorbells so that you can control all aspects of your home from one app.
4.They offer burglary coverage and protection against theft from a neighbor's house or apartment building.
However, it has some downfalls.
5.For instance, you have to sign up for a contract that lasts three or five years, depending on the plan you purchase. Some people might not like this since it means paying $29-$159 per month for many months ahead.
SimpliSafe
SimpliSafe Home Security System is perfect for anyone who wants a state-of-the-art security system but doesn't want to spend time figuring out all the intricacies. Other reasons include the following:
1.It's a DIY system that doesn't require installation or contracts and has no hidden fees.
2.You can customize your alarm with different sensors to detect motion, fire, and flood.
3.It is easy to set up a professional-grade alarm system in just minutes without having to ask an expert
4.There are multiple plans depending on what you need and how much coverage you want.
5.All plans include mobile access so you can control your system anytime.
One of the downsides include not being able to be compatible with most third party devices.
Frontpoint
Frontpoint's system offers state-of-the-art security features to help protect your home and family.
It has the following features:
1.One of the best features of the Frontpoint system is that it uses geofencing. Geofencing alerts customers if their doors or windows are opened when they're not supposed to be. It also sends notifications if a sensor detects activity on your property while you're away.
2.It also comes with an outstanding feature of Frontpoint ID Protect, which can identify potential threats by checking against watchlists and law enforcement databases.
3.There is no contract required as well, so if you need to move in the future, you won't have to worry about transferring anything.
4.The company offers video surveillance as an add-on, but it doesn't come included with any of their plans, so this could be worth looking into, depending on your needs.
However, there are some downsides. For example, you have to incur some extra cost for professional monitoring of your system.
ADT
ADT is the largest provider of home security services in the United States, with an average installation time of just one hour. ADT offers 24/7 professional monitoring, so you don't have to worry about being at home when a security breach occurs.
1.They offer many different monitoring packages designed to meet any customer's needs.
2.ADT also provides video cameras, panic buttons, and smoke detectors.
Some downsides include a lack of night vision for specific equipment and high cancellation fees.
Abode
Abode is a complete security system that uses cutting-edge technology to keep you and your home safe.
Abode is designed to be sleek, robust, reliable, and easy to use in the following ways:
1.The basic starter kit includes the Abode Gateway, which connects wirelessly with all other components for quick setup and is compatible with Amazon Echo or Alexa for voice control.
2.The package includes four cameras, motion detection zones, glass break sensors, a battery backup siren, smart locks, video doorbells, a water leak sensor, and free lifetime support.
3.Abode also has apps for iOS, Android, Apple Watch, and Windows 10 Phones, which allow you to check in on things at any time.
4.It is compatible with Zigbee and Z-Wave standards, meaning it will work with just about anything you have connected to in your house.
One common complaint is that no batteries are included, and if you don't opt for professional installation, it may take a little bit longer to get everything set up. But these seem minor problems, considering how good this product is overall!
Finally
The above security systems are all great, but it depends on one's taste and preference. Having gone through their pros and cons you are now wiser on which among them suits you best.