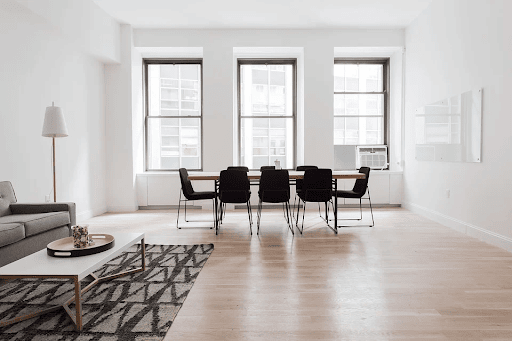 Contrary to common thinking, the Bohemian style is not just one design. Instead, it is a beautiful combination of earthy colors, textures, and creativity. Earthy washed-up colors are getting famous in fashion and interior design.
So the best way to design your home according to the latest fashion is by incorporating Bohemian arts, especially Boho rugs.
Bohemian rugs sure give value to your space by adding a natural look to an otherwise modern design. Today interior designing is all about hybrid looks of modern yet natural and earthy elements.
This article will tell you all about how to best incorporate the Boho style in your house with beautiful and trendy Bohemian rugs.
How to Select the Right Boho Rug?
A proper Bohemian Rug will not follow the path of traditional shapes, textures, and patterns. With Bohemian rugs, the best part is that you have the liberty to choose other decorations in contrasting designs and colors.
Boho rugs mostly consist of different modifications of geometric patterns with jute and crochet textures. Perfectly chosen chic and colorful boho rugs will spice up your entire space.
Start by selecting a theme, color, and general pattern you want for a particular room. Once you have narrowed down your choices, it will be easier to choose the right rug. For instance, a bare thread square-shaped rug will look great in the dining area. Or a round jute rug for the kitchen.
Consider features like size, shape, color, and pattern for every room. For example, a plush round rug will be best for the foot of the bed or beside your office chair where your feet rest.
In the guest room or dining rooms, people mostly prefer a rug that makes a statement in the guest room or dining room.
Beige, white colors with lighter patterns and round shapes complement well together for a bedroom space. While a bright, guff pattern, vibrant color, and rectangular shape will look great in the living room and kitchen.
Remember to never compromise on the quality of the rug. The pattern will not do much if the texture of the material is of low quality. It can ruin the whole look of a room.
Natural Fiber Is the Way to Go
The whole point of the Bohemian style is to give an earthy, nomadic, and nature-loving touch to a living space. So to achieve that, you need to choose natural fibers and hand-woven rugs instead of synthetic ones.
Prefer jute, sisal, hemp, bamboo, and seagrass over polyester or other synthetic fibers. Hand-woven rugs also look great in layering.
For example, you can layer a threadbare seagrass rug with brightly colored plush rugs of different patterns and shapes. Seagrass rugs are great as a base rug in layering.
Layering the Bohemian Rugs
Layering is a crucial design technique to brighten up any space. It works with furniture as well as with rugs. It is about piling up different pieces of rugs over each other for a more stylish look.
When it comes to layering rugs of the same shape, you can use different textures, sizes, and colors. For example, a bright, large rectangular base rug can be layered with smaller rugs.
The top rug can be in softer textures supporting lighter colors which bring out the colors of base rugs.
You can also choose similar colors for rugs and room curtains to give an instant lively look to the space.
Add a Statement Piece
A statement piece is the center of attention and sophistication – a prominent piece mostly used in dining or living rooms. You can build the whole room around a statement piece of Bohemian rug. Now it is up to you to place it on the floor or use it as wall art.
The statement piece must be sharp and symmetrical like rectangular, triangular, or squared. The best part of the Bohemian design is its variety of patterns and colors.
You can pair furniture and curtains with any of the color shades used in the rug design.
You can add up some plants and dreamcatchers in the room to complete the Bohemian look. This kind of design will be eye-catching and attractive.
Boho Rugs to Make a Boho House
The bottom line is that if you want to give your home a natural, nomadic look, incorporating Boho rugs is the best way to do it.
The layering technique helps bring out the colors and patterns of multiple rugs. At the same time, a statement piece area rug is the most sophisticated way to style with Bohemian design.
But before everything else, make sure that the material is made of a natural fiber of durable quality.
When designing the house, you can never go wrong with a hand-woven, natural fibered Bohemian rug.