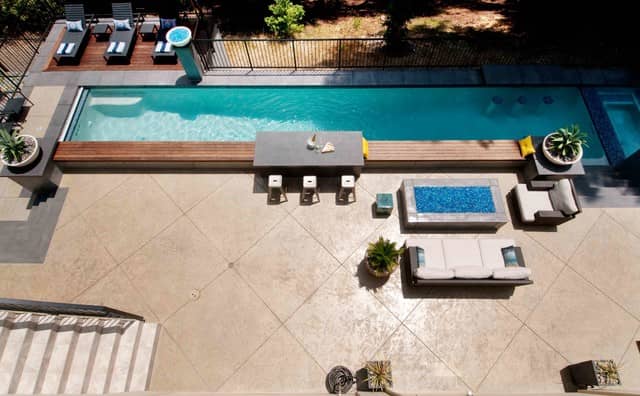 Pool decks are one of the most important parts of your new pool. They can make or break the overall look and feel of your swimming pool. They're also the perfect place for entertaining friends and family members.
If you're thinking about building a new outdoor deck, there are several different options available to choose from when designing it.
The right type of material will depend on what kind of style you want for your swimming pool; concrete versus wood? Concrete versus composite? Or perhaps mixed materials like stone or tile with epoxy paint?
This article can help you make that decision. So, read on.
Different materials for pool deck
Concrete pool deck
Concrete is a popular material for melbourne pools decks because it's durable, easy to clean and maintain, inexpensive to install and looks great.
The main benefits of concrete over wood include:
Durability –
Pool decks can last for decades if properly maintained. Concrete will not rot like wood does over time or warp under extreme heat or cold like cedar shakes do in wintertime climates.
This makes them much more resistant to weather conditions that would damage other types of construction materials.
Easy Cleaning –
Since concrete doesn't absorb water like porous materials do, such as timber shakes, then there won't be any problems keeping everything nice looking.
Wood pool deck
Wood is a natural material that can be made to look like any other. It's durable, which means you won't have to worry about replacing it after a few years, and it gives your deck a timeless appearance.
Investing in sustainable wood decks is a wise choice for areas exposed to direct sunlight. These decks absorb heat from the sun, preventing it from reflecting back into your swimming pool or hot tub area, making it more comfortable for you to enjoy.
Composite pool deck
Composite decking is a mixture of plastic, wood and other materials. It can be made from recycled materials, and therefore, it is an eco-friendly choice.
It has been used in the construction of pool decks for many years now. But, there have been some improvements that make this type of material even better than ever before.
The main difference between composite decking and natural wood is that the former doesn't require any maintenance at all.
This means that you don't have to worry about stains or scratches on your pool deck anymore. Composite decking also lasts longer than any other type of material, so you won't have to replace it as often either.
Stone pool deck
Stone is a natural material that has been used for thousands of years. It's a very durable and versatile material, which makes it an excellent choice for building swimming pool decks.
Stone can be used to create a wide range of different designs and styles, so you can find the perfect look for your home's exterior. Stone pools are especially popular in warm climates, where they offer both aesthetic appeal and functionality.
They also provide protection from harsh weather conditions such as rain or snowfall during winter months.
Tile pool deck
Tile pool decks are a popular choice for people who want to make a statement. They are also very durable, easy to maintain and can be expensive.
Tile pool decking is an option if you have limited space or want the look of stone without having to pay for it.
Tile flooring is very easy to install if you're comfortable working with concrete or stone.
Pool deck trends
Pool deck trends are evolving to include more natural materials, like wood and stone. The use of glass and transparent materials is also increasing.
Metal grills are becoming more popular, as well as water features that can be integrated into the decking design.
Landscaping is another trend that you may want to consider when designing your pool deck. Here are some of the most popular trends that you need to look out for:
Minimalist Designs
Minimalist designs are simple and clean. They're often less expensive than other styles, but they can also be custom-made to fit your needs. If you have a small space, minimalist decks can be the perfect solution for you!
The best part about these types of pool decks is that they can be customized to fit any style of home or backyard retreat—from classic to contemporary and everything in between.
Dedicated tanning areas
If you are looking for a way to get a tan without going outside, a dedicated tanning area is the perfect solution. You can have it on your pool deck or in the backyard.
It could be as small as an empty space next to your swimming pool and/or hot tub. However, if you want more privacy, then consider having separate rooms with doors that connect them together so they are more private.
Multipurpose space
The pool deck is a multipurpose space that can be used for lounging by the pool, family meals, and parties. It also can be used for other activities like barbecues and entertaining guests.
For this, the area around your swimming pool needs to be stable enough so that you don't have issues with uneven surfaces or shifting footing.
If you have a small backyard or apartment complex, then this might not be an issue because there will not be any other structures around it either.
Transparent Enclosure
A transparent enclosure is a great way to protect your pool deck from the elements while also providing it with privacy.
They can also be used to create a private space for entertaining friends and family. The enclosure should be at least 2 metres high so that it doesn't interfere with the overall look of your pool deck.
There are many different types of enclosures available: glass, acrylic or polycarbonate (plastic). If you plan on using one of these materials for your swimming pool deck, then you should choose one that offers UV protection. It should also be shatterproof and impact resistant.
This will ensure that there's no damage done when accidents happen around them.
Mix materials
Mixing materials around a pool is a great way to add interest and texture to the deck. There are many different ways you can do this, including using different types of tiles or stones, adding bricks or other materials, or even mixing colours.
Conclusion
In conclusion, there are many options to choose from when designing a pool deck.
If you want something that looks good and is built properly, consider getting quotes from several different contractors. This will help you make a decision on what type of decking material you'd like.