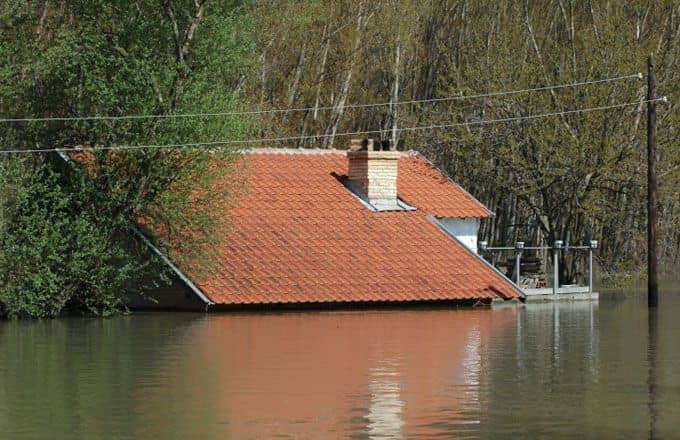 Building a home, remodeling a home, or adding on a new structure is a time-consuming and expensive process. It involves deciding a budget, choosing the property lot, selecting the house, or remodeling plan, hiring your team, and negotiating a contract.
You've done all the work, and construction has begun, and then a flood! Do you need flood insurance to protect your investment during construction?
Flooding Can be Devastating
Flooding is becoming more commonplace thanks to climate change, but it can also occur due to broken pipes during an excavation. Water damage can occur but when considering the type of flood insurance coverage you may need, it's important to be on the same page with what is the definition of "flooding".
Defining where water comes from and how it arrives at a construction site can make all the difference in terms of eventual reimbursement.
Flooding can occur for multiple reasons including
1.Movement of the earth as in the creation of your building's foundation leading to pipe breakage.
2.Plumbing when pipes or utilities are not up to code including drainage blockage
3.Mudslides or dam failures
4.Rain that is wind-driven especially if it occurs before the roofing is installed
5.Rising water levels or storm surge
Some types of flooding may be covered by NFIP-National Flood Insurance Program policies.
Does Homeowners Insurance Cover Flood Damage?
Homeowner insurance policies do not generally cover flooding. Flood damage usually requires a separate policy. Because flooding may be considered a natural, unpreventable event, many insurance policies will not cover it and you will need supplemental insurance coverage.
Excessive rains, snow, or systemic failures can all be causes. It is often regarded as a major event or due to superior causes that cannot be prevented by humans. Flood insurance policies are available for both commercial and residential properties.
Does Flood Insurance Cover Construction Sites?
You can get a flood insurance policy if your home is under construction. Insurance coverage will cover the site during construction and possibly for as many as 90 days after it has ceased. NFIP policies can insure buildings in construction before they have been roofed and walled.
What Does Flood Insurance Usually Cover for Homes or Buildings in Construction?
This kind of policy covers property in terms of losses or damage due to flooding. It should cover all materials and supplies necessary for construction if they are kept in a completely enclosed structure or building at the construction site or in an adjacent location.
What Is Not Covered?
If your building construction's lowest floor is below the SFHA-Special Flood Hazard Area base flood elevation and is not walled and roofed, NFIP coverage will not be applied.
Properties in construction that do not have roofs and walls will also not be covered if construction is interrupted for more than 90 days.
There are various special considerations that you need to evaluate when considering if an NFIP policy is a good choice for your situation.
These may include elevated structures, walls and roofs, basements, and co-owned properties, so you will need to verify that an NFIP policy is the best choice for your specific construction project.
Is It Expensive?
It can be depending on where your property is. Costs are related to NFIP flood zones, so location is a major component in determining how much you'll have to pay.
Is There an Alternative?
There may be. A Builder's Risk Insurance policy or "course of construction insurance" will usually cover equipment, materials, and unfinished structures still in construction.
When stipulating a builder's risk policy, you will need to specify flood damage and require the insurance provider to specify exactly what they will and will not cover, and there may be quite a few situations that they will not cover.
You may be able to protect yourself better if you purchase a comprehensive builder's risk policy because it should cover the entire period of the build and reimburse any lost value of your construction project as well as comply with state and municipal regulations.
When considering this type of policy, pay attention to details regarding
1.Site Coverage
Flood losses to materials and any existing structures
2.Soft Costs
If flooding causes additional expenses such as bank interest on loans, permits, or even taxes due to damage, destruction, and delay.
3.Legal Regulations
Ordinance and law insurance will cover repairs necessary to plumbing or electrical systems in existing structures in the event you are adding a new building to an existing structure.
4.Cleaning Up the Site
If your construction site has been flooded, it will probably need to be dried out before construction can resume. This might include pumping water out of a newly laid basement or replacing and disposing of rusted or ruined materials already in place.
Protect Your Property and Your Investment
Whatever choice you make, protecting your financial investment is worth the extra cost that insurance can provide.
Take the time to research your options and sound out your builder, financial institution, and your insurance provider to find the best option for protecting your home under construction.