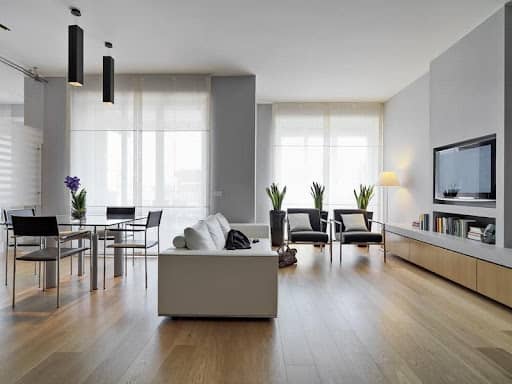 There have been significant changes when it comes to furnishing the house as there are various unique options available in the market today. With so many choices, one can get confused with choosing the right one. Especially, when it comes to the flooring, there are multiple and beautiful flooring options available.
But the one which is being the most convenient and cost saving for the time being, is the engineered timber flooring. This not only adds glamour but cost-effectiveness in your housing choices as well.
Here Are Some Ideas About Engineered Timber Flooring.
1. Engineered timber flooring will not be affected by any weather as it adjusts according to moisture and temperature, unlike hardware flooring.
There is no reason to waste tons of money in taking care of the flooring as it is low maintenance which is why there are many who have started putting this flooring as it is cost-effective.
2. Flooring work means that people who live in the house must shift away for many months to complete the work, but with this flooring, it is much easier as the work will be done faster. There is no need to shift out of place for a longer time when it is easier to install, and it is quite stress free for the people living there.
3. When opposed to purchasing the service online, there are no restrictions on the amount of money saved. Customers will save money while having their flooring professionally installed. All that is required is to make a reservation and relax while the company does the rest.
4. If you need these services quickly, the best alternative is to use websites that allow users to perform activities with only a few mouse clicks. They have photos on their website that may be utilized to see what kind of improvements the company offers and whether they wish to take on the job.
5. There is a plethora of choices that come with getting the flooring done which can fit the needs of every customer. There are multiple styles and colors that one can go with which is why many have shifted from regular flooring to these, as they are much more efficient.
6. It is a lifelong investment as there is no need to change it after a few months. It is here to stay, which makes it more reliable as these floors are built to make it last longer than compared to anything else.
7. If one of the planks get damaged over time, you do not need to change the entire flooring. Well, if you be a little wise and keep a box of extra planks in the house, the problem can be solved. Just take the damaged plank out using the click-lock system and put the new plank of the same design. This is the most convenient way.
8. This type of flooring goes a very long way with a little bit of maintenance. In fact, if you have children and pets at home, you can still use the engineered timber flooring.
9. If you are one of those people who like natural finish, then it is the ultimate choice. Timber flooring will provide the natural wood finish that you have always craved for that too in a cost-effective manner.
10. One can get in touch with the service provider to discuss when the work will be done to be surer about the service. One can check out the site to learn more in detail about how the work is done and talk to customer care to get rid of any doubts in just a click.