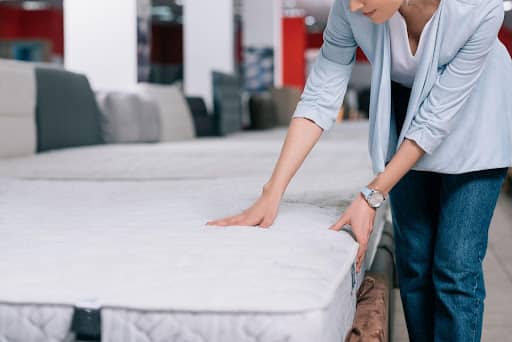 Are you looking for a mattress? Check out the guide & choose the right mattresses of your choice of types & material. Also check what to consider before buying.
When buying a mattress, there are so many factors to consider that it can be overwhelming, especially if you're in the market for the first time. How do you know which mattress to buy?
What questions should you ask? Which retailers offer the best deals? This comprehensive guide will walk you through each process step, from evaluating your sleeping habits and personal preferences to finding reliable online resources to get the best price on your dream mattress.
Understanding Different Types of Mattresses
There are several different types of mattresses, and it's important to understand each type. If you're ready to dive in, there are five main categories of mattresses: Innerspring, Foam/Latex, Hybrid (Innerspring/Foam), Airbed, and Waterbed.
Innerspring mattress: An innerspring mattress comprises hundreds or thousands of coil springs that support and prevent sagging. These mattresses typically last longer than other types but are usually more expensive and heavier
Know What Materials Are Used In Manufacturing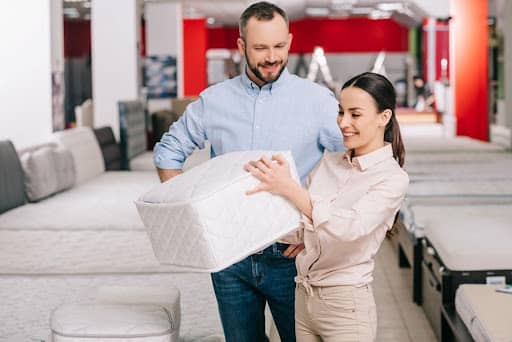 One of your first considerations should be what materials will be used in manufacturing your mattress. Consider memory foam or latex if you're interested in a natural option.
Latex is made from sustainable rubber trees, while memory foam is made by chemically heating synthetic rubbers and oils. Both options are excellent if you want a clean, organic mattress that will last for years.
On top of being environmentally friendly, both materials provide pressure relief and great support for chronic pain sufferers and sleepers who want a little more cushioning under their bodies.
Memory foam is slightly denser than latex, but it still offers great support for pressure points, making it perfect for stomach sleepers and anyone who experiences back problems or soreness after long periods on their backsides.
Buy Online or In-Store?
In recent years, shopping for a mattress online has become increasingly popular because it provides consumers better access to lower prices. You might be unsure where to buy mattresses online, but it's rather simple.
Plus, there's no pressure of having to settle for something you don't like. However, in-store purchases give consumers some unique advantages.
Many stores allow you to exchange your mattress if unsatisfied within a certain period—sometimes as short as a week.
Purchasing online is usually cheaper per night but has less room for flexibility if you aren't satisfied with your purchase. It all comes down to what is most important to you: Price or flexibility?
Considerations When Shopping For a New Mattress
When shopping for a new mattress, consider your sleeping style, sleep environment, budget, and comfort preferences.
For those who sleep on their side or stomach:
A bed that's too soft may cause you to sink in too far and put unnecessary pressure on your spine or hip joints. You might also feel pain when turning over during the night due to limited support from the firmer portion of the mattress.
On the other hand, if you're a back sleeper: A firm mattress will relieve any pressure points in your neck and shoulders without putting excess wear and tear on your spinal discs.
When looking for a comfortable slumbering environment:
Make sure all walls surrounding your bed are soundproofed since noise can disturb both short-term (during Early Phase Awakenings) and long-term (deep Stage Sleep) restorative cycles – even if it's only light snoring!
Also, consider any appliances nearby like washers & dryers or televisions; some people experience insomnia when these sounds cannot escape easily enough through closed doors/windows.
Finally, remember that no matter what type of mattress you choose, "a good night's sleep is worth its weight in gold.
How to Choose the Right Size, Level Of Firmness, And Type For Your Body
There are a lot of factors to consider when choosing the right mattress, including your sleeping style (memory foam vs. coil), body type (one person may need more innerspring support while another might do better with a latex bed), and weight.
You also want to ensure that you're comfortable with the firmness and type of material used in the mattress.
Here is a guide on how to choose the perfect mattress for you:
First, take into account your sleeping style. If you tend to move around a lot during sleep, memory foam is probably not for you because it's designed to be bouncy and supportive.
Instead, try out self-inflation mattresses or hybrids that combine memory foam and other materials like latex or innerspring coils.
Next, think about your body type. Some people have trouble getting proper rest if their joints are too stiff, so they might prefer beds made from softer materials like cotton or woolen blend comforters.
Shop at the Right Time, During The Best Season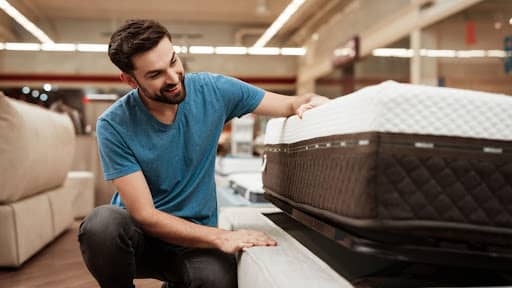 When it comes to mattresses, you have some serious choices. First, know that a good night's sleep is priceless. But if you're shopping for a mattress, chances are you can afford to splurge on something great.
Lucky for you, there's no one-size-fits-all approach to getting a good night's rest—you need to choose your mattress based on personal preferences and sleeping habits.
But before heading out to any big box stores or specialty shops, take some time to consider what type of sleeper you are and what kind of mattress will best suit your needs.
How Do I Know Which Brand Is Best?
It can be difficult to know which brand of mattress is best for you, as various options are available on the market. To help make your decision easier, consider factors such as price, comfort level, and durability. Additionally, it can be helpful to read customer reviews before purchasing.
Price is a major factor when choosing a mattress – the higher the price tag, the better quality you will likely receive. However, don't let this dictate your decision; sometimes, lower-priced mattresses offer comparable levels of comfort and support.
Another thing to remember is whether or not you need special features like orthopedic foam or an adjustable bed frame.
And finally, remember that mattresses should last between 6 and 12 months depending on how often you use them – so buy what feels most comfortable first!
How Much Should I Spend On My New Mattress?
It can be tricky to figure out the right price point for a new mattress, but by following these simple tips, you can get started. First, try to estimate how much it will cost to replace your existing bed with a new one.
This will give you a ballpark range in which you can compare different brands and models. Next, research which mattress is best suited for your needs and budget.
There are many options available on the market today, so read product reviews and look at customer ratings before making your purchase.
Once you have decided on a particular model or brand, try searching online retailers to avoid wasting time shopping around in stores later on when it's already too late!
And lastly, don't forget about warranty coverage; this way, there is no need to worry about anything going wrong during the installation process or after buying the mattresses. Following these simple guidelines, buying a new mattress should be easy and stress-free!
Conclusion
Finally, once you know how you will pay for a mattress and how it will be delivered to your home, it's time to begin narrowing down your mattress options.
If you prefer softer or thicker mattresses, that will also narrow your search. Be sure not to skimp on comfort and quality if you want a bed that will keep you comfy for years!