When you have children, almost every space in the house goes through reconsideration and reorganization to make it more kid-friendly. So, why would the kitchen be left behind?
After all, the kids have free access to your kitchen, and not rethinking your previous way of keeping things will cause more trouble than you think.
Imagine being called every time your kids feel thirsty. Think of hearing the glasses break while you had just settled down to take a break after work.
Or maybe, those packets of snacks keep getting wiped clean before you know it. You can prevent all of these instances by simply reorganizing your kitchen in a kid-friendly manner.
Here are a handful of 6 tips to guide you.
1. Portioning and Labeling Snacks
One of the most valuable lessons that kids need to learn early on is portion control: eat it all in smaller quantities. Instead of leaving family-sized packets of popcorn and pretzels near at hand, repackage their favorite snacks in reusable containers or zip-top bags.
This is one of the most straightforward manners to control the portion for snack time, and you'll even save money this way.
Here are a few healthy and easy-to-portion snacks that you can keep near at their hand:
1. Fast food alternatives like homemade trail mix, freeze-dried fruits, and whole-grain granola bars
2. String cheese, veggie sticks, and frozen yogurt bites
3. Homemade popsicles and bags of cut fruit
In fact, why don't you let the kids join you in making portions for the next week? All of you can have a fun time doing this activity, and you can talk to them about portion control.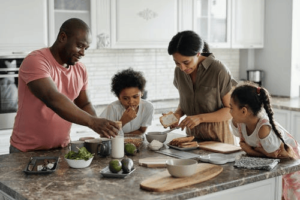 2. A Dedicated Shelf Space for Kids
You would want to show your kids that the kitchen is their space, as well. Think of it as the first step towards encouraging them to cook and serve themselves: an essential step in being independent.
So, when organizing your kitchen shelves, keep your favorite whiskey glass set at the top shelf where they are safe. You need not worry about the kids breaking glass while reaching out for the pretzels.
Keep the snacks within easy reach on a particular shelf that is meant for the kids. Create such a space in the freezer, fridge, and pantry.
You learned about the significance of carefully portioning snacks. Now, it's time to keep the snacks at eye level for their reach.
It will prevent not only distraction and confusion but also endless munching on snacks. After all, you would never want the snacks to outsize and overshadow the meals, right?
3. Organizing the Glasses like a Pro
Here's a small hack that you can use to keep glasses within their reach. Stick small magnets at the back of the glasses and stick those glasses to the refrigerator.
So, the kids will always have a glass within their reach when they need it. However, strictly instruct them never to stick a full glass back on the door after they finish sipping.
Do you have more than one little one running around the house? Then there is another trick you can try. Instead of letting your kids' thirst rule your life, hang different colored cups near the water dispenser.
This way, the kids will always grab their dedicated glass without the need to call you time and again. In the same way, you can also color code and organize the plates and spoons for them.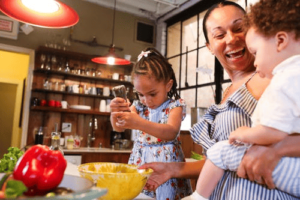 4. Let the Kids Find Their Bowls
Parenting is a full-time job, and getting even one extra hour of sleep in the morning feels like a blessing. There is a way you can achieve that!
Put single servings of cereal in a kitchen drawer and a milk dispenser in the fridge. Show your kids how to arrange for their morning cereal without waking them up.
So, on a Saturday morning, they will watch cartoons and have their cereals while you get to catch up on some sleep.
Furthermore, if all the cereal bowls are in the low drawer, your kids can be in charge of unloading these goods while you are busy unpacking the dishwasher. Besides, it will also mean they will know where their favorite cereal bowl is on that Saturday morning.
5. Equip the Kids for Their Cooking Success
Learning to cook is one of the first steps to being independent, and organizing your kitchen right is also an excellent way to help your kids learn about that. You can stock your drawer with kid-sized cooking tools found in the market.
You will find kid-friendly tools for veggie prep, cookie cutters, and more. Create a particular area for the equipment and utensils used by the kids. It will get the kids more interested in trying their hand at helping you in the kitchen.
While creating a kid-friendly kitchen, taking care of their safety is of utmost importance. Thus, keep a sturdy two-step stool in the corner that will help your kids reach out to the basin for washing dishes or while cooking.
This way, they will not try to drag them from the living room or other areas and cause an accident. You will find plenty of such quality stools in the market that is inexpensive and do not skid on your kitchen floor.
6. Maintain a Healthy & Good Environment
A safe and clean kitchen is one of the important steps towards a healthy and friendly kitchen for kids. A clean kitchen with good air quality will help your reduce risks related to indoor pollutants such as fungi, bacteria, dusts mites and other pathogens.
A clean and healthy air quality not only ensures safety but also makes you work with great enthusiasm. It is therefore advisable to regularly check your utensils and AC ducts for any leakage, a proper AC vent and condensate pumps ensures that the air quality flowing in your kitchen is not only pure but also healthy.
Endnote
As you can see, turning your kitchen into a kid-friendly space is not so much hard work as you would think. So, keep the tips shared above in mind when you start reshuffling your kitchen. Life with kids will get at least somewhat easier with these hacks.