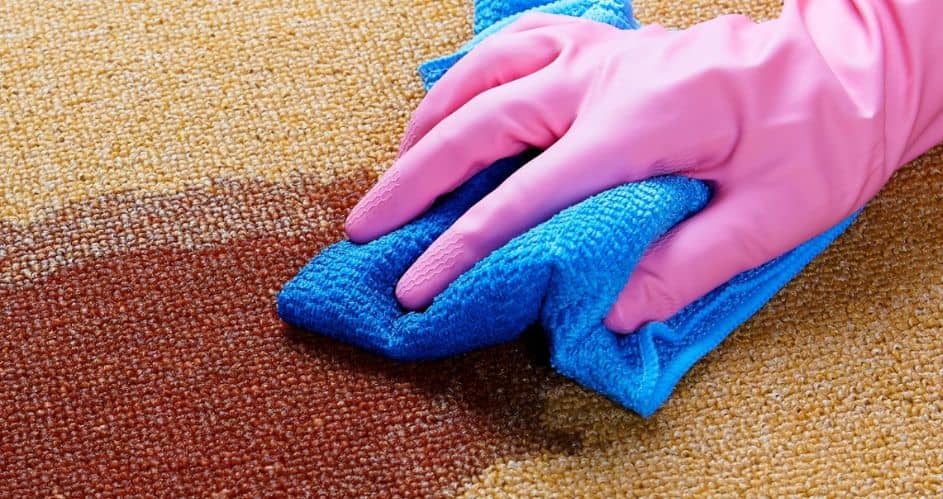 From a grape juice spill that transformed into modern art to the "Oops! I thought it was my coffee cup" incident, our journey through the world of carpet cleaning has been quite an adventure.
Today, we're sharing some hilarious tales of bizarre carpet stains, along with tips on how to tackle them at home (although we're always here to help!).
1. The Unexpected Red Wine Waterfall:
Imagine a cozy evening turned into a comedy of errors with a bottle of red wine taking a tumble and creating a waterfall effect on the carpet. We've seen it happen, and the result was quite the spectacle.
Fear not, though – we've got your back! To remove red wine stains, blot the area to absorb as much as possible. Then, apply a mixture of hydrogen peroxide and dishwashing liquid (one part each) and gently blot. Rinse and admire your newfound carpet wizardry.
2. The "Oops, Not My Cup!" Coffee Stain:
One morning, a customer mistook their shoe for their coffee cup and left a brown footprint across their cream-colored carpet. To avoid similar mix-ups, always double-check your beverage container.
To remove the stain, mix one tablespoon of baking soda with one teaspoon of water to form a paste. Apply, let it dry, and then vacuum.
3. The Chocolate Fountain Mishap:
At a child's birthday party, a chocolate fountain took a tumble, leaving a chocolatey mess on the carpet. The good news is that chocolate stains are manageable. Scrape off the excess chocolate, then blot with a mixture of one tablespoon of dishwashing liquid and two cups of warm water. Rinse and blot dry.
4. The Mystery Goo:
One customer encountered a mysterious gooey substance that had them stumped. Our advice: When in doubt, start with a gentle approach. Mix one part vinegar with two parts water, apply to the stain, and blot gently. If it persists, give us a call. Sometimes, it takes professional expertise to solve the mystery.
5. The Slime Saga:
Slime, that sticky, stretchy concoction, often finds its way onto carpets. First, remove any excess slime, then apply a solution of equal parts white vinegar and water. Let it sit for a few minutes before gently blotting and rinsing. Slime may be a carpet's nemesis, but it's no match for our professional cleaning machines.
Why Choose National Rug Cleaners?
While DIY solutions can be fun and effective for minor stains, there's nothing quite like the thorough cleaning we provide at National Rug Cleaners. Our professional machines and expert technicians ensure that even the strangest, most stubborn stains are eradicated, leaving your carpets fresh and spotless.
Conclusion:
At National Rug Cleaners, we've seen the quirkiest carpet stains, and we're always up for a good cleaning challenge. While DIY stain removal can be entertaining, our professional carpet cleaning services are second to none.
Whether you're dealing with grape juice art, a coffee footprint, or a red wine waterfall, count on us to make your carpets look as good as new. Remember, for those tough stains, we're just a click away at nationalrugscleaners.com, ready to restore your carpets to their pristine glory.