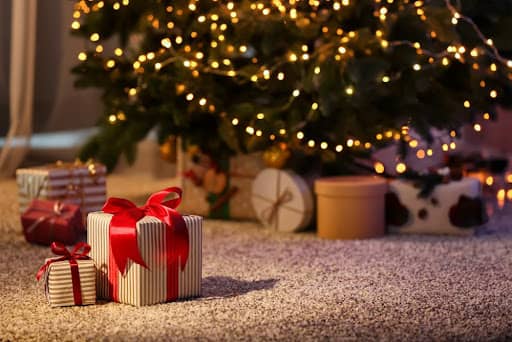 The holidays can be stressful, and finding gifts for all your loved ones can be daunting. One of the best ways to get ahead of this hectic time is to purchase holiday gifts in advance, so you can relax and enjoy this wonderful season of the year.
Certain gifts are ideal for purchasing in advance, from small gifts like socks to larger gifts that impress like brand-name kitchen appliance packages. You can buy non-perishable presents months before the holidays.
If your gift requires assembly or installation, making the purchase early can give you extra time for set-up and delivery. Explore this list of seven gifts you can start shopping for now to show your loved ones how much you cherish them this holiday.
Holiday Gifts To Buy For Your Loves Ones Or For Your Home
1.Cozy Candles, Blankets and Coffee Mugs
Winter is the perfect time of year to stay inside, curled up under a warm blanket while reading a good book, or watching your favorite holiday movie. Give the special people in your life the gift of comfort and coziness this holiday season.
Buying winter-themed items or warm blankets before winter begins can save you significant money. Companies often mark up their prices by 10% to 15% in peak seasons.
This fall, check out winter-friendly gifts like a soft, warm and ethically sourced Alpaca wool blanket, a self-warming coffee mug and some relaxing lavender or sea salt votive candles to set the mood.
2.Perfume, Cologne and Cosmetics
Giving a unique perfume, cologne or cosmetic product is a timeless gift that your loved ones will appreciate. Choose a seasonal scent that goes with the holiday season for a unique touch or supplies for a relaxing day of beauty someone can enjoy on a day off.
Look for fall discounts on these items, or try shopping at your favorite department store or online on Black Friday and Cyber Monday.
Parfums de Rosine's cinnamon-scented Majalis perfume smells like the holidays in a bottle, making it the perfect scent to go along with the season.
You can connect your gift with the original Christmas story by giving a cologne rich in myrrh like Tom Ford's Velvet Orchid. For those who love to be pampered, give them some Soko Glam facemasks to keep their skin fresh and moisturized in dry winter weather.
3.Kitchen Accessories
Kitchen accessories are a classic Christmas gift for those who love cooking and baking. These gifts can be given alone or paired with new kitchen appliances to inspire your loved ones in the kitchen.
Gifts like a multifunctional wood and marble cutting and serving board are great for the holiday season, as is a classic weighted bar cocktail shaker set.
If you know your loved one enjoys a particular cuisine, get them a Caraway cookware set or a quality cast iron skillet to get them insirpired. Other options include idli trays for a South Indian breakfast, a pasta maker for Italian food or Dim Sum steamers for Cantonese cuisine.
4.Home Appliances
If you plan to buy a home appliance, consider purchasing it several months before the holidays. These gifts often require installation, which is more difficult around the holiday season when many workers take time off and demand spikes.
This might make scheduling a delivery more difficult until after the holiday season.
If you plan on purchasing a TV, a kitchen appliance package or an air conditioner, buy it months in advance and have it delivered and installed so your loved one can enjoy it during the holidays.
5.Travel Experiences
Giving people experiences rather than physical gifts is a fast-growing trend. This thoughtful gift will become cherished memories for family or friends who receive them.
Science supports this practice, too, with studies showing that recipients often feel happier when receiving an experience rather than a traditional gift.
So whether it's skydiving from 18,000 ft., an expedition to climb Mt. Kilimanjaro, skiing in Patagonia or eating at the best sushi restaurant in Tokyo, giving the gift of travel can offer a one-of-a-kind experience for your loved one.
Speak with your loved one before reserving airfare and hotels to avoid complications. For example, you'll want to ensure your loved one has a passport if the trip is to another country.
You may also want to consider what you will pay for, such as the plane tickets and hotel, and how much the recipient can afford for extras on the trip.
6.Children's Toys and Games
Every year there is a hit toy that every kid wants. From Furby and Tickle Me Elmo in the 1990s to every new video game system the year they come out, these gifts sell out fast.
While this year's gift is still unknown, experts predict that the Jiggly Pets Noodle Pup will be a favorite with kids nationwide. If you know someone on your gift list who wants this toy, pick it up as soon as possible to ensure they find one under the tree on Christmas morning.
7.Books or Reading Subscriptions
Give your family a worthwhile activity this winter by signing them up for this year's most exciting reads. You can opt for physical or digital copies of new releases or old classics or buy them a subscription to an audiobook service like Audible.
Children will enjoy series like Harry Potter or The Chronicles of Narnia, while adults may prefer works by authors like Stephen King, James Patterson or Maya Angelou.
You can also reference Time's list of 100 must-read books to get inspiration for titles for your friends or family.
If you opt for digital books, purchase a Kindle Reader device to accompany your gift. Alternatively, you can help the recipient download the Audible, Kindle or iBooks application on their phone or tablet so they can read wherever they go.
9. Bonus Gift Idea – Gift Basket
Another fantastic gift idea is to create a personalized gift basket filled with their favorite goodies and a bottle of their preferred wine. This thoughtful combination of treats and spirits will make their day special and enjoyable.
9. Shop in Advance to Fully Enjoy the Season
Get ahead of the holiday rush by purchasing your gifts before the stores get crowded and prices rise. Buying presents in advance allows you to sit back and enjoy everything the holiday season has to offer without any added or unnecessary stress on your life or pocketbook.