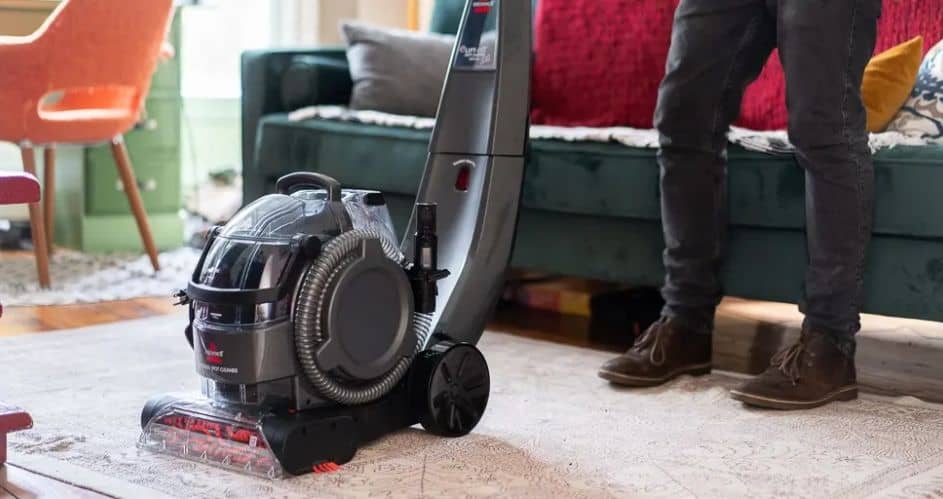 How to choose between Hoover and Bissell carpet cleaners? This is a tough call, for sure. Both the names are well-established, big brands. Thehoover vs bissell carpet cleanery have a rich legacy in vacuum cleaning.
Both the brands come with excellent features that can make carpet cleaning a breeze. They are market leaders in home carpet cleaners. So which one to choose?
There are no straight answers as both the machines come with some pros and some cons over each other. So let's first start with a brief overview of both the companies.
Hoover is a well-known American company with its headquarters in North Carolina. Techtronic Industries is its parent company and is known for the production of various electronic appliances.
Hoover specializes in vacuum cleaning and offers a wide selection of appliances to keep your home looking great. The product choices include upright vacuums, carpet cleaners, cordless vacuums, and sweepers for tile floors.
On the other hand, Bissell is again a well-known American company with its headquarters in Michigan. The company began in the 19th century to pick up sawdust from the owner's office establishment. It is a family-run business.
They market themselves as a people's choice cleaning company that has appliances for all ages, income groups, and backgrounds, as they have clients globally. Bissell is known for its great innovations.
The product choices include carpet cleaners, canisters, upright vacuums, and handheld models. Both the brands manufacture high-end robot vacuum models too.
Which is Better Hoover or Bissell
Design and Features:
The key difference to note between the two carpet cleaners is the design and features offered by the range of options offered by each brand.
The range of Bissell appliances is extensive as it offers more than 30 different models across 3 categories: portable, upright, and canister. They also have professional carpet cleaners.
These variations comprise a lot of additional options, like a lift-off that offers 2 machines in 1. It is a combination of an upright carpet cleaner and a removable spot cleaner. This can work great in both rooms as well as for stairs, auto interiors, upholstery, and hard-to-reach areas.
Their Premium, Pet, or Deluxe range provides different variations in attachments and features that can suit your needs.
On the other hand, Hoover carpet cleaner offers a smaller range with only 9 upright models listed on their website.
Cleaning Performance:
The first thing you look for while comparing two carpet cleaners is their cleaning power. After all, this is the purpose of getting the vacuum home. The cleaning ability needs to be very effective.
Talking of the Hoover range, their models have much better suction and sucking power. The powerful suction dries up the carpet faster.
Bissell carpet cleaners have a patented Heatwave technique, which maintains the water temperature during the cleaning process. Hot water is more effective in cleaning dirt; therefore, both brands prove to be equally good on this front.
Ease of Use:
In the carpet cleaner comparison between Bissell and Hoover, both brands come with some pros and cons in different aspects.
On one hand, Hoover offers easy usability and affordability, whereas Bissell comes with better heat technology and suction power. The choice depends on the cleaning needs and personal preferences.
Maintenance and Durability:
Naturally, maintenance and durability is another important consideration while you choose a carpet cleaner since you do not wish to spend on replacing the vacuum every few years. Actually, both the brands make highly durable machines.
All their models last for quite a few years. There might be a few exceptions, but any kind of problems in the functioning usually gets covered by the company's warranty. So, both the machines fare equally well on this parameter.
Customer Reviews:
As per a trusted source: Hoover Carpet Cleaner proves to be a great model when it comes to your carpet maintenance. I purchased the Hoover Steam Vac but started using it this year only. That was a mistake, as this model is life-changing. I use the machine a lot.
Also, before purchasing, I suggest looking for the nearest authorized repair dealer that will make it a lot easier to maintain the same, if needed.
As per another trusted source: The Bissell vacuum did a great job on my carpets and rugs, and I am very happy with the purchase. It is easy to use and lightweight enough to move back and forth. The carpets dried in an hour! This is a must-buy.
Price and Value:
Vacuums are quite affordable these years. Both Bissell and Hoover are almost similar in their price ranges. Both build budget-priced vacuums so that you need not spend too much on cleaning.
Many Hoover and Bissell vacuums are lower priced than competitors. Thus, both brands are budget-friendly and affordable.
Conclusion:
Choosing between Bissell and Hoover carpet cleaners is not as simple as it looks. It can be a time-consuming task as both the brands offer many model options to choose from. Both brands come with good choices that can suit your cleaning needs. All their models offer something different and unique.
Both Bissell and Hoover have their own cleaning detergents also to make the cleaning task even more effective. A lot of people prefer portability and twin tank technology of Hoover, while some others prefer a single tank option as it is easier to clean and maintain. They prefer the pet-friendly option of Bissell and treat it as a great advantage.
Another comparison is of the suction force in which users of Hoover come out as winners. But then, a lot of people prefer the hot water technology of Bissell as it proves to be a more effective way to clean carpets. In the end, both the brands appear to be great, but if your budget is a constraint, then you might wish to buy a Hoover model over a Bissell one.
FAQS:
Which is Better Hoover or Bissell Carpet Shampooer?
If you must choose between Hoover and Bissell carpet shampooers, the decision always depends on your needs. Hoover has a diverse lineup of models, each giving us a mix of features and performance; on the other hand, Bissell is known for its effective carpet cleaning solutions.
If we go into detailed model comparisons, browsing through user reviews and considering factors like pricing, durability, and other functions will aid you in making an intelligent choice perfect for your specific cleaning demands and budget considerations.
Is Hoover Or Bissell Better Pet Carpet Cleaner
When choosing between Hoover and Bissell for a pet carpet cleaner it all boils down to your individual preferences and needs. Both are reputed brands and provide many models that have variety of features. So, you must research and analyses which one suits your needs most, when you make the buying decision.
Hoover is best known for its effective cleaning abilities and powerful suction. One particular series the SmartWash stands out from the others due to its user-friendly designs. Some models of Hoover come equipped with features like HeatForce technology which accelerates drying times as well as SpinScrub brushes designed to agitate carpet fibers thoroughly.
Bissell products are also an excellent choice for pet owners, offering models specifically designed to remove stain and odor removal for domesticated cats and dogs. In addition, many animal welfare organizations work closely with Bissell which may appeal to those who support such causes.
At the end of the day, it's wise to evaluate specific models from both brands carefully when making your decision, keeping in mind your budget, cleaning area size, features that matter to you and customer reviews and recommendations from friends or colleagues. Your own individual circumstances and requirements will ultimately dictate which one will make the best choice.
Which I Better Hoover Or Bissell Pet Vacuums?
After usage of both the pet vacuums of Hoover and Bissell here is our take on this:
Hoover Pet Vacuums: The vacuums of Hoover remove the pet hair and other debris really quick. This shows its amazing extra suction power. Thus, saving precious time and effort, while cleaning carpets and hardwood floors. The WindTunnel technology also makes deep cleaning much simpler. The React series with its automatic floor type adjustments for added efficiency when cleaning different areas is a smart addition. Hoover vacuums are known for being highly durable and it resonates with its reputation.
Bissell Pet Vacuums: If your pets have a shedding problem then Bissell would be the best option for you. They have this stunning pet hair eraser tool that works effectively by collecting all the annoying pet hair from the carpets and also from the floor. What truly sets Bissell apart, however, are their pet-specific cleaning formulas. We found that they help address pet stains and odors effectively. Overall, a good per vacuum.
Verdict:
So, to answer the question of which is better Hoover or Bissell, the choice totally depends on what are your needs and which vacuum would cater to that need. If you require reliable suction with automated features like Hoover's Airlift vacuum system, Hoover could be ideal. If you have pet hair issues then Bissell would make a great choice. Choose the vacuum which suits to your needs for best results.