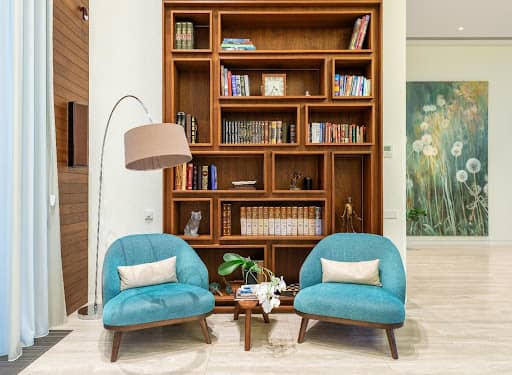 Arranging your home furniture can be difficult, but it's important to give your home the beauty it deserves. When encountering an empty room, it can be not easy to fill it functionally and attractively to the stare.
Furniture is one of the aspects that reflects the beauty of a house, and not only that, and it is being used for our daily activities. When talking about furniture, it refers to all components such as sofas, chairs, beds, tables, etc.
Following these 8 simple tips, you will discover that arranging your home furniture isn't so difficult.
8 Simple Tips Your Home Furniture
1. Decide on a focal point
Never undervalue the significance of a room's main point. Sometimes they happen naturally, for example, if you have a big window or a built-in fireplace mantel, while other times, such as TV frames, you may need to make them yourself.
Decide and stay with it, whatever your main point is. You'll want to manage your furnishings as much as possible around it. In a living room, the television acts as the centre point.
2. Don't push furniture against the walls
The size of the room will decide how far you can push your furniture away from the walls, but even in a tiny area, you'll like to leave a few inches between the backs of the furniture and the walls to give them some breathing space.
Contrary to conventional assumption, this short amount of space can make areas appear larger. Of course, if you have more additional room, you can place furniture to establish conversation zones in the middle of the room, with several feet between the walls and the furniture.
3. Make Conversation Zones
People should be able to speak with one another without having to crane their heads or shout across the room. Position the sofas and chairs so that they face each other (not directly, but close enough) and so that people can chat without lifting their voices. Make multiple talking spaces if the room is too big.
4. Strike a balance
When it comes to arranging your home furniture, balance is crucial, and nowhere is it more vital than placing furniture and other items in the living room.
Consider the size and placement of the various items, keeping in mind that grouping all big or little objects in one area or on one side of the room might create the area appear unbalanced and unsettling.
5. Consider the flow of traffic
According to Mamagreen, One of the important factors to consider when arranging furniture in any area is traffic flow. People should not stumble over furniture or another to pass through the room and allow a couple of feet between coffee table and the sofa and between the chairs
However, if you have a little space, you can consider buying foldable furniture for your home. They are expensive, but people usually purchase them on sales and discount codes from stores like abigail ahern discount codes and several others. You should make a clear and clean route for the people with your furniture.
6. Arrange the tables at arm's length
A side table or coffee table should be easily accessible from every seat. Avoid seating arrangements that require people to leave their chairs to place down or retrieve drinks. When it comes to table height, consider the following:
1. Side or end tables should be about the same height as surrounding chair arms (if this isn't possible, lower is preferable).
2. The height of the coffee tables must be the same or lower than the height of the chair.
7. Allow Light to Shine
One of the essential aspects of any room is lighting, which is often overlooked. Always utilize a combination of overhead, floor, and table lamps (and sconces, if you can). A floor lamp looks fantastic behind an accent chair or at the end of a sofa.
On side tables, bookcases, mantels, and table lights are wonderful. You can buy furniture that gives the best lightning from stores which offer discounts like rugs direct discount codes.
To be properly balanced, lighting must be distributed at various levels; therefore, freely utilize a range of fixtures around your room.
8. Use the Correct Size Artwork
Artwork, mirrors, and sculptural objects mounted on the wall must be placed strategically and in proportion to the furniture.
Instead of hanging a little photo over the back of your sofa, use a big part that is approximately two-thirds the length of the couch or a combination of works.
If you're dead set on using a piece of art that's too little, put it in a bigger frame with a large matte around it to stand out when placed next to a large selection of furniture.
Wrap Up
Arranging your home furniture and accessories is wise, especially if you intend to buy new pieces. To draw out your ideal floor design, utilize an online floor planner or old-fashioned graph paper, and it's the only way to know if everything will fit the way you want it to.