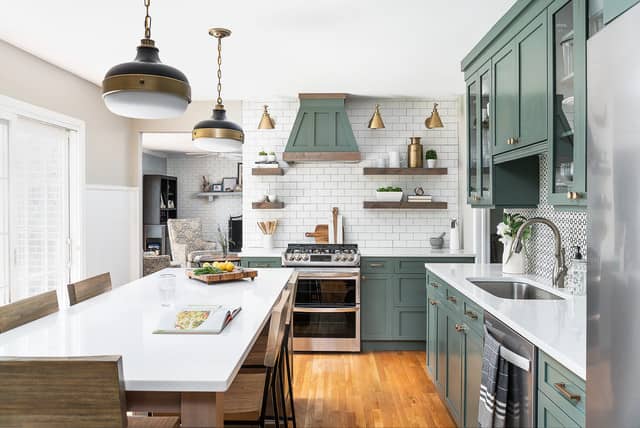 If you are looking to create a comforting and homely kitchen design when you remodel your home, nothing comes close to a farmhouse-inspired kitchen. A farmhouse-inspired kitchen design has socializing at the center and is part of an interior design company in Toronto.
This design offers the space that you need to prepare fabulous food while mingling with family and friends and entertaining them.
But, farmhouse-inspired kitchens are essentially not minimalist since it is the central hub of your home and a true farmhouse-inspired kitchen should have plenty of equipment and ingredients to produce a wide variety of foods.
However, this does not translate to a cluttered space and innovative storage solutions in the kitchen will give you the unique means to store and display the favorite kitchenware you have.
There are several ways to design a farmhouse-inspired kitchen for any home, be it small or big though certain choices can also be helpful in bringing some modernity to this otherwise rustic and traditional style.
Let us, therefore, understand certain key features of a homely, warm, and attractive farmhouse-inspired kitchen with an affordable interior design.
Features To Look During Creating A FarmHouse Kitchen
1. Finish and color scheme
In farmhouse-inspired kitchen designs, steering away from uniformity can be the most appealing element. You can choose virtually any color scheme that can work best in the space and for you without impacting the traditional farmhouse style.
You should allow plenty of light to flow through the space. Choosing warm white like alabaster or cream for the units and cupboards can make the space the illusion of being significantly more open.
But darker shades may be appropriate when natural light is plentiful and you have an open-plan layout that is large.
For the finishing part, the obvious choice is wood to bring in the traditional, rustic, and natural ambiance. Some people choose the same wood in uniform finish throughout.
Some others also opt for a division across the kitchen using different shades of wood in a defined area and a butcher's block in walnut can work very well to introduce this effect by assigning an exclusive space in the kitchen for preparing food.
This can also be among the many ways to remodel your home with affordable interior design.
2. Workspaces and units
When you remodel your home with a farmhouse-inspired kitchen the style of the units is crucial since anything explicitly modern can clash with features that are more traditional.
Also consider bow handles, knobs, and cup handles which are designs that provide the best fit for your farmhouse-inspired kitchen.
The drawer and cupboard style also should help in maintaining the overall theme and bed board, shaker, and inset styles are your best options to achieve this.
Think of some cupboards with a glass front door and include clear and frosted panes which will fit well with your theme and give the space a larger illusion.
3. Taps and sinks
You have a singular option for kitchen sinks in your farmhouse-inspired kitchen which is ceramic. Choose a deep ceramic sink with a draining board that is styled similarly for traditional looks as well as long life.
For taps choose something that works well with the ceramic sinks and fits perfectly in terms of style. A pull-out tap can also be ideal and stylish particularly if your kitchen is likely to have plenty of cooking action, and washing can be a breeze with the pull-out tap.
4. Storage
Storage is an important component of any kitchen but where modern and minimalists kitchens struggle to hide their appliances and utensils, a farmhouse-inspired kitchen is proud to display them while still maintaining the space without any clutter.
Drawers should have integrated knife blocks since that affords a practical way of keeping your worktop free of cutlery and give you space for displaying your home-grown vintage food mixer or a herb garden.
Similarly, deep drawers help in storing your pans, and hooks can also be added to the walls close to the cooker from utensils that are frequently used.
Choosing shelves in place of some cupboards is an ideal way for storing and displaying utensils and equipment including jars for ingredients and spices or crockery.
Conclusion
The best farmhouse-inspired kitchen designs are how you make the most out of what lives in the kitchen which can be storing them in a drawer that is cleverly designed or displaying them on the walls.