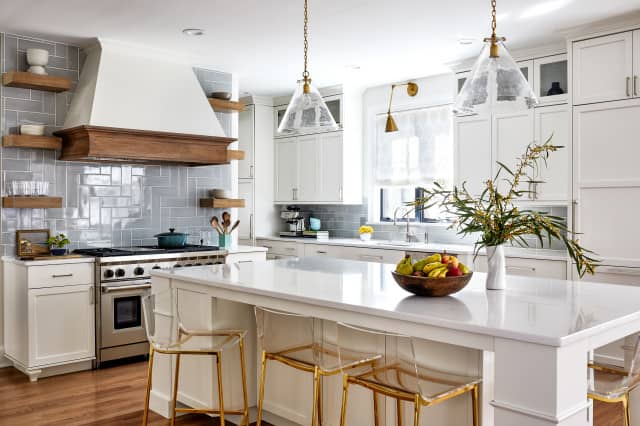 A kitchen renovation can greatly alter the style, functionality, and value of your home. Undertaking this kind of project is no easy task, and not everyone is an expert on home design or kitchen renovation. With options ranging from custom stainless range hoods to broader layout design, there is much to consider indeed.
That's why our knowledgeable team has put together a list of some common errors people make while remodeling their kitchens.
Making these mistakes can waste massive amounts of time, cause unnecessary stress, and cost thousands above budget. Learn from the missteps, miscalculations, and blunders of others to ensure that your experience is as seamless, stress-free, and successful as possible.
Keep this list on hand if you're undertaking a kitchen remodel anytime in the near or distant future and remember that most of these errors can apply to any home design project and also for painting the kitchen always hire the experts like Oakville Cabinet Painting.
Common Mistakes To Avoid While Remodeling A Kitchen
1.Underutilizing or overloading areas in your layout design
Considering how to best use each bit of space in your kitchen is an essential element of the renovation process. Many people try to cram too many appliances and items into a small area, or instead neglect spaces, nooks, and crannies in their plan.
Confirm that your overall design strategically leaves ample walking room while also preventing wasted space and utilizing every area in your kitchen.
2.Altering your plans throughout the renovation process
This is one of the most commonly made mistakes in all of home design, as many people are indecisive or impulsive.
Although it might seem overwhelming, it's absolutely essential to finalize every decision regarding details, materials, and all of the other elements of a home design remodel before you start any actual renovations.
Don't commit to any layout too quickly, take all samples home (and test them in different lighting!) before purchasing materials, and triple-check every aspect of your plan.
You'll thank yourself later; changing your mind about even just a single detail can throw off the entire renovation process, is usually extremely costly, and can easily put you both over budget and weeks behind schedule.
3.Not including enough storage
Storage is a vital aspect of any home design plan but is most essential in the kitchen. Forgetting to prioritize storage features can leave you frustrated, annoyed, or overwhelmed when actually using your finished kitchen.
Including features like pantry pull-outs, lazy Susan's, or drawer dividers is a great idea with a relatively low price tag.
They increase functionality, space, and efficiency while decreasing clutter. It's much more tedious and expensive to add these elements retroactively, and no one has ever complained about having too much storage!
4.Making aisles too narrow
Most people probably haven't thought about how much room to allow between islands and countertops/cabinets, but you should plan for at least 42 inches of space in your kitchen aisles.
Don't design a cramped, uncomfortable kitchen that lacks functionality. Make sure you create a good amount of space and refer to industry experts/best practices in order to choose the perfect aisle size for your kitchen.
5.Being too hesitant to think outside the box
While you shouldn't opt for every trend, eclectic option, or inventive combination, you shouldn't play it too safe either. Failing to take any risks at all could leave you unsatisfied and disappointed with the final result.
Ensure that all safety, health, and functional standards are met, but take creative liberties throughout the rest of the process.
Embrace color, creative style, and out-of-the-box ideas. Make your kitchen, your kitchen, by adding your personal flair and customizing elements wherever you want to. Fortune favors the bold.
6.Neglecting to consider general kitchen workflow efficiency
You might have heard of the infamous kitchen triangle, or the golden rule for the ratio you should base your layout on. It suggests certain measurements between the three most used appliances in your kitchen: the sink, stove, and refrigerator.
These three appliances should be arranged in a triangle shape and shouldn't be too far apart or too close together. No triangle leg should be less than 4 ft or more than 9 ft long, and the sum of all three legs should be between 13-26 ft.
There are many other measurements to help guide your home design plans, but just using this widely accepted rule of thumb helps you avoid designs that add unnecessary travel distance for kitchen users and undermine the efficiency of your kitchen.
7.Cutting corners with cheap materials
Opting for the lowest-quality materials to save money is one of the most common errors. People oftentimes choose cheap countertops, cabinets, or appliances that look fancy but fail to perform.
While you don't need to spring for the most luxurious, high-quality, or expensive options, you shouldn't pick the lowest-end materials either.
This usually ends up costing you more in the long run, as low-quality elements wear out, endure damage, or break much sooner than mid-range or high-range materials.
8.Choosing appliances late in the process
Appliances should always be settled on first, as cabinets must be designed around them. If you try to retrofit your fridge, oven, or sink after already installing counters and cabinets, you could be in a massive bind.
The appliances are the utilitarian heart of your kitchen and provide a vital foundation. Make this decision at the very beginning of your process.
9.Prioritizing style over function in layout and design
While the visual dynamics of your kitchen are important to factor in, don't make the classic "form over function" mistake. Especially in this room, it's absolutely necessary to make utility your number one priority.
Consider which features are most important, which materials are ideal, and which elements to highlight based on your (and your family's) needs. Pay close attention to measurements, ratios, and the direction of appliances and cabinets.
The last thing you want is a gorgeous kitchen that you can't cook in because the oven hits the island when you open it, the lighting is too dark to see properly, the countertops easily stain, or the sink doesn't function.
10.Skimping on counter space
Counter space is the last thing you should cut corners on in your home design. In this case, bigger is actually better. Your countertops are where you put small appliances, decorative elements, and a myriad of everyday kitchen items.
Be sure to create as much counter space as possible, as this feature can become easily overloaded, cluttered, and cramped.
Prevent wasted money, time, and energy by avoiding these mistakes. Don't forget to do your research and educate yourself thoroughly before taking any steps in any direction, as impulsivity is truly the enemy of successful home design.
You don't have to go through this process alone; go to the professionals for resources, tips/tricks, and valuable advice.
Contact the talented, detail-oriented, and expert team of professionals at our LA-based home design agency, 5blox, for additional help and answers to all of your burning questions.
If you're thinking about starting a kitchen remodel, contact us to book a free home design consultation today.