As multi-generational living continues to rise in popularity, mother-in-law suites have become a practical solution for creating a comfortable, private and functional living area for extended family members or guests.
When furnishing a mother-in-law suite, you must prioritize practicality, durability and style to ensure it meets the occupant's needs. As we discuss furnishing tips, we'll look at everything from selecting the best mattresses that will provide a good night's sleep to the advantages of a functional kitchenette.
Here are our top tips that will help you create a fantastic mother-in-law suite that will make staying at your place feel like a home away from home.
What Is a Mother-in-Law Suite?
Don't let the name fool you. A mother-in-law suite is not only for mothers-in-law. Instead, it's a separate living area that can provide independent living space for guests or extended family members within a home's property.
These suites can come in many forms. They can be a separate dwelling unit, an addition built onto a home or a residence created within a home — for example, a converted garage, a basement or an extension built onto the back or side of the main home.
The suite may feature one or more bedrooms, a living area, a kitchenette and a bathroom, providing occupants with a private and self-sufficient space. Ideally, they are designed to provide privacy and independence while still being close to the main living area of the home.
How to Furnish a Mother-in-Law Suite
1) Prioritize Comfort with a High-Quality Mattress
A good night's sleep is essential for our well-being and should be a priority when it comes to furnishing a mother-in-law suite. You want to ensure your guests or family feel well-rested throughout their stay.
A full-size mattress offers enough space for two guests, making it ideal when creating a cozy sleeping area. You might also consider Nectar mattresses, as they offer top quality and come in various sizes.
Generally, when selecting a mattress, we consider the occupant's sleep preferences, such as firmness or softness, and look for a high-quality option that provides proper support for the spine and body.
Since there is potential for multiple guests and family members to use the suite, we should aim for a supportive, medium-firmness and also look for a mattress that is durable and offers good value for money.
2) Create a Cozy Seating Area
Adding a small seating area with comfortable chairs or a loveseat is a great way to create a cozy atmosphere that can be used for relaxation. Consider adding a side table or floor lamp to complete the set-up.
An inviting seating area encourages socializing and provides a place to unwind after a busy day. Having a seating area is that perfect touch that can make the suite feel like home rather than a bedroom.
3) Include a Functional Kitchenette
Including a kitchenette in your mother-in-law suite can provide convenience and independence during a stay, allowing folks to prepare their meals and snacks.
When selecting appliances and furniture for the kitchenette, opt for space-saving options such as a compact refrigerator, a microwave and a foldable table to maximize space.
Consider integrating cabinets or shelves to store dishes, utensils and pantry items. A well-designed kitchenette adds value to the mother-in-law suite, making it a wise investment if re-sale is on your mind at all.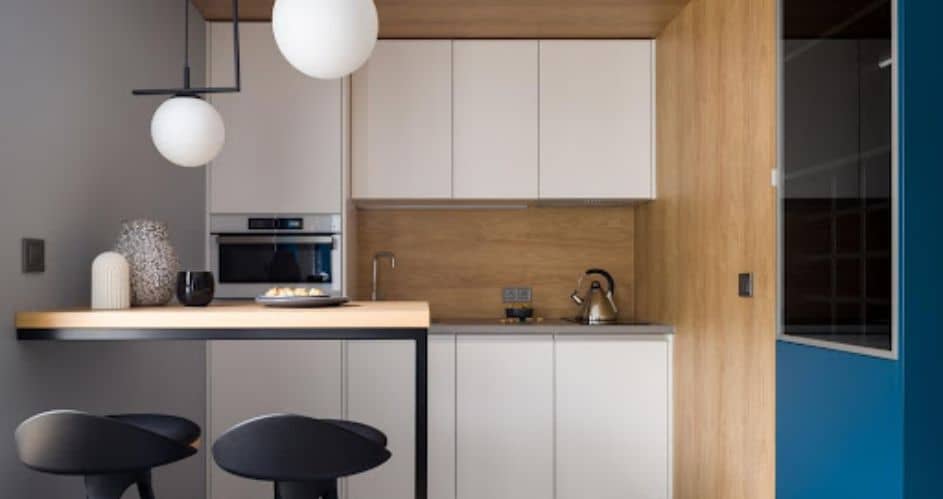 4) Provide Ample Storage Solutions
Storage solutions are essential in any living space, and a mother-in-law suite is no different. At a minimum, folks need space to store clothes, toiletries and luggage.
Consider incorporating built-in shelving, closet organizers or wardrobes. Selecting furniture pieces that double as storage, such as an ottoman or a bed with under-bed drawers, can also maximize space and provide additional storage solutions.
5) Consider Accessibility and Mobility Needs
It's important to consider accessibility and mobility needs when furnishing a mother-in-law suite. Accessibility features such as grab bars, wider doorways and ramps may be necessary.
When selecting furniture and decor, consider ergonomics and select items that can accommodate people with mobility issues. For example, choose furniture with proper height and comfortable cushions and look for shower chairs that allow easy transfers.
6) Incorporate a Workspace
Including a workspace within a mother-in-law suite can provide occupants with a designated area for work or hobbies. A desk or small table can offer a practical solution to achieve this.
When selecting a workspace solution, consider sourcing something that is versatile and functional. Browse options such as a fold-down wall-mounted desk or furniture that can be used for multiple purposes. Ensure that the workspace's location takes into account the occupant's need for calm to concentrate and work.
7) Choose Easy-to-Maintain Flooring
Flooring material can significantly impact the mother-in-law suite's practicality and aesthetics. Opt for materials that are easy to clean and maintain, such as vinyl, laminate or low-pile carpets.
These materials can also provide a comfortable surface underfoot and be more slip-resistant than a hardwood or marble surface. When selecting a style and color, choose something that complements the suite's overall design.
8) Opt for Multi-Functional Furniture
Multi-functional furniture is essential when furnishing a mother-in-law suite because it allows you to maximize available space. Consider furniture pieces like a futon, storage ottoman or convertible coffee table.
These items can offer multiple functions, such as storage, seating and sleeping areas. By incorporating multi-functional furniture, you can maximize space and create a versatile and practical living space that your guests will appreciate.
9) Ensure Adequate Lighting
Lighting is an essential element in any living space. Ensure you incorporate all three layers of lighting — ambient, task and accent lighting — to create proper lighting, depending on the time of day, activity and mood.
While we often focus on overhead lighting, incorporating task lighting like table lamps and under-counter LED lights is a must. They provide the necessary light for reading and working or preparing meals in the kitchenette.
Accent lighting fixtures, such as wall sconces and picture lights, are also great because they add dimension and interest to the room, making it a more inviting and visually appealing space.
10) Coordinate Decor and Design with the Main House
Creating a cohesive design between your mother-in-law suite and the main house will ensure a harmonious living environment for everyone. Select colors, patterns and materials that complement the main house's overall aesthetic.
You can create a sense of continuity by using the same colors or design elements throughout the space. Consider incorporating accessories such as wall art and decorative accents that coordinate with the main house's style.
If you have a long-term guest, or someone living there permanently, they may wish to personalize the space a bit more to suit their needs, so make sure the design is flexible and easily modified to accommodate those changes.
A Suite Conclusion
As we've explored various tips for furnishing a mother-in-law suite, it's clear that prioritizing comfort, functionality and style is essential to create a welcoming and practical living space.
By incorporating high-quality mattresses, cozy seating areas, functional kitchenettes and multi-functional furniture, you can provide a comfortable and inviting home away from home for your guests or extended family members.
Remember to focus on accessibility, storage solutions and proper lighting to ensure a seamless experience for all occupants. By following these tips, you'll be able to create a mother-in-law suite that exudes warmth and hospitality, making your home an even more inviting place for loved ones to gather.