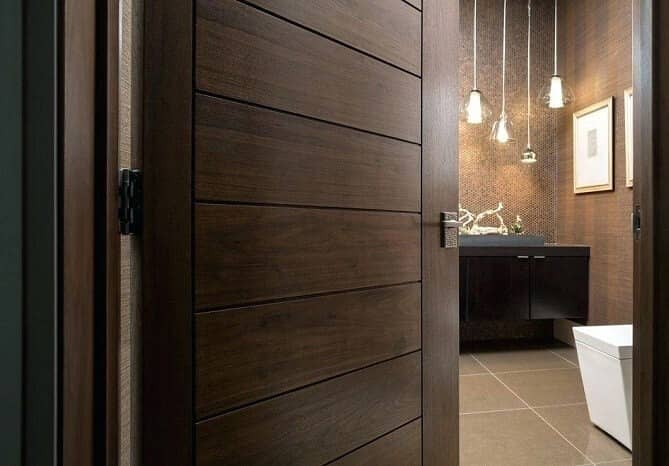 Although there are many technological materials available with a variety of properties, wood continues to be the most loved and desired material in interior design.
Unbelievably, the stigma against using it in bathrooms, which can be damp, remains widespread. Yet some types of wood have been used extensively to construct boats for ages; why are we so hesitant to use it in bathrooms?
If properly waterproofed, bathroom furniture and floors can be made of either solid wood or veneer. It still has to be taken care of since the surface is more fragile than other materials and cannot be ignored.
What are The Factors To Consider While Choosing The Wooden Interior for Your Bathroom
Storage
By bringing the outside inside with wooden bathroom furniture, you can create a rustic area that appears elegant and well-organized. To keep the bathroom free of clutter and retain this traditional style, invest in storage options that stand out.
Gorgeous wooden vanity units might be the ideal enhancement for a modest powder room or mudroom.
Using Fake Wood!
Not everyone prefers wood since it is a live substance that requires maintenance. There are several acceptable substitutes for surfaces that resemble wood if you like the touch of wood but believe a more useful material would be preferable for your bathroom.
If you want to pay less with the knots, colors, and grain of the natural species realistically reproduced. The most common types are HPL laminates and ceramics with a wood effect, which are also utilized in designer washbasins.
Bathroom Space
Understanding your preferences is a crucial first step in bathroom design. Knowing your area properly is equally vital when choosing traditional bathroom furniture.
Finding the ideal-sized furniture will be made easier thanks to this. Getting ideas from online blogs, magazines, Pinterest, and other forums is a wonderful idea.
Find the ideal style of wooden furniture for your bathroom design project using the information you've gathered. Keep in mind that any wooden furniture must blend in with your bathroom's general design, ideally matching the flooring and color scheme.
Budget
Wooden bathroom furniture and accessories come in a variety of styles, materials, qualities, usability, and pricing points. This implies that you must choose bathroom furniture that complements your design and fits your budget.
You might want to think about laminate furniture if you genuinely adore the feel and earthiness of wood but would want something more usable and reasonably priced. Laminate has a wood-like appearance and feel, is resilient and lightweight, and is simple to install.
Maintenance
If you want to preserve your bathroom's wooden furniture looking excellent over a grain period intact, but still lovely, you must give it particular and extra care.
Since timber is a living material and will therefore change along with you and your home, you must always dry the liquid spills and droplets right away to prevent them from penetrating the wood.
Remember that different cleansers may be used for washing; use a damp washcloth and a quasi, mild cleanser to spread to the material in the direction of the grain, and then wipe up any remaining detergent with a moist cloth. Finally, rinse the material.
With the help of the points stated above, it'll be easy to choose the right wooden vanity units for your bathroom.