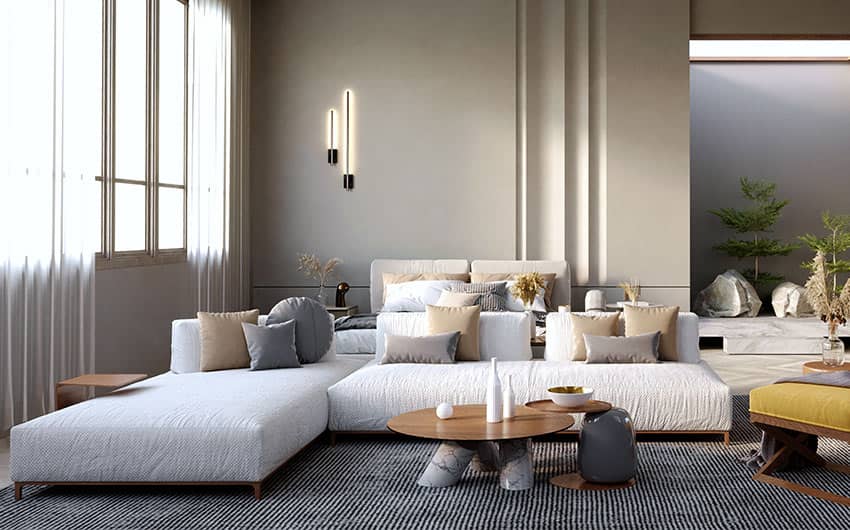 When you have a spacious living room, make the best use of the space with a sectional couch. Sectionals are perfect for inviting guests for night parties, game nights, as well as movie marathons.
The furniture is also super comfortable to just lie down and sleep after the party is over. According to an article published in Huffington Post,  sectionals are appropriate if you want to fill the corner space in your living room.
If you aren't sure how to place your sectional couch in your living area, read this article for some ideas and inspiration.
Sectional  Sofa Ideas For Your Living Rooms
1.Experiment with furniture shapes
You have a sectional and don't want to use the same rectangular table to keep a flower vase on it. Try something unique such as a round ottoman to make your living room pop.
Imagine an L-shaped sectional couch with a round ottoman in front. If you place the couch in a corner and against a row of windows, there is nothing like it.
The inclusion of the ottoman will also help you keep coffee trays when entertaining friends during the weekend. The sizeable ottoman will also serve as a comfortable piece of furniture to keep your feet while watching TV shows or movies.
2.Mix and match several pillows
Numerous pillows of various designs and colors add drama to your living room and you can add as many as you can. Then, don't forget to use  couch covers for sectionals to keep the furniture fabric free of dust, dirt, food spills, and things like that.
You can design the pillows if you are into creative things or simply look for sectional covers online to keep your living room furniture looking new.
3.Introduce a reading nook
What about setting up your sectional close to a reading nook? For example, place the couch just beneath the wall-mounted bookshelves of the living room wall.
Further, you can place the sectional just beside the bookshelves along the wall. The design will look elegant and inviting. At least, if you have friends who're book lovers, they will love this living room décor.
Relax on your sectional sofa and read your favorite book with easy access just above the sectional or beside it.
4.Take delight in splendid outside views
If you live in a sprawling villa overlooking a verdant garden or a lake, you're fortunate. If so, place your couch facing the greenery or water body. First thing in the morning, you can sit on the sectional admiring the stunning views and drinking your tea.
Opt for a big sectional so that your entire family can sit and take delight in watching the garden just.
5.Place your sectional on the patio
You can even set up a sectional couch in your outdoor space. Turn your patio garden into a mini oasis to make you want to move indoors during lovely evenings. Add a pop of color to your sectional with bright pillows and cushions.
Conclusion
Try these ideas to perk up your living room sectional. Be creative to make the room warm and inviting for guests.