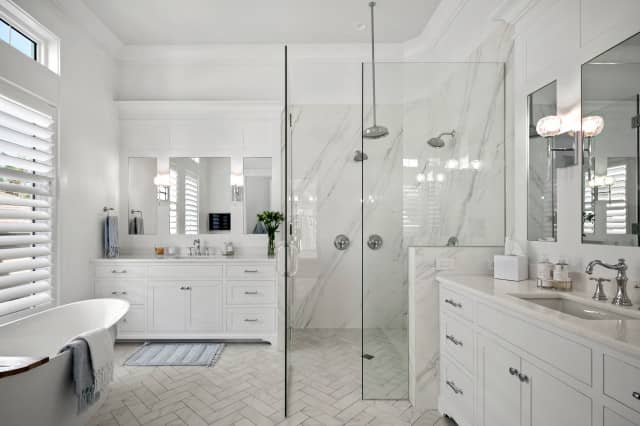 A bathroom is an intimate space for relaxation and private musing. As such, more and more people are devoting time and resources to bathroom designs. The current trend in bathroom design continues the 2020 trend of minimalistic designs.
These designs entail using natural colours, clean lines, and easy-to-maintain materials. Furthermore, people have become more conscious about their impact on the environment, so sustainable materials are on the rise.
The options include recycled and renewable materials, like reclaimed steel or concrete. Eco-friendly materials like bamboo and timber have also become popular choices.
Personalisation of the bathroom is the driving force behind most design choices. The local plumbers in Islington, who had been consulted for this article, have shed more light on how UK homeowners integrate their personalities into their design choices.
So each design is unique, yet a few common characteristics can be identified through careful observations. This guide will find six fabulous bathroom design options that make up the trend in 2023.
The Bathroom Trends You Need to Know About in 2023
1. Chic Walk-In Showers
Nothing can be better than standing under a hot shower after a day of toil. The shower area, enclosed in glass, has been expanded to accommodate two persons.
These showers are fitted with accent lights and visually stunning bathroom tiles. The glass box looks great in juxtaposition with the luxurious walls and other fixtures.
2. Get rid of those oversized tubs
People have realised the value of decluttering their lives. It has affected their design choices for their bathrooms as well.
The bathtubs take up a lot of space in the bathrooms and often remain unused. Many homeowners are working with the local plumber to develop ideas for how to use that space better.
The homeowners would like to repurpose that space for other trending design options. Modern bathroom linen closets and expanded showers are the most explored design choices.
3. A Zen Zone
The popularity of spas is on the rise and is likely to continue rising upwards throughout this decade. The generation's affinity is influencing bathroom design choices for the spa's calming atmosphere.
Personalisation is at play even here because while most homeowners are eliminating the bathtubs from their homes, few persons still enjoy the indulgence of a hot soak.
Besides a tub, the influence of a spa can be noticed in the prevalence of rainfall shower heads, heated towel racks, and aroma therapy units. Steam showers and dimmable lights give people a spa-like bathing experience at home.
4. Wood Vanities
White colour is no doubt the colour of season. Local plumbers have reported that British bathrooms are teeming with white-coloured bathroom vanities of all shapes and sizes.
But, a recent shift in trend can be noticed. A lot of natural wood can be expected to be seen in bathroom vanities with other fixtures. A surge in cane and wood patterns can be observed, perhaps because it complements the season's warm colours.
5. Eco-friendly design ideas
Customers are opting for VOC-free paints to be used in their homes. Furthermore, you will find FSC-certified cabinetry, energy-efficient LED lights, and appliances such as geysers.
6. Accentuating the aesthetics
Although calm and serene bathroom designs are in demand, many people have gravitated towards adopting bold and fun colours and patterns.
In addition to this, homeowners are also adopting geometric shapes and patterns. Many bathroom designers have predicted an increased interest in indigenous patterns.
Conclusion
To conclude, personalised design choices have been placed in the foreground throughout this guide. Your bathroom should reflect you in essence, style, and also look. Feel free to use this guide for inspiration, but trust your gut.