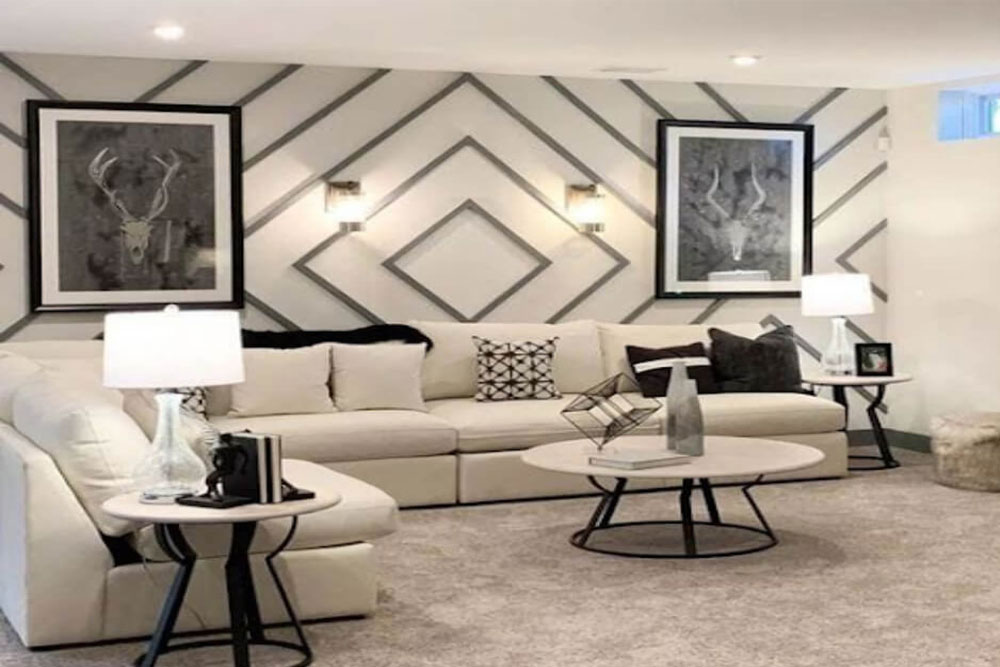 Decorating a space as necessary as your living room can be overwhelming. After all, it's an area that gives guests the best first impression.
The goal is to create an aura appealing to you and your visitors. And if you happen to be struggling with ways to begin your transformation, we've got some great tips for you.
Here is your guide for inspirational home decor without breaking the bank. No matter what theme you choose, these living room ideas will perfectly reflect your sense of style.
8 Ideas That Reflect Your Sense of Style:
1. A Modern Artistic Touch With Striking Canvas Prints
Gallery-wrapped canvas prints are a fabulous way to add a spark of liveliness to any living room. Great at embellishing plain white walls or colored ones, choose a design that packs a powerful punch.
Abstract bliss, natural photography, or simply a burst of color- pick out your favorite image and watch the magic unfold as it's printed on a canvas.
Or you can use personal photographs from the special moments of your life and have them printed on a canvas. What better way to liven up your space than this?
2. An Aura Of Luxe Using Metal And Glass Details
Coffee tables are a staple furniture piece in every living room. Many turn out to be the centerpiece and therefore require a little extra attention to detail.
But what if we told you that transforming any boring coffee table into a tastefully done creation was simple? Think about using metal and glass details incorporated into your table's design.
Add a little height to your stellar table using mercury vases. Place it on an elegantly finished galvanized tray. To finish it off, throw in a few pillar candles that effortlessly illuminate the display.
If you're feeling particularly bold, consider incorporating medieval sword replicas into your decor as well. These intricate pieces can add a unique and historical touch to your home, while the metallic finish and glass accents will tie in seamlessly with the rest of your design scheme. Whether you're a medieval history fan or appreciate these beautiful replicas' aesthetic value, they're sure to add an extra layer of luxury to your space.
3.Sleek Stools Serve As Fabulous Multipurpose Storage Space
Creating inspirational home decor couldn't get easier than this. A sleek stool serves as a brilliant seat. At the same time, it does a great job of serving as storage space.
To develop the ultimate rustic corner in your room:
1.Make use of any stool with an antique feel.
2.Layer it with classic coffee table books or magazines of your choice.
3.Top off that sleek display using stunning floral elements encased in a vase.
We recommend artificial Lily stems that match perfectly with any living room theme.
Now you can sip, sit, or simply watch the ornament from afar as it's dynamic in function and design. Who doesn't love some good old multipurpose storage space?
4.Fresh Natural Elements Can Bring Inviting Vibes
A little earthly bliss never hurts any living space. Now, you can introduce plants to perfection in your living room too. Did we mention how they add a spark of vibrancy effortlessly?
Nothing compares to the warmth that natural greens instill. It's time to add a fresh oasis feeling using nothing but glass bottles and sprigs.
Tall and slender glass bottles would be great—Mix shapes and sizes for a more impactful decorative vibe. Next, fill them with water and add lush ferns or flower sprays.
5.Crates And Bottles Serve As The Ultimate DIY Decor
Who said you need to spend extra on living room interior design when you can get things done on a budget?
Not only is DIY decor always fun, it is also eco-friendly especially if you are reusing items. In this case, we're recycling crates and bottles to perfection.
To instill that warm aura into your living room, work by creating the best display by shelving together crates of different kinds. Simply screw them into the wall.
The next step involves accessorizing using vintage-themed wine bottles and glasses for finesse. You're free to fill up those shelves with anything you love, so it's time to get creative.
You can even transform the crates into built-in bookshelves featuring memorable photo frames of your household. It truly serves as a great way to keep guests entertained when they're over.
6.Boxwood Frames Add An Edgy Touch To Living Room Ideas
To achieve a touch of edginess against your beautiful white-washed walls, we recommend using boxwood frames.
The dark polished finish of regular framed pieces contrasts brilliantly with natural boxwood pieces. Positioning and lighting are all that matter here.
Get creative with your pieces. Wreaths and candles can be placed around the frames to mix and match the texture with color. Remember, it's all about incorporating your sense of style to add more depth to your living space.
7.Bold Backdrops For A Hint Of Drama In Your Inspirational Home Decor
If you're looking to switch things up this season, this next idea for living room decor is sure to do the trick. Bold backdrops are trending and great at adding hints of drama to any plain space.
Wallpapers in abstract floral designs serve as brilliantly bold backdrops: pair that with a plain woolen rug to give the room texture, softness, and fabulous contrast.
8.Patterned Cushions Effortlessly Uplift Plain Sofas
Most living rooms entail plain sofas that are usually monochrome. And if you're not keen on buying new furniture, a smart way to reinvent the look is through patterned cushions.
They're a great addition to vintage sofas and emit classic Victorian vibes. You can pick a pattern of your choice but remember; there's no hard and fast rule. Anything looks great against a plain backdrop, so don't be afraid to use patterns of any kind.
Conclusion
With these inspirational home decor ideas, you can now instill cozy and comfortable vibes on a budget. You are upgrading your living room interior design to be functional and versatile.
So make every detail count. Give these tips a try and bring a creative vibe to your living space. Good luck!