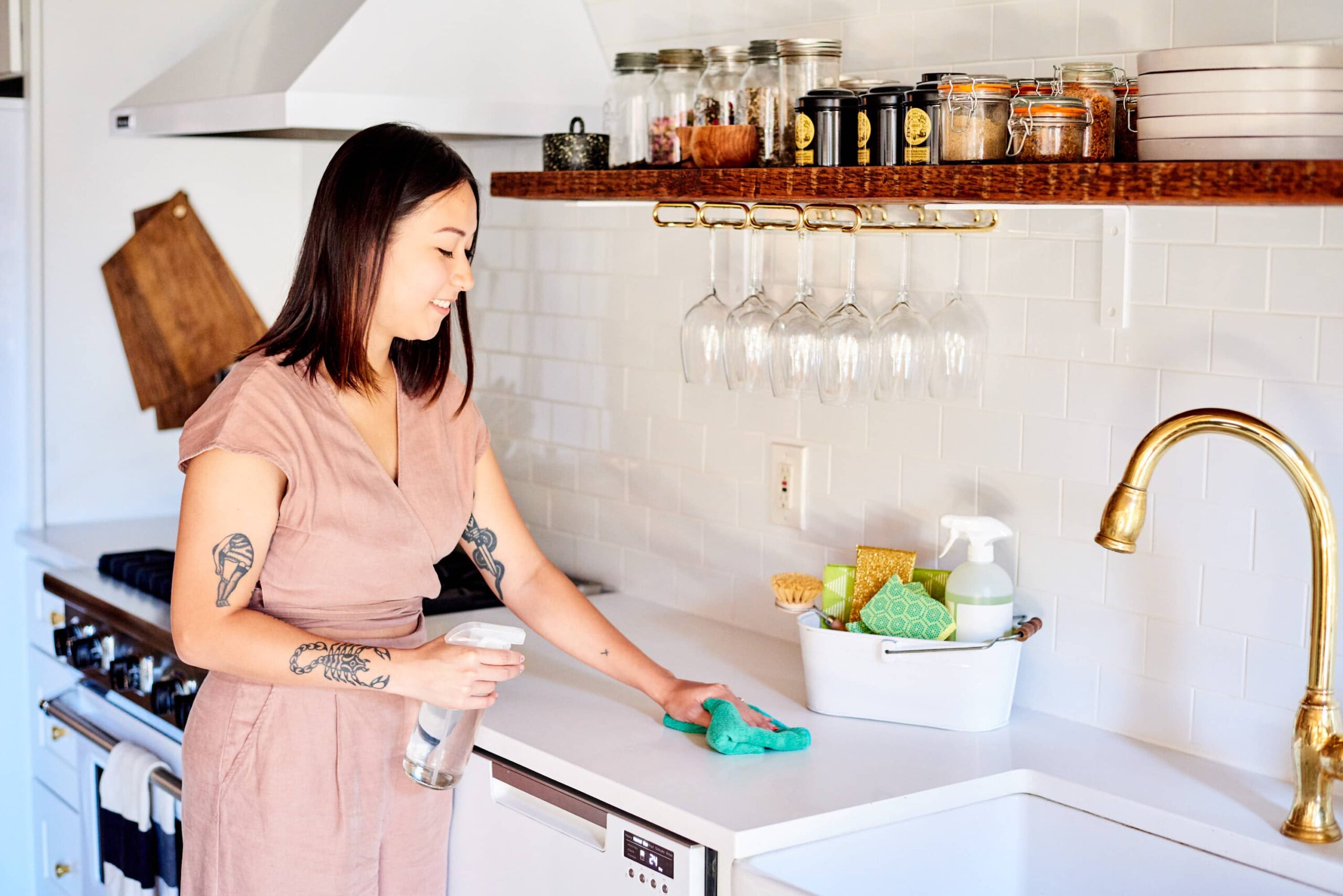 One of the most used rooms in your home is the kitchen. So whether you prepare a meal each night or cook plenty of food during weekends, your kitchen will inevitably grow cluttered.
The truth is that your kitchen requires your attention daily. Ignoring it or failing to keep it clean can result in a much larger job in the long run.
Here are the top ten tips to keep your kitchen clean:
1. Have Your Cleaning Supplies On Hand
Make sure the cabinet beneath your kitchen sink is well-organized. Having kitchen cleaning supplies on hand is essential for keeping your kitchen clean. Keeping the cabinet below your sink organized makes it easy to grab whatever's required whenever you need it.
When you need an instant clean fix, a quick sweep of the kitchen floor works wonders. Vacuuming every two days is your best bet for a deeper clean or to ensure that every corner of the kitchen is covered.
How about cleaning your kitchen in a healthy way? Chemical-free and made from distilled water. Hire FreshTechMaids.com, one of the best professional cleaning companies in the United States, to give your kitchen a brand-new look.
2. Keep It Simple
Many households have kitchen counters crammed with jars, containers, and appliances. Overcrowded cabinets are another common feature of our kitchens.
How about making your kitchen counters heavenly by neatly organizing all the junk cluttering them up? Instead, why not keep it simple and minimal? You'd have plenty of room for prep work this way. You're also driven to clean the kitchen counters because there isn't much movement.
Select your kitchen counter items with consideration. Large appliances, such as your stand mixer, can be stored on the counter, so you don't have to carry them out every time you need them.
Reorganize the cabinets in your kitchen. Only keep the pots and pans that are currently in use. Dispose of or donate things that aren't required. You won't have to fight your way through the mess to get to your utensils.
3. Maintain An Empty Sink At All Times
Subconsciously, when you see the sink containing a single dirty fork, you feel like stacking your used bowl there. There's a rare chance that you'd put it in the dishwasher or wash it immediately. Messes multiply.
On the other hand, the reverse is also true, and it's more likely that an empty sink will remain empty. Practice keeping the sink empty and encourage your family to join this effort.
After washing dishes, refrain from throwing bits of food leftovers in the sink. Instead, dump them and clean the sink surfaces. This way, your sink remains clean for subsequent use.
4. Designate Kitchen Counter Areas
This is an excellent way to avoid dirtying all kitchen counters when doing kitchen work. By designating counter spaces for specified tasks, you need only to clean that counter once you're done with the job.
For example, if you bake in the same space where your hand mixer sits, you'd have to clean only that area once you've finished whipping up your cake.
5. Clean Up While Cooking And Immediately Following Each Meal
Clearing the kitchen counter as you go is a good idea. When you're done cooking, put things back where they belong.
Also, wipe out any spills or mess immediately. Dried-on grime requires much effort to clean up.
For instance, you can tidy up the cake mix mess while the mix bakes in the oven. Get the kitchen back in order right after having meals.
6.Run The Dishwasher Regularly
Make sure to run the dishwasher daily after dinner. This way, dirty dishes won't sit in the kitchen sink or need to get hand-washed.
After running the dishwasher every night, you can unload it the next day, in the morning. So, you can begin the day with an empty dishwasher that can be loaded as dishes accumulate.
7. Every Time You Use A Small Appliance, Give It A Once-over
Whenever you remove something from the microwave, clean up any spilled crumbs. This way, you can keep your small appliances clean after every usage.
When using a microwave, cover the food, so it doesn't explode. Use a microwave-safe lid or kitchen roll to cover the meal.
8. Make Cleaning Out The Refrigerator A Habit
Aside from deep cleaning your fridge now and again, you'll need to keep an eye out for expired food and leftovers that you must throw out. The best way to remember doing this task is to tie it to your grocery shopping visits.
9.Frequently Wash Kitchen Cloths
Wash and change kitchen towels on a regular basis. Dirty and moist kitchen cloths serve as ideal breeding grounds for bacteria. Wash the towels properly and reuse them only after they're completely dried.
10. Have A Set Routine For Kitchen Cleaning Chores
It is much easier to remember to do things when you have set days. For example, you could designate a specific day of the week to clean your stove.
You can also designate specific times of the day for particular chores, such as cleaning up after dinner. Establish a post-meal cleaning routine. This could include cleaning the table after clearing it, setting aside leftovers, and soaking used utensils.
Conclusion
You now understand how to keep your kitchen clean. A minimalist approach and careful attention to every detail in your kitchen will undoubtedly benefit it.