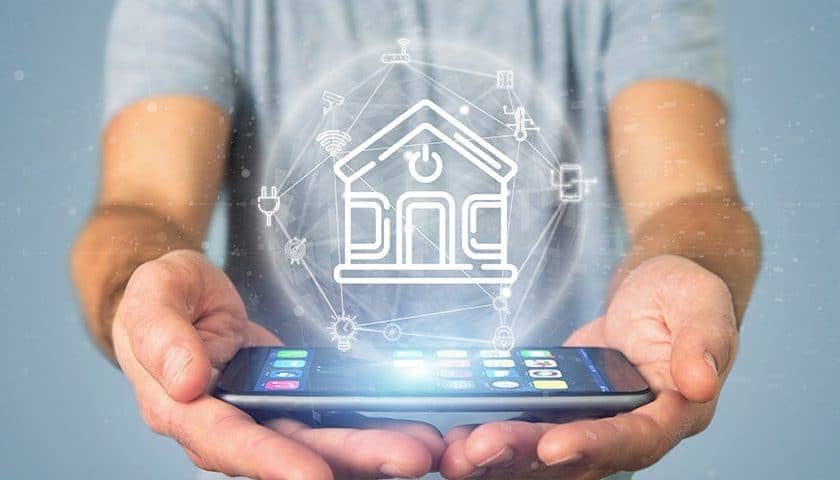 The internet of things, in recent years, has transformed the world of home automation systems and started making them accessible to everybody. Homes are no longer just in the real world, they can also be found online. Install smart home automation and make your home smart!
What is Home Automation?
Home automation is the process of making a home or a personal space smarter. Home automation systems can be built from scratch or installed by an expert for home monitoring for elderly loved ones.
The option to save money on your power bills and control your lights, heating, and air conditioning system from anywhere by using smart home automation systems as well as controlling your home appliances through voice commands.
Home automation systems are designed to simplify your life. By using an automated home system, you can monitor multiple home functions at once and manage your whole home from one controller or smartphone app.
With that One recent innovation that has been making waves in the tech industry is the vacuum and mop robot. This product has quickly become a go-to for busy homeowners who want to keep their homes clean without sacrificing precious time and energy.
Best 12 Advantages of Smart Home Automation
Deciding to get a smart home automation system can be a daunting task and one that is often difficult to decipher.
The extensive number of features on offer is astounding, and it can be hard to know where to start. We've put forth our expertise so you can get the most out of your Smart Home Automation system.
1. Simple and connection
The efficiency of a home can be increased by connecting these linked gadgets, from smart security systems and speakers to lights and TVs. Monitoring a myriad of home-bound devices is made simple by integrating smart home goods and systems.
Users may remotely control and monitor thermostats, see security camera footage, configure interior and outdoor lighting, and more thanks to this connectivity without ever leaving their desks or even their kitchen tables.
Additionally, this reduces the cost of other home expenses, including utility bills.
2.Remote Check-Ins & Monitoring
Smart homes may be monitored remotely from anywhere at any time if they are connected to a smartphone or personal computer.
This makes it possible to check in on numerous components of your house and property in real-time. What exactly that level of protection entails to users is difficult to measure completely.
The genuine and reassuring peace of mind that comes from knowing that their home and loved ones are secure from dangers like burglars and vandals, fire, and carbon monoxide, is priceless.
3.Preferences & Settings That Are Customized
Smart devices can adapt to a particular user's unique tastes or demands, depending on the gadget.
A smart thermostat capable of automatically adjusting the temperature in your home to better suit the comfort of its residents based on the local weather. You can also create "rules" to automate amenities like lighting up or playing music when you get home.
Another excellent example is intelligent sprinklers. Some models include distinct zones that cover entire property. A more efficient watering schedule is ensured by customized activation depending on plant kinds, solar exposure, and other factors.
4.Enhanced Security & Real-Time Monitoring
Homeowners may know exactly what is happening and get real-time notifications on any suspicious events, all thanks to the interconnectedness of the smart home technologies and real-time monitoring and surveillance.
This includes features like alarm systems and security cameras, both of which may be configured regarding device arm/disarm, ensuring that kids get home safely, and even checking to see if a rambunctious pet is acting properly!
In addition to your home automation and security, whether you're at home or away, you'll have easy access to local first responders and emergency workers, who will send prompt alerts to your mobile device, along with 24-hour Central Station Monitoring.
5. Flexibility for various appliances and technologies.
Flexibility for various appliances and technologies. When it comes to integrating new appliances, gadgets, devices, and other forms of technology, like solar panels for instance, certain smart home systems typically have a remarkable degree or level of flexibility.
Regardless of how cutting-edge your appliances appear to be right now, newer, more stunning versions will be innovated or created from time to time.
In addition to that, when you update or replace outdated ones or learn about newer technologies to improve or complement your indoor and outdoor spaces, you will probably add to your collection of devices and gadgets.
Your responsibility as a homeowner will be a lot easier if you can integrate these newcomers without a hitch, and you will be able to keep upgrading to the newest lifestyle technology.
6.Tracking Your Health & Wellness
When you can't be there, checking up on senior family members gives them confidence that they can live safely and independently. Real-time, two-way audio and video communication are made possible with the addition of smart technologies.
For further security, these can be used with personal emergency response devices like watches, trackers, and other wearable technologies to track the user's wellness.
7. Management of utilities and energy
As was already mentioned, controlling utilities like lighting, heating, and cooling can reduce energy bills. By setting your thermostat in advance to a particular temperature at particular times of the day, you can ensure comfort while conserving energy.
To control automatic shutoff for electronic gadgets like TVs and game consoles, take into account smart outlets. Users of smart LED bulbs can schedule the on and off times of their lights for convenience and security.
8.Motion detection in video and surveillance
This technology, which only activates when motion is detected, conserves time, battery life, memory, storage, and energy. It alerts you to any potential suspicious behavior within your home or nearby, whether you're there or not.
Adding security cameras with video motion detection, shortened as VMD, technology reduces false notifications whether you are at home or away by capturing tailored movement. Either you or a trustworthy smart technologies supplier like General Security can program this.
9.Technologies for Video Analytics
Video analytics is arguably one of the most notable aspects of smart home automation. Along with motion detection, this cutting-edge technology can be implemented as an additional layer of security.
It reduces erroneous notifications and recognizes movement to aid in avoiding false alarms because it is intelligent enough to distinguish between photos of people, animals, and automobiles.
Real-time alarm triggers, such as the turning on of indoor/outdoor lights, are provided via pre-programmed tripwires and activity zones to deter possible attackers.
Think about including Perimeter Guard from Alarm.com, which has speakers connected to compatible security cameras and flashing red lights, sirens, and beeps through integrated LEDs.
10. Safeguarding Appliances & Automatic Shutoffs
Think about installing smart grills and stove guards to shut off appliances automatically. This offers real-time monitoring for potential fire hazards, gas leaks, propane loss, and carbon monoxide poisoning injuries.
If someone unintentionally leaves the refrigerator or freezer door open or ajar, contact sensors installed on these appliances will send out rapid alerts.
11. Flood and leak detection sensors
Another smart feature is one that guards your house against leaks and flooding. Utilize the leak detection and flood sensors in your system to send out real-time mobile warnings so you can stop costly damages in their tracks.
A good example of this is the quick leak and moisture recognition sensors that ensure automatic shutoff in untoward cases, optimizing consumption records.
12. Long-term advantage
Smart home automation does not only boost your current lifestyle and the nearest coming days.
In the long run, the accumulated benefits you get from saving bills and wiser energy consumption, a comfortable and easy home environment, and a safer shelter, will also reap the best advantages of a smart home over a longer period of time.
The impact of smart home automation on your health, and well-being and the value of your property as an asset are drastically improved, making it superior to other basic houses.
Let's face it: not everyone has invested in the latest smart house tech and accessories. But even if you own an older home or just want to upgrade your current setup, smart home automation can help you get the most out of your new investment.
How to Start My Home Automation System?
The best automation system should be the one you are excited to use. If you've used a Home Assistant before, you'll know that it's a breeze to set up and configure.
With this guide, you'll be able to get started with your very own home assistant automation system in no time… or at least be able to turn on the lights when you get home from work.
These days, everything around us is getting connected to the internet. And, that is just a wonderful thing. There is such a holy trinity in establishing a smart home. You should have these three going: reliable power source, internet connectivity, and smart devices.
These three are everything you need and may vary in types or sources depending on your location and preference.
Once you have the three main components of a Smart Home Automation up and running, it is also wise to consult an expert to decide which devices to incorporate into your system and about the things that you could work with within your household.
Make sure the personnel fully understand your needs, and everything will follow. Just make sure you get a reliable smart home expert who has sufficient knowledge of the project.
The Best Home Automation System
A smart home is a smart and intelligent space that is manipulated through the use of sensors and controls.
These controllers can help you lower your energy bills and make your life easier by allowing you to control lights, appliances, security, and more with voice commands.
When you are looking for the best home automation system, make sure it has the best compatibility with your devices and enough to support your needs. It would be best to follow the recommendations of the expert.
Schneider Electrics provides the best energy and digital automation solutions for efficiency and sustainability. This company aims to provide sustainable solutions in a cost-effective manner while giving the best user experience.
Live smarter and safer in a smart home, Now!
Get the most out of your home. With a smart home system, you can control appliances and lights from your smartphone, use voice control to get things done, and enjoy all the benefits of smart living without a lot of hassle. Visit www.se.com/th/en/ to start, now!