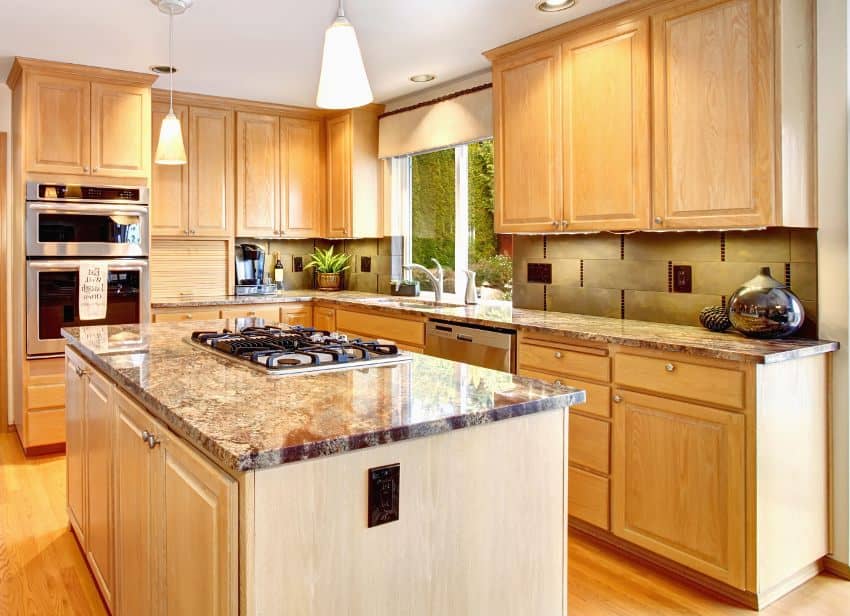 Regarding kitchen cabinets, there are many kinds of wood to choose from. One option is white oak. White oak cabinets can give your kitchen a clean and classic look.
White oak is a hardwood, so it is durable and will last many years. It is also a light-coloured wood to brighten up a space.
White oak may be the right choice if you are looking for beautiful, long-lasting wood. You can find white oak kitchen cabinets at various retailers, both online and in physical stores.
What Is The Average Cost Of White Oak Kitchen Cabinets?
If you're in the market for new kitchen cabinets, you're probably wondering about the cost. Cabinet prices can range widely, depending on the materials, quality, and style.
Here we'll break down the average cost of white oak kitchen cabinets to help you make the best decision for your kitchen.
White oak is a popular material for kitchen cabinets because it's strong and durable. It's also a beautiful wood with a natural grain pattern that can add interest to your kitchen.
The cost of white oak kitchen cabinets will vary depending on the wood's quality and the cabinets' style. If you want custom cabinets, you can expect to pay more than stock cabinets.
The average white oak kitchen cabinets cost $150 to $350 per linear foot. A 10-foot-long section of cabinets will cost you $1,500 to $3,500.
If you're on a tight budget, you can find white oak cabinets for as little as $100 per linear foot. However, these cabinets may not be as durable or high-quality as expensive ones.
To get the best value for your money, it's important to compare prices from different cabinet makers. Before making your final decision, consider the warranty and return policy.
Once you've chosen the perfect white oak cabinets for your kitchen, you'll need to decide on a finish. The most popular finishes for white oak are stained or painted.
Stained cabinets will show off the natural beauty of the wood grain, while painted cabinets will give your kitchen a more uniform look.
The average cost to stain kitchen cabinets is $500 to $1,000. The cost to paint kitchen cabinets is $1,000 to $2,000.
If you can install the cabinets yourself, you can always hire a professional. The average cost to hire a professional to install kitchen cabinets is $2,000 to $4,000.
How Long Do White Oak Kitchen Cabinets Last?
White oak cabinets are a long-lasting investment for your kitchen. Here are a few tips to keep them looking like new:
1. Avoid putting hot pans directly on the wood. Use a trivet or hot pad to protect the surface.
2. Wipe up spills immediately.
3. Dust regularly with a soft, dry cloth.
4. Once a week, clean the cabinets with a mild soap and water solution.
5. Once a year, apply a thin layer of beeswax or furniture polish to the wood.
With proper care, your white oak cabinets will last for many years.
You can install the cabinets yourself if you want to save money on your kitchen renovation. However, this is a big project, and it's important to ensure you have the time and skills to do it right.
However, if you're considering adding wood kitchen cabinets to your home, you have a few options. The most common classification of wood used for cabinets is oak, but you can also find cabinets made from maple, cherry, and other types of wood. You can also choose from various finishes to pick the perfect look for your kitchen.
FAQ
Are White Oak Kitchen Cabinets Easy To Clean?
It depends on the specific type of white oak and the finish applied to the cabinets. Some types of white oak are more porous and difficult to clean than others. If the cabinets have a high-gloss finish, they will be easier to clean than if they have a matte finish.
What Are The Best White Oak Kitchen Cabinets?
It depends on personal preferences. Some people might prefer white oak kitchen cabinets because they provide a bright and clean look, while others might prefer them for their durability and strength.
Ultimately, it is up to the individual to decide the best white oak kitchen cabinets.
Last Thought
There are many different kitchen cabinets on the market today, but one of the most popular and timeless choices is white oak cabinets.
White oak is a classic wood that works well with any kitchen style, and it's also very durable and easy to care for. If you're looking for kitchen cabinets that will last for years and look great, white oak is a great choice.