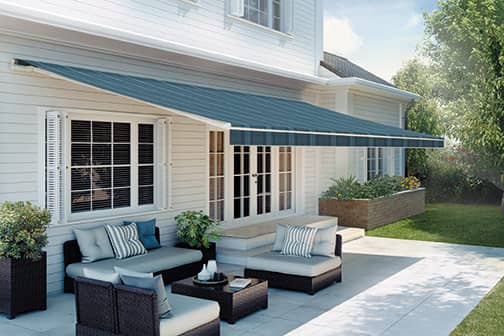 If you are the proud owner of a retractable awning, you likely love your investment. Awnings offer a large variety of benefits that are hard to beat.
Thus, when your awning becomes damaged it can be frustrating and upsetting. If you find yourself in this unfortunate situation, you may want to take immediate action to mitigate the issue.
This is the point when most awning owners begin to wonder if they need to invest in a brand-new awning or if it is possible to simply fix the issue and continue enjoying their existing awning.
While it is not always possible, most situations allow for your awning to be repaired. Continue reading to learn more about awning repair, its benefits, and when a total replacement may be necessary.
What Is the Difference Between Awning Repair and Awning Replacement?
When you choose awning repair, you can keep your existing awning, but have it repaired to original working order. In the case of repair, the mechanisms can either be repaired or specific parts be taken off and replaced.
Conversely, when a total replacement becomes necessary, damage is so severe that the decision is made that it will be necessary to order and install a completely new unit.
How To Determine If Repair or Replacement is The Right Choice
The first step towards deciding whether an awning needs to be replaced or repaired is determining what type of damage has occurred.
There are two main types of awning damage: structural and non-structural. Structural damage occurs when there is damage to the frame itself.
Non-structural damage refers to any other type of damage such as tears, holes, frayed cords, etc. It should also be noted that some types of damage are not covered under warranty.
For example, if your awning was installed incorrectly, this would fall into the category of non-structural damage and therefore would not be covered by the manufacturer's warranty.
The second step towards determining the best course of action is to evaluate how severe the damage is. If the damage is minor, then repairing the awning will likely be sufficient. However, if the damage is extensive, it may be necessary to replace the entire awning.
Some of the most executed awning repairs are fixing issues like damaged frames, failing motorized retraction, damaged, faded, stained, or torn fabric, dented/punctured metal canopies, and absent/missing hardware.
In these situations, a professional awning installation company can often restore your awning to like new condition.
Even if your issues are a result of an improperly installed awning, the professionals can likely mitigate the situation, so you can avoid paying for a brand-new awning.
When evaluating the severity of the damage, it is important to understand the difference between repair and replacement. In general, repairs are performed on items that have been damaged but are still functional.
Replacements occur when an item is no longer functional and must be completely replaced. If you are still unsure if you are in need of a repair or replacement, call the professionals and allow them to access the extent of the damage.
They will be able to go over the pros and cons of repair vs. replacement, so you are able to make the best choice in view of your unique circumstances.
What Are the Benefits of Awning Repair?
There are many benefits to choosing awning repair rather than replacement. First of all, repairs do not require removing the existing awning from its location.
This means that you can continue using the awning while the repairs are being completed. Not to mention, repairs are typically less expensive than replacements an especially attractive benefit if you love your awning but don't have the budget to replace it at the current time.
Another great benefit offered by repairing your current awning is that you avoid the frustrating process of shopping for and deciding upon a new awning.
Since, you can keep your current awning, you don't have to worry about trying to find something new that goes well with the aesthetic of your home.
You are also sure to love the timeliness in which the repairs can be completed, so you can get back to enjoying your time outdoors. It can often take months for a new awning to be ordered, delivered, and then installed.
With so many great benefits, most homeowners prefer to repair their awning instead of replacing it anytime it is a viable option.
What Are the Drawbacks of Awning Repair?
Although repairs are generally more affordable than a total awning replacement, they are not without their drawbacks. First, repairs take time.
Depending on the extent of the damage, repairs could take anywhere from several hours to several days. During this time, your awning will be out of service.
However, it is important to note that ordering a brand-new awning will far exceed the wait time of a repair. Secondly, repairs can be very difficult depending on the type of damage sustained.
For example, if your awning has been punctured by hail, it may be impossible to repair. If the damage is too severe or if the awning is completely worn out, there are simply times when repair will not be an option.
Thirdly, repairs are only as good as the workmanship of the contractor performing the job. While some contractors are skilled and experienced, others are not.
If you choose to go the route of repair, be sure to do your research prior to hiring anyone to work on your awning. Be sure to only choose a reputable company, with excellent reviews and recommendations to avoid finding yourself in a mess.
Lastly, even though repairs are usually less expensive than a replacement, they are not always cost-effective. Repairs can add up quickly if you're dealing with multiple problems.
Thus, it is important to evaluate, if the money that will be spent in repairs is worth it, in view of the life left in your awning. In these situations, you may find that you will be further ahead to simply invest in a brand new one.
At the end of the day, when it comes to awning repair vs. replacement, there is no one size fits all solution. While repair can often be a great alternative to total replacement, it is not always the best choice for every situation.
Be sure to fully consider all factors and consult the professionals prior to deciding if repair or replacement would be best for your awning.