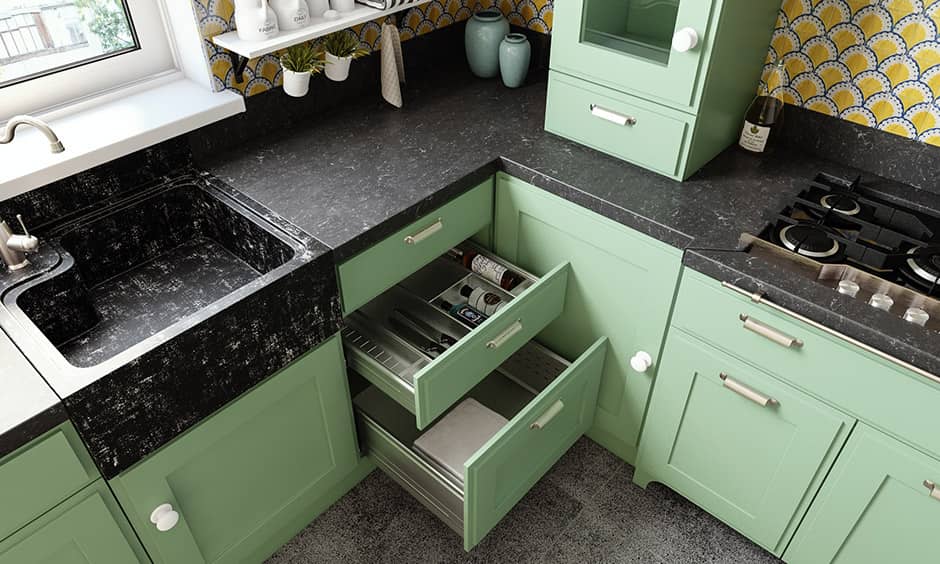 The kitchen is one of the busiest rooms in the house and it's also where we entertain guests. Here are the best Kitchen Countertop Ideas For Perfect Cooking.
If you want to add more value and beauty to your kitchen, consider stone countertops. You can find granite countertops in various shapes, colors, and styles, and you can even have them custom made. This type of material is extremely durable, making it the perfect choice for kitchen islands.
If you're on a budget, you can use laminate or solid-surfacing to create an auxiliary countertop. Regardless of the material you choose, you can choose the right edge style to complement your home's decor. An eased edge is a simple, contemporary detail that works well in a modern kitchen.
Top Kitchen Countertop Ideas For Perfect Cooking:
Ottavio White:
A white stone countertop can match any color in the kitchen. Its neutral hue can make a striking contrast against black flooring, or provide a soft transition from beige cabinetry. Moreover, this color is classic and timeless, making it a great choice for kitchens of traditional design and contemporary homes.
A white stone countertop is an investment that will last for years. It is durable, heat-resistant and scratch-resistant. A white granite countertop will enhance the interior of your kitchen and give it a sleek, crisp, and clean appearance. You can also choose a white granite countertop design that reflects light, which will make your kitchen look brighter and more spacious.
For a kitchen with a modern design, you can choose a white stone countertop with accent colors of gray and black. This neutral color will never look outdated and will complement many different types of wood.
This stone countertop design also blends well with floors made from wood. Another great option for a white kitchen is honed stone, which offers a matte finish and low sheen. This provides a more natural look, and you can add color enhancers if desired.
Venetian Gold:
Venetian Gold granite (like this) is a stunning choice for your countertops. The unique geological composition of this material means it's especially resistant to stains and chemicals.
Whether you use your kitchen for cooking or entertaining guests, you'll enjoy the positive qualities this material offers. Here are some ideas for incorporating this beautiful material into your kitchen.
Contrast the color of your cabinets with your new countertop. If you have light-toned cabinets, Venetian Gold can be a beautiful accent. Alternatively, if you have dark-toned cabinets, consider a light-toned stone backsplash. A backsplash in a coordinating color can bring your kitchen together.
Invest in a good cleaning and sealing product. For everyday stains, you can use a stain remover. These products are specifically designed to remove stains from granite. To further protect your new Venetian Gold stone countertops, you can seal them using DryTreat, a special sealer. This sealant provides twenty-five years of protection.
Fantasy Brown:
If you've been looking for a stone for your countertops, consider Fantasy Brown granite. This unique color combines elements of quartzite and marble. This combination is very hard and resistant to stains and etching. It is often referred to as "semi-precious" stone by stone fabricators.
While Fantasy Brown is often mistaken for stone, it is actually a sedimentary rock. The stone is quarried in the Northern Indian state of Rajasthan. Though it is not stone, it is fast becoming a popular material in American homes due to its neutral color and durability. Here are some of the reasons to consider Fantasy Brown for your countertop.
While the color isn't quite as striking as other granite colors, this countertop material is easy to work with. It is a beautiful and versatile choice for any home, as seen on https://pioneergraniteandquartz.com/. It has a neutral color that will blend in with almost any decor. It also comes at a low cost. Fantasy Brown is a great choice for those on a budget.
When choosing a Fantasy Brown granite countertop, consider the color of the cabinets. You can choose contrasting colors or neutrals to enhance the color of your countertop. A white or gray backsplash will go great with this stone, as will a dark floor.
Moreover, if you choose to use a darker color for your cabinets, you can go for a darker wood grain cabinet. While this granite is a durable material, it requires special attention because it tends to stain and etch. It is important to seal it twice a year and to keep it as clean as possible as dirt, grime, or other substances may leave lasting stains.
Coffee Brown:
If you are searching for a countertop material with a unique look, Coffee Brown stone is an option worth exploring. It's warm, rich color sets off the neutral colors of cream or dark brown cabinets.
The stone is smooth and not too crowded, giving it a strong, deep appearance from a distance. Its rich, varying shades can complement many different color schemes and home themes, including neutrals, warm browns, and warm chocolate.
Coffee Brown stone is a versatile natural stone that can be used in any part of your home. It blends well with wood cabinets and enhances the beauty of the room. It also looks great around a fireplace area. Whether you use it as a countertop or as an accent, it will enhance the beauty of your home.
Coffee Brown is rich, brown granite that is relatively inexpensive. When choosing this stone for your home, consider the color of your cabinets. Darker cabinets will make the countertop seem less bold. Alternatively, a light-colored cabinet with a lighter countertop can create a unique and funky effect.
Coffee Brown granite is an elegant countertop material with brown tones that will add depth and variety to any room. This stone is available in tiled or rough forms and will look great in any residential or commercial project. It is durable, heat resistant, and scratch-resistant. There are many ways to pair this stone with other materials, such as stainless steel, wood, or cream.
If you are looking for a more contemporary look, Coffee Brown stone may be the best choice for your home. It can work well with two-tone cabinets or all-white or gray cabinetry.
It also looks great with farmhouse-style homes. The granite's natural color is complementary to any cabinet color, so it can add an elegant touch to your home.
White Ice:
One of the hottest trends in countertops is the use of white ice granite. You'll love the pristine look of this stone. It comes in varying thicknesses, and you can choose a polished, leathered, or honed finish. It's an excellent choice for any room, including the home. It can be combined with other parts of the design to create a unique look.
If you have a busy home, white ice stone is the perfect choice for your countertops. It goes well with almost any color of cabinets, and it's even great outdoors.
Because it's a premium product, white ice granite can be expensive, but the quality and durability make it well worth the cost. Whether you're looking for a classic, elegant look, or something a bit more modern, there are many different options for countertops made from this stone.
White ice stone's natural shades don't tend to absorb stains, which makes it the perfect choice for a busy home. The material also works well with a variety of colors, including dark and gray cabinets.
Even stainless steel appliances look great against white ice stone. However, if you're unsure about the style of granite countertops, consider installing a laminate countertop instead.
White ice granite isn't overly popular and can be more expensive than other stone counters, but it can greatly increase the value of a home. Its classic and elegant look is sure to make any space look more elegant. This stone is also durable, making it a great choice for use outdoors. While its white hues can appear harsher on bright, sunny days, white ice stone can look softer in shaded, darker rooms.