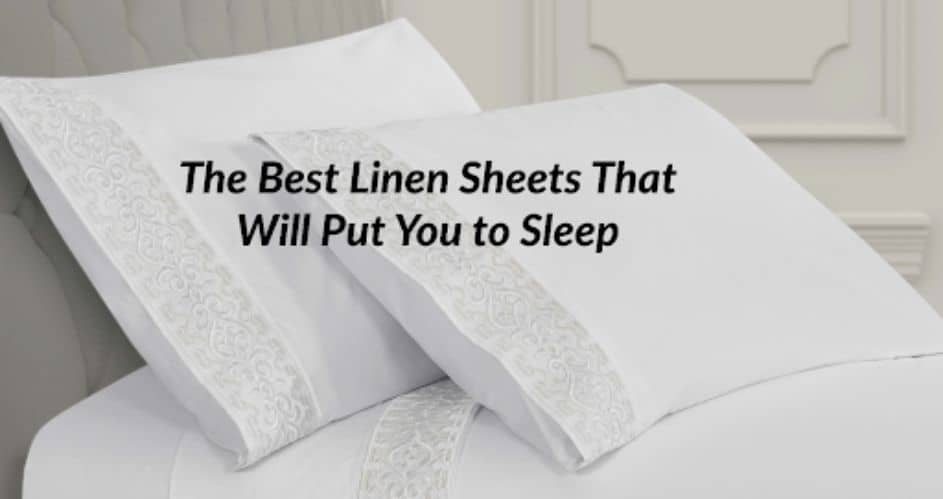 Linen is a highly sought-after bedding material due to its numerous advantages. The material is sourced from the fibers of the flax plant, linen provides inherent breathability and moisture-wicking capabilities, which make it perfect for use during warmer weather.
However, linen boasts impressive durability, as it remains resistant to wear and tear.
Despite its initially crisp texture, the material gradually softens with successive washes and is highly resistant to pilling as linen stands out from other bedding materials by being hypoallergenic and naturally dirt-repellent.
It is also an eco-friendly option since flax cultivation requires minimal irrigation, and linen processing consumes very little energy.
Compared to bedding products crafted from cotton or polyester, linen sheets come with a relatively steep price tag. A queen-sized set of top-notch linen sheets would typically cost no less than $250.
However, given their exceptional durability and performance, linen sheets are a good one if you invest in them as many sleepers find them more comfortable, particularly those who value a crisp texture in their bedding.
Linen sheets are not only stylish but also become increasingly comfortable over time, making them a valuable investment.
Unlike traditional cotton sheets, linen sheets possess a distinct texture, natural temperature regulation capabilities, and robust, long-lasting fibers that guarantee years of use.
Linen sheets are a great option for people who want luxurious, all-season bedding that is both visually appealing and comfortable, depending on their preferences.
In this article, we'll take a closer look at the best linen sheets on the market and what makes them stand out.
Sweet Dreams Guaranteed: The Top Linen Sheets of 2023
Cultiver Linen Sheets
Cultiver is a boutique bedding brand that specializes in linen sheets. Their sheets are made from 100% European flax and are stonewashed for a soft, lived-in feel.
They are available in a range of muted colors that will give your bedroom a serene, relaxing vibe. One standout feature of Cultiver's linen sheets is that they come with a set of matching pillowcases, making it easy to create a cohesive look in your bedroom.
Sijo LuxeWeave Linen Sheet Set
Sijo is a newer brand that has quickly made a name for itself in the bedding industry. The reputation of linen sheets is that they can feel rougher than other bedding fabrics like cotton, silk, or microfiber.
However, with the implementation of a stone-washing technique, the components of the Sijo LuxeWeave Linen Sheet Set are considerably softer than most other linen bedding collections.
People who prefer bed sheets that cling to the body and experience discomfort sleeping in warm environments would find this bedding set appealing.
The linen material's innate breathability enables the sheets and pillowcases to be ideal for warm and humid regions. Sijo provides a range of nine solid colors and a pinstripe design for this set.
You may also select from four different sizes: full, queen, king, and California king. Every set comprises two pillowcases and a fitted sheet.
It depends on your choice though but you can opt to include a flat sheet while making your purchase, or if you don't like it, you can skip it to reduce the cost.
Quince European Linen Sheet Set
The Belgian Linen Sheet Set from Quince offers great value for its softness and comfort. Made of 100% Belgian flax, the sheets are designed to become even softer with use.
Quince takes pride in its sustainable and ethical manufacturing processes, ensuring fair wages for factory workers as environmentally conscious buyers can easily access information about pricing and materials sourcing on the company's website.
Quince could be the perfect choice if you're searching for a light and airy linen sheet set that comes in a variety of sophisticated colors to complement your interior decor.
Unlike other linen sheets that may require a long time to soften, these sheets felt soft and comfortable right out of the box. The fabric has been pre-washed to ensure immediate softness and has exceptional durability, ensuring that the sheets will last for years to come.
Brooklinen Linen Core Sheet Set
The Linen Core Sheet Set by Brooklinen comprises premium quality washed linen that boasts a plush texture. Sourced from French and Belgian flax, this linen is remarkably sturdy and expected to endure the test of time.
In addition to this, this Sheet Set is obtainable in a diverse assortment of hues and designs, including exclusive limited edition shades.
Brooklinen suggests cleaning each component in a household machine. To maintain its structure, line-drying is recommended, but for the sake of time, you may opt to dry the components in a machine on a low heat or low tumble cycle.
The fitted sheet has a pocket depth of 15 inches, making it compatible with most mattresses available in the market today. However, some popular high-profile models may be too tall, so it's important to measure your bed first.
West Elm Linen Sheets
If you're looking for linen sheets at a more affordable price point, West Elm has a great selection to choose from.
Their sheets are made from 100% Belgian flax and have a casual, relaxed feel that is perfect for a beachy or bohemian bedroom. They are available in a range of colors and sizes, and the fitted sheet has deep pockets to accommodate thicker mattresses.
Saatva Linen Sheet Set
Saatva's reputation for opulent sleep products goes beyond its range of mattresses. Their Linen Sheet Set, for instance, is crafted from premium Belgian flax, boasting sheets and pillowcases of superior quality.
The fabric undergoes a prewash during production, resulting in a crisp initial feel, but grows increasingly softer with each subsequent wash cycle.
Using a yarn-dying technique, the texture of linen is accentuated without compromising its natural slubbed feel, resulting in a set that is perfect for people who typically find linen sheets to be too scratchy for a restful slumber.
These sheets are particularly well-suited for those who tend to overheat during the night, as linen is innately airy and does not retain heat like artificial fibers.
In addition, the set is of low maintenance, as each item can be washed in cold water with similar colors on a delicate cycle, and then dried in a tumble dryer.
Parachute Linen Sheet Set
Parachute is another popular bedding brand that has been a unique sheet for its high-quality products. Parachute has established a reputation for offering top-notch bedding, and the Linen Sheet Set is a prime example.
These sheets are crafted with premium European flax linen, which naturally provides a cooling effect, and their lightweight design makes them ideal for those who tend to overheat during sleep.
However, the sheets are garment-washed, ensuring a soft and luxurious feel right from the first use.
The fitted sheet is equipped with a deep pocket that measures 16 inches, making it suitable for use with most mattresses. The color range is a notable feature of this bedding set.
Unlike other linen bedding options, these sheets have a soft and smooth feel from the moment you open the box and the durable textile ensures that the bedding will last longer for years, and even become softer with time.
Baloo Stonewashed Linen Sheet Set
Linen sheets are generally not recognized for their softness due to their rough texture, unlike cotton or silk which have a smoother feel.
However, Baloo's Stonewashed Linen Sheet Set stands out as a remarkable exception.
During production, the linen undergoes a stone-washing process that loosens the fibers, resulting in a silkier and smoother texture that is pleasing to the touch. Despite this, the natural cooling properties of the material remain unaffected.
Baloo provides a range of sizes for their bedding sets, including full, queen, or king. Each set comprises a flat sheet, a fitted sheet, and two pillowcases.
Customers have the option to buy the flat or fitted sheet separately, and a complementary duvet cover is also available for an extra fee. The fitted sheet has a pocket depth of 16 inches, making it compatible with the majority of mattresses currently sold in the market.
To launder your bedding, use a mild detergent and wash it in a gentle, cool cycle in the washing machine. For drying, use a low setting in the tumble dryer and promptly remove the sheets and pillowcases to reduce wrinkling.
Morrow Heirloom Linen Sheet Set
The Morrow Heirloom Linen Sheet Set is different from other linen bedding for its draped texture, which sets it apart from traditional linen sheets that are known for their exceptional breathability but can feel cold during colder seasons.
This is achieved by pre-washing the linen during production, which relaxes the fibers and reduces the natural coarseness of the material.
The sheets and pillowcases should keep you cool on hot and humid nights while also providing insulation when the temperature drops. The entire set can be easily washed in a machine with similar colors on a gentle cycle using lukewarm water.
Tumble dry on low heat and remove promptly to minimize wrinkles. Please note that dry cleaning and bleach are not recommended for washing your bedding.
Buffy Sustainable Linen Sheet Set
Linen sheet sets are highly breathable and ideal for hot or humid weather, however, they may not be the most suitable option during colder seasons.
The Buffy Sustainable Linen Sheet Set offers a great all-year-round alternative due to its unique blend of long-staple hemp fibers, replacing the traditional flax fibers found in standard linen bedding. This composition makes it a versatile and comfortable choice.
The dense composition of this fabric provides a plush and substantial texture to the sheets and pillowcases, offering excellent insulation on chilly evenings.
Moreover, as these bedding accessories are crafted from all-natural materials, they are fully biodegradable, and you can compost them when they have served their purpose.
These features make them an ideal choice for environmentally conscious consumers who prioritize purchasing and utilizing sustainable items.
What is Linen?
Linen is a natural textile made from the fibers of the flax plant. It has been used for thousands of years and is known for its durability, breathability, and natural luster.
Linen is a versatile fabric that can be used in a wide range of applications, from clothing and bedding to home decor and accessories. The flax plant is primarily grown in regions with cool, moist climates, such as Western Europe, the Baltic States, and parts of North America.
After the plant is harvested, the fibers are extracted and spun into yarn. Linen is characterized by its unique texture, which is both smooth and slightly rough at the same time.
It is also known for its ability to absorb moisture and dry quickly, which makes it ideal for warm weather.
Linen is a popular choice for clothing because of its breathability and lightweight feel. It is often used to make summer dresses, blouses, and pants, as well as casual shirts and shorts.
It is also a common choice for bedding, as it is cool to the touch and has natural antimicrobial properties. Linen can be machine washed and dried, but it is important to follow the care instructions to avoid shrinking or damage.
Linen is created by extracting the flax fibers from the plant and transforming them into fine yarns that can be either woven or knitted, with most bedding items such as sheets and pillowcases being woven.
The harvesting process of linen is typically done manually, resulting in a highly durable material. With its distinct crispness, linen provides a unique tactile experience.
However, some sleepers may find the texture to be too rough and scratchy. Moreover, linen's exceptional breathability makes it ideal for warm temperatures.
What to Look for in Linen Sheets
Material
The texture of linen is undoubtedly distinctive, but the quality of the flax fibers utilized in the fabric determines most of its construction, weight, and overall worth.
Linen blends or synthetic fabrics will have a distinct texture from 100 percent linen, and although pure linen may be pricier, the selection of materials for your sheets should ultimately be based on your personal interest.
Suppose you appreciate the breathability and thickness of linen but desire a smoother surface with less texture. In that case, a linen-cotton blend could be a suitable option for you.
Alternatively, if you love the overall texture of linen but detest its susceptibility to wrinkles, consider choosing sheets made from a linen-rayon blend.
Quality
The type of linen bedding you choose can have a significant impact on its texture and lifespan. It is important to select something that is both comfortable and resilient and can withstand frequent use and washing.
The quality and characteristics of linen can vary depending on the type chosen, resulting in varying textures, appearances, and durability levels. For instance, Baloo linen is regarded as a premium choice due to its exceptional quality.
On the contrary, European flax linen is widely available in the market and has considerable strength. Its durability is notable, and whichever type of linen you choose, you can expect your sheets to become increasingly pleasant with usage.
Fit
If you have a bed that's larger than a king or has a pillow-top mattress, finding the perfect fit for your linen bedding may take more effort since most come in standard sizes.
To ensure a good fit, consider the dimensions of your mattress and box spring, as well as your personal preferences such as how snugly you prefer your fitted sheets and how low you want your bed skirt to hang.
Design, Color, and Pattern
If you're looking for a wider range of colors and patterns for your bedding, linen material may not be the best choice compared to those made from other fabrics as linen sheet sets come in neutral and earth tones, as well as whites and off-whites, which are versatile and suitable for most bedroom decors.
However, if you prefer more vibrant hues and intricate designs, you may want to explore other bedding materials.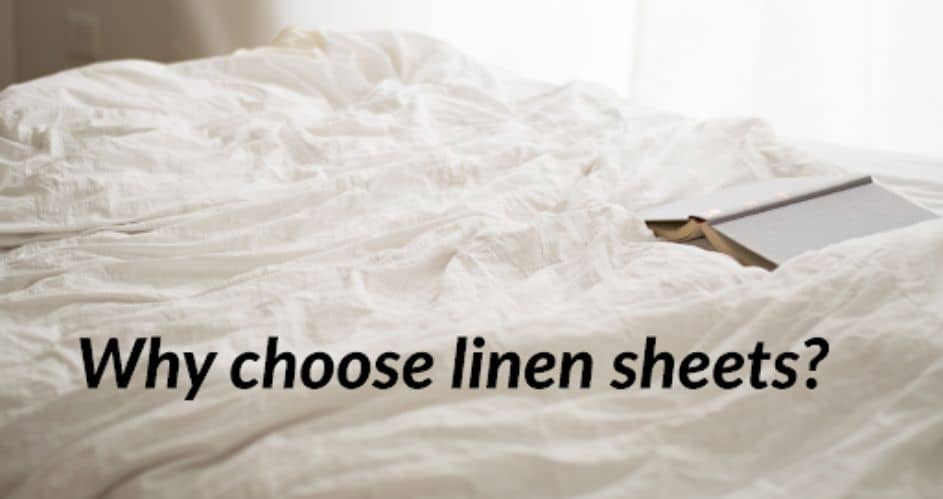 Why choose linen sheets?
It's no surprise that linen sheets feature prominently on market finest luxury bedding. Linen offers a refreshing sleeping experience, along with a plush and opulent sensation.
Its surface texture is coarser than cotton, displaying greater visible and tactile diversity. Moreover, linen endures well and becomes even softer after frequent washing and drying.
Linen, derived from flax, is a multi-functional fabric renowned for its exceptional bed sheet quality. Linen possesses longer and coarser fiber filaments than cotton, enabling a more open weave with a lower thread count.
Despite this, it maintains similar strength to cotton, enhancing breathability. Linen, like cotton, is highly absorbent; however, it surpasses cotton in wicking capabilities.
This property makes it an excellent fabric choice for hotter climates or layering with other textiles to regulate temperature effectively.
However, linen is recognized for its sturdiness compared to cotton, thanks to its tougher fibers, making it a valuable investment for a quality sheet set.
Linen is different from cotton sheets that are generally soft right off the bat, linen may require multiple washes to reach optimal softness due to its less elastic and stiffer fibers.
Additionally, linen sheets tend to wrinkle after washing and drying, which may not be the ideal choice if you prefer a completely smooth appearance.
In conclusion, linen will soften considerably over time due to the superior strength of linen fibers compared to cotton, linens typically have a longer lifespan.
Therefore, it's important to ensure that you are satisfied with the appearance and texture of your bedding since it is likely to remain with you for a long time.
I hope this little piece will make you get things done perfectly when it comes to shopping for linens. Have a nice time!!!