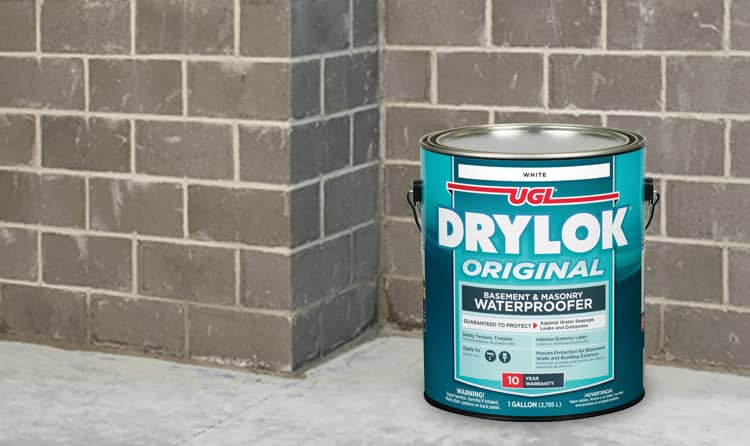 This question has an unequivocal affirmative answer. Yes, Drylok is unquestionably active in mold control and waterproofing. It also serves as a base layer on concrete surfaces to cover some effective measures.
Moreover, basal coats of the paint accept the application of latex or acrylic paints without any resistance. The Drylok paint imitates a perfect primer for other paints to add a premium adherence to the object.
Appearance is a non-negotiable aspect, and Drylok paint agrees with it, but what is the correct procedure to paint over Drylok? To obtain the answer, keep reading below:
How to Paint Coverings with Drylok?
Drylok paint is a very bright paint but has its barriers. In terms of protection and prevention, Drylok excels. Its application can also be manipulated as a holding base that rapidly invites the usage of other paints such as latex and acrylic paints over it.
What Should Be an Ideal Choice to Select the Paint?
One must be very specific while selecting the paint. In ideal situations, paint must have an average level of glossiness for a better and long-lasting finish. This requirement should not be ignored as the glossiness will avoid damage or abruption of paint while washing. This parameter will specifically stretch out the durability; security for both the layers will be assured, so glossiness should not be ignored.
If one is painting over the original Drylok paint, then one should be well informed of the texture it provides. It has a sandy feel that can be felt even after a layer of paint; it may get covered or at least less noticeable if one can apply another coat of the chosen paint, the texture will fade away.
With What Should I Apply Drylok?
Drylok is not a regular paint; it's a base that requires a tool that can apply it smoothly and without causing any obstacles. To achieve this level, a non-regular synthetic bristle brush is recommended to be purchased when beginning this process.
Because brush sizes might vary, double-check that you're getting the proper one. In addition, the brush can be found in any hardware store or on the internet.
How Long Will It Takes For Drylok Paint To Dry?
The first step should be drying of paint; Drylok is a heavy base that requires an efficient time to dry out. The time lasts up to 24 hours and even more in a few cases. Hence, it is recommended that there should not be any disturbances or applications of any other coatings between these hours as it will damage the first layer. The process won't be able to be persuaded due to its current condition.
Can I use Drylok Alone?
The exclusive use of the Drylok formulation results in a smoother texture. Drylok must be put in two coats to a project surface with a spectacular result to perform correctly. Hence, allow several hours for dry time between applications if Drylok is being used alone and no other types of paint are used on the surface.
Why Should Drylok be an Ideal Choice?
All the reasons that list Drylok the best are listed below:
An Amalgamation of Paint and Primer
Drylok is used on brick, masonry, or cinder blocks. They frequently necessitate the application of a primer to aid in paint adherence and other issues. In short, Drylok, at the same time, is a one-stop shop for paint and primer.
Porous and Protects the Surface
The concrete or any surface where Drylok is preferred to be applied is naturally prone to be porous, which accumulates the existence of moisture. This can be susceptible as it can lead to influencing mold growth, cracking concerns, bubbling situations, and even shortening the lifespan of the surfaces.
Drylok couple layer functions as a fighting shield which resumes being highly beneficial after the laying is completed dry. Drylok is specifically made to protect the surfaces; the stage is irrespective of the surface side and can be performed inside and outside.
Prevents Moisture
Drylok also can withstand the pressure of a 33-foot-high wall of water in extreme conditions. In contrast, the original Drylok formula is somewhat limited to only blocking the hydrostatic pressure equivalent of a 22-foot wall of water.
While many other paints are not usually created for moisture proofing, Drylok is an exception. Additionally, it prevents moisture from becoming trapped inside the painted surface.
Smooth and Creamy Texture
Drylok provides the accommodation of smooth and creamy consistency. It's considerably easier to apply, and the one-step application saves time. When you use this product, one won't even need to pre-wet the surface or stock up on the extra pails that come with mixing by hand. Apply to dry or slightly damp; the finishing will be brilliant.
Drawbacks:
Drylok lacks some color variations; it doesn't offer a good variety of color options for the user.
In some circumstances, moisture will seep through the cement and Drylock paint, causing the product to flake. Even if one has applied Drylock, one will need to check for efflorescence, which appears as silt and white spots on the basement walls and floor.
Exceptional Cases
Drylok is a golden key for concrete or masonry surfaces, but a key has no effect if the lock is protected by digit code. Drylok is only intended for concrete-like surfaces, such as stucco, terra cotta, brick, masonry walls, and cinder blocks. Drylok should not be used on drywall, wood, or metal because it may not adhere effectively or adequately prevent moisture, so the purpose remains unfinished, and so it shouldn't be looked upon on these surfaces.
Faqs:
Drylok can be used to paint drywall?
Even if it is Drylok, you should not apply waterproofing paint or Drylok on your walls. Insulation should not be put to foundation walls directly. It can conceal structural flaws and fractures while also acting as a moisture trap.
Is it possible to Drylok a basement floor?
Yes, Drylok can be used on garage floors, basement floors, brick patios, poured concrete and block patios, and wood steps, among other surfaces. This product can be used to enhance the appearance and longevity of specific surfaces.
Can one paint Drylok over mold?
Mold can be removed most effectively with chlorine bleach or biocides. Paint should not be applied over-mold on cinder blocks because it may peel and become ugly.
Will Drylok stop water?
DRYLOK extreme masonry waterproofer's patented solution is guaranteed to stop water from leaking through existing masonry or protecting new construction.