There's nothing quite like the feeling of walking into a room and seeing a beautiful rug that ties everything together. A well-chosen rug can bring warmth, texture, and color to any living room.
But it can be daunting to try and choose the perfect one for your space—there are so many options! What size should it be? What material should you choose? What patterns or colors will look best in your living room?
Here, we'll go over everything you need to consider when choosing the perfect rug for your living room.
Common Mistakes To Avoid When Picking A Rug – The Don'ts
People make certain mistakes when choosing a rug for the living room. It's easier to know what to do when you get these errors out of the way. Here are common mistakes you should avoid when picking a rug.
Picking a Small Rug
Going too small is a classic mistake that many people make. A general misconception is that the rug should fit between the sofas, chairs, and side pieces. Sure, it fits in your space, but if it's not big enough, it won't be able to tie your room together as the perfect-size rug would.
You should consider buying a rug large enough to fit underneath all your furniture, with some edge overhang on each side.
Matching the Rug Color with the Furniture
Whether in clothes or furniture, matching colors have been outdated for a long period. Matching your furniture and rug color can make the space look flat and uninspiring.
Now, it's all about contrasting and complementing. Consider using a rug color that stands out against the furniture and complements it.
Matching the Rug and Furniture's Texture
Textures can also be used to contrast and complement each other. A rug's texture should not mimic the furniture's exact texture but rather add a twist.
For example, if your furniture is smooth and structured, choose a rug with a thicker pile with more texture. This adds a dynamic contrast to the room, giving it much more life.
The Rug Pattern Is Too Happening
As much as we want a rug to be the room's focus, it shouldn't overwhelm everything else. If you decide to use a patterned rug, make sure that it doesn't take away from other elements in the room, such as artwork or furniture pieces.
Choosing the Perfect Rug – The Do's
Here is a checklist you should follow to pick the perfect rug for your living room to light it up.
Choose the Perfect Rug Size
As mentioned before, the rug should be large enough to fit underneath your furniture with some overhang on each side. If not all, it should at least fit underneath the front legs of your furniture.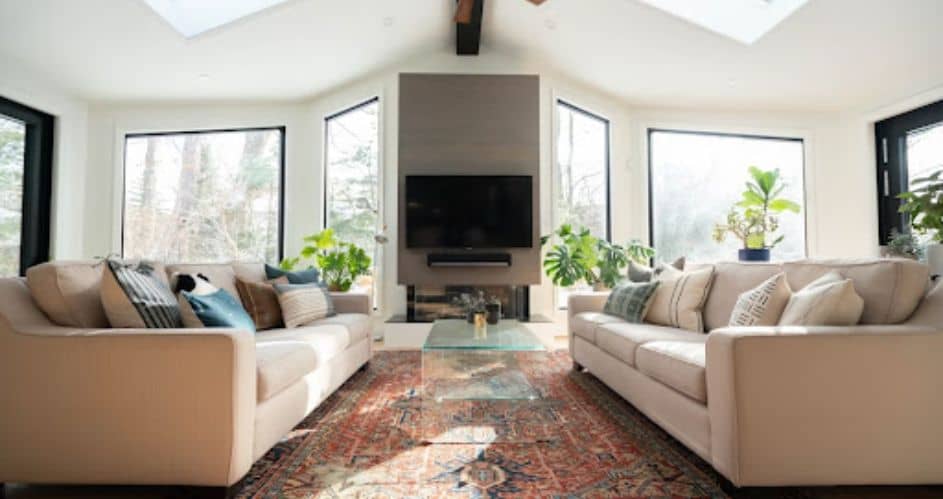 It's a good idea to measure the space you have to find the perfect size for your room. Use a square foot calculator to know the exact measurements of your room and what rug size will be perfect for it.
Consider measurements from wall to wall or from the center of your furniture pieces outwards.
Settle On the TIming
There are two ways to go about choosing a rug. First, if you are modeling your living room from scratch, pick a rug and build it around it. This way, you can design the rest of your living room around the rug and ensure it blends in with your furniture and decor.
Second, if you already have a room with furniture too good to replace, pick out the rug to fit the space. This will allow you to choose a unique piece that stands out and fits perfectly with all other elements in the room.
Think Out of Black, White, and Beige
We understand that a neutral rug is safe and won't be an eyesore, but it doesn't mean it has to be boring.
Instead of choosing the usual black, white, or beige option, opt for something with more texture or pattern while staying within your desired color palette. For example, a rug in grayish-green or muted pink rug can add depth and sophistication to your living room.
Consider the Flooring
The rug should also blend in with the flooring of your living room. If you have hardwood floors, a warm-tone rug will be perfect.
On the other hand, if you have tiles or laminate flooring, go for something with cooler tones and more texture. This will help create a harmonious look in the room.
Complement the Tone, Texture, and Dynamics
Complementing your room's tone, texture, and dynamics is key to adding the vibrancy you want with your new rug. If you have a minimalist-style living room with simple decor, choose a bold patterned rug or something with more texture.
And if you have an eclectic style living room, opt for something that stands out in color or design but still blends in with the overall scheme.
Make a Statement
Finally, don't hesitate to make a statement and go outside your comfort zone. A rug can bring life to a living room and allow you to express yourself in ways other decor elements cannot.
Whether it's something with bold colors or intricate patterns, let the rug reflect your unique and beautiful style.
Key Takeaways
You don't have to follow the traditions and stereotypes when choosing the perfect rug for your room. Use this guide to ensure you don't make any of the mistakes mentioned above and consider all factors when choosing the right rug for your living room.
Remember these pointers when choosing the rug:
Measure your room and use a square-foot calculator to find the right rug size.
Pick a rug first if you're designing your living room from scratch, or choose one that fits the space you have.
Consider options beyond black, white, and beige for more texture and pattern.
Ensure the rug complements your living room's tone, texture, and dynamics.
Feel free to make a statement with bold colors or intricate patterns.