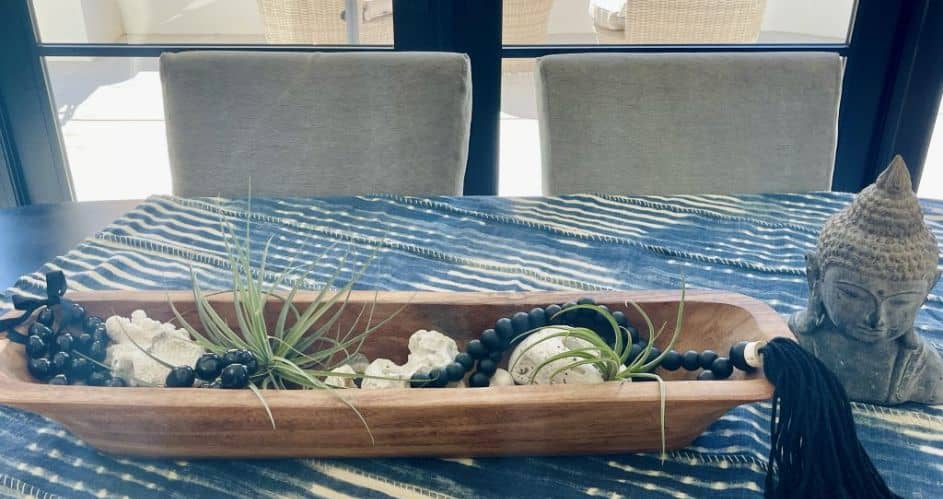 Hawaiian vibes reflect its strong values and culture and the tropical ambiance of the island. The Hawaiian style is quite eye-catching and is bold and cheerful with a bright color palette. It gives a laidback yet festive vibe and can make any space appear bright and inviting.
Whether you visited Hawaii at some point and fell in love with its spirit or live on the island and want to bring some of that tropical Hawaiian vibe inside your home and are looking for ideas and inspiration, you are in the right place.
Read on to get a peek at some elements you can use to give your home the ultimate Hawaiian vibe.
How to decorate your home with a Hawaiian theme
When you think of Hawaii, the first images that come to mind are of bright colors, fascinating patterns, and natural textures. You may see a lot of earthy colors and greenery as well.
So, if you are in the mood for redecoration, consider these subtle and some not-so-subtle ideas to bring the Hawaiian spirit into your home.
Natural plants and flowers
Nothing says Hawaii like greenery. On that note, get lots of indoor plants and greenery for the house to give it a tropical feel. You can also put a palm tree in the house if you are up for it. Buy wicker planters and place the plants in different corners or along the entrance.
Similarly, if you are fond of flowers, get Hawaiian flower leis for the different rooms of the house. They are not only given as a gift, but you can get creative and use them for décor purposes. You can place these leis on the fireplace, doors, or around frames.
They symbolize love and affection and can uplift the spirit through their colors and fragrance. You can choose leis in single colors or combinations according to the rest of your décor.
Hawaiian wall art
You may find several kinds of Hawaiian paintings online or in physical facilities that depict Hawaii in its true spirit and show its beautiful beaches and other landscape forms.
If you are an animal buff, you can also get paintings of animals typically seen around Hawaii, like sea turtles, whales, dolphins, and deer, or birds like parrots and flamingos.
Buy a mix of paintings and get them framed to adorn a particular wall in the house or put them in different places.
You can even get the Hawaii flag framed and hang it on a wall to show your association and love for the place. You may also find flags in different sizes and can use them to decorate your house in ways other than frames.
Hawaiian décor items
Be it flamingo-themed cushions, palm leaves patterned table covers, runners, or bamboo trays; you will find several décor items and accessories that give tropical vibes.
From ornamental pieces to themed rugs and bedding, you will find several decoration elements that will beautify your home and make you feel like you have stepped into a tropical paradise. With a few touches here and there, you can easily transform the feel of the place.
Hawaiian air fresheners
Besides the visual elements, sensory stimulation for smell is also important for a profound impact. If you want to create the ultimate Hawaiian ambiance, consider using Hawaiian air fresheners and create an aura of the island around the house.
This, combined with the other décor elements, will help you successfully create a beautiful Hawaiian look in your home, and you will experience the bliss and joyful vibe of the island even inside your home.
Final Thoughts
Whether you want to decorate your home with a Hawaiian theme to stay connected to the place or to show your love for it, a few changes to your house can go a long way in sprucing up your living space and giving it the Hawaiian beachy vibe.
You won't need to pack up your bags and visit Hawaii whenever you want to feel its spirit. The decoration ideas can bring tropical paradise right inside your home.
Just put on your favorite island music, and sit back on your wicker chair to relish the soothing Hawaiian vibes and be transported into the stunning tropical paradise you consider home.