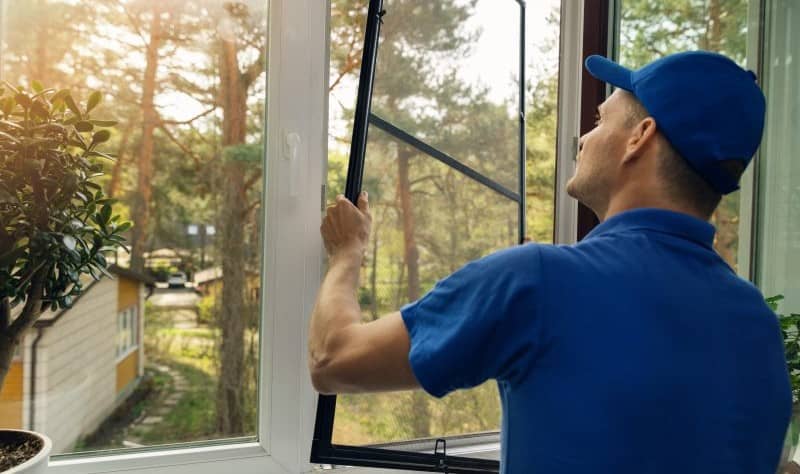 If you are considering hiring  professional window cleaners for your home, you may be wondering what exactly is included in "window washing."
One of most frequently asked questions, by potential customers is whether or not the professionals will clean their screens as part of the window cleaning process. This is a legitimate question as filthy screens can completely ruin your sparkling clean windows with their grimy appearance.
As such, you will be pleased to learn that professional window cleaners do much more than simply remove screens to clean your windows, but also fully clean your screens before reattaching them.
That way, your windows and screens are bright, clean, and look as good as the day they were first installed! Continue reading to learn more about professional window cleaning services, what they include, how to choose the right company, and how these services can benefit your life.
What Is Professional Window Cleaning?
Professional window cleaning is an industry term used to describe any service provided by a company that specializes in providing high-quality window cleaning services.
The companies that provide these services typically offer a wide range of options including:
Window Cleaning –
A professional window cleaner will use specialized equipment to thoroughly wash all of the surfaces of your windows (interior and exterior), including sills, tracks, frames, shutters, and even blinds.
They will then use special techniques to ensure that no streaks or spots remain on your glass after the cleaning has been completed.
Screen Washing –
Professional window cleaners will carefully wash your window screens using specialized equipment and methods to make sure that no dirt remains, so you have an uninhibited view.
Window Repair –
The professionals can complete a service for glass restoration and renewal that effectively restores your windows to like new condition by getting rid of unsightly hard water stains and scratches in the glass if necessary. In the case of the damage being too severe to be repaired, the best home window replacement company in Phoenix, AZ can help.
Professional Window Cleaning Services Are Worth It
The following are some of the many benefits of having professional window cleaning services performed at your home or office:
Cleaner Windows –
Because professional window cleaners have the proper tools and experience needed to properly clean your windows, you will find that your windows shine brighter and stay cleaner longer than if you had attempted to clean them yourself.
No Mess –
Professional window cleaners will work quickly and efficiently without leaving behind messy residue or making a mess themselves. Instead, they will use environmentally safe products to keep your home or business looking its best.
Peace of Mind –
Professional window cleaners know how important it is to maintain your home or business's appearance, so they will always take care when performing their services.
You can rest assured knowing that your property's windows will be cleaned with excellence and attention to detail, every single time.
Stay Safe –
The professionals have the right safety tools, equipment, products, and knowledge to get the job done correctly without putting themselves in harm's way.
Conversely, if you attempt a DIY job you could end up injured or using a product that damages your windows.
Improve Your Health –
Having your windows regularly cleaned and maintained gets rids of dust, dirt, dander, pollen, and other allergens that impact those who suffer from asthma and allergies.
Not to mention, cleaner windows equal better indoor air quality in general, helping the entire family stay healthy.
Increase The Lifespan of Your Windows –
Simply put, windows that are cleaned and maintained on a regular interval last longer and perform better. When you clean your windows properly, it prevents seals from becoming damaged/broken on insulated double pane windows.
This has a two-fold impact, keeping your windows from going bad, which in turn greatly extends their lifespan and helps your windows to remain energy efficient so your heating and cooling costs remain low.
Protect Your Glass –
There is nothing worse than glass that is scratched up from dirt and grime that has become permanently embedded. Avoid this costly and unsightly scenario when you have your windows professionally cleaned on a regular basis.
A Better Sales Experience –
The concept is simple, potential home buyers will be much more likely to put in an offer on a home that looks clean and smells clean.
Thus, having your windows professionally cleaned, prior to listing your home, can help you sell the home more quickly, at a higher price point.
Improve Your View –
There is nothing quite like beautiful natural lighting. Maximize natural light, inside your home, and enjoy the morning sunrise and evening sunset, when you choose professional window cleaning.
How Often Should I Schedule Professional Window Cleaning?
Professional window cleaning should be scheduled at least once per year for optimal performance. However, some properties require more frequent maintenance due to their location.
While professional window cleaning is a great investment year-round, most customers prefer to have their windows serviced each spring to get rid of the winter's heavy build-up of dirt and grime, so warmer days can be enjoyed.
What Should I Look for In a Professional Window Cleaning Company?
When you call in the professionals, you are trusting strangers to care for your investment like you would.
As such, it is important that you feel comfortable that whomever you hire is trustworthy to do the work correctly and be inside your home. Consider the tips below when choosing the right company:
1) Reputation & References:
A reputable company will provide references from previous clients. Ask to see these references and read them carefully. If possible, ask to speak with the client directly about his/her experience.
2) Insurance:
All companies must carry liability insurance and workers compensation coverage. Check with your state's Department of Labor and Industry (or equivalent agency) to verify that the policy covers all employees involved in window cleaning.
3) License:
Each company must be licensed by the State in which you reside or its equivalent agency. You may also want to check if they are members of the National Association of Cleaning Service Providers (NACSP).
4) Equipment:
Some companies use special equipment to remove stubborn stains and grime while others rely on traditional methods. It is important to know what type of equipment will be used before scheduling services.
5) Safety Precautions:
Most companies take safety precautions to ensure the health and safety of their staff and customers. These include using only approved chemicals and protective gear, training their staff in proper procedures, and providing adequate ventilation during work.
6) Pricing:
Make sure you understand how the company charges for services. Some charge by the square foot or hour, while others charge by the job.
7) Availability:
Be sure to confirm that the company is available when you need them. Many businesses operate on a seasonal schedule, which means that availability may vary depending on the season.
If your windows could use some attention, don't wait another day. Get started researching companies in your area, so your windows can shine once more!