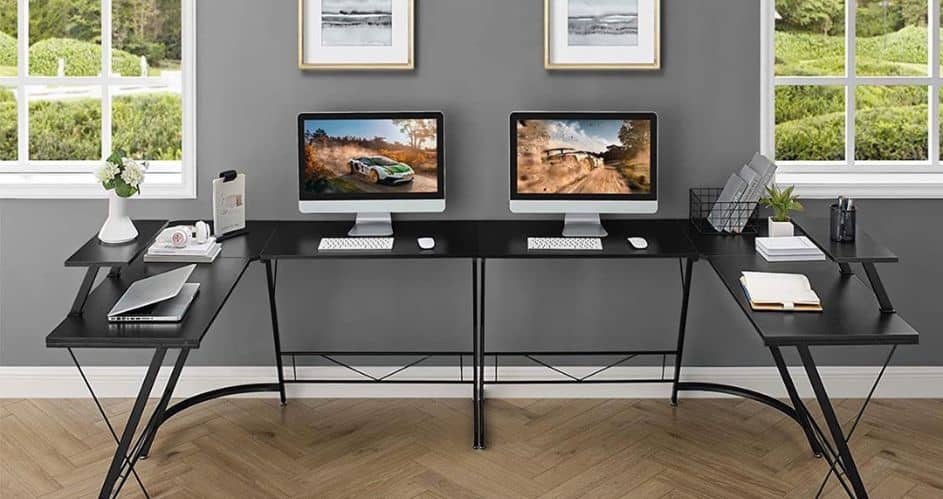 Choosing the perfect desk for your workspace can be daunting, especially when countless options are available on the market. Among these, one popular choice is the L-shaped desk with drawers.
Not only does it provide ample workspace, but it also offers storage solutions with its integrated drawers. However, not all L-shaped desks are made equal. Here are five essential features when considering an L shaped desk with drawers.
1 – Available In Different Sizes
The dimensions of your desk significantly influence its compatibility with your workspace. An L-shaped desk with drawers comes in diverse sizes, allowing you to choose one that suits your room.
Whether your  workspace is a cozy home office or an expansive corporate environment, there's an L-shaped desk designed specifically for your requirements. The trick here is to take precise measurements of your space and pick a desk size that comfortably accommodates your work necessities without dominating the area.
2 – Available In Different Finishes
Aesthetics matter when selecting a desk. An L shaped desk with drawers isn't just a piece of furniture; it's a significant component of your room decor. Therefore, choosing a desk finish that complements your room's aesthetic is essential.
From blanc de gris, espresso, grigio, and Miele to noce, L-shaped desks come in various finishes that seamlessly blend with your decor or stand out as a statement piece. Each finish has its unique vibe, so pick one that resonates with your style and enhances your workspace ambiance.
3 – Adjustable Foot Glides
Beyond aesthetics and size, the stability of your desk is another critical aspect to consider. An ideal L shaped desk with drawers should come with adjustable foot glides.
This feature ensures that your desk remains stable, even on uneven floors, preventing wobbling that can disrupt your work. It's a small yet significant detail that can significantly enhance your working experience.
4 – Made From Thermofused Laminate
The material of your desk directly influences its durability and longevity. When considering an L-shaped desk with drawers, look for one made from thermofused laminate.
This material is known for its superior durability, scratch resistance, and ease of cleaning. Plus, it gives the desk a sleek, modern look. With a thermofused laminate desk, you can have a sturdy workspace that withstands daily wear and tear while maintaining its aesthetic appeal.
5 – Ten Year Warranty
Last but not least, a reasonable warranty period is a testament to the quality of the desk. A 10-year warranty on an L shaped desk with drawers signifies the manufacturer's confidence in its product.
It assures you that the desk is built to last and that the company stands behind its product. This long-term warranty provides peace of mind, knowing that your investment is protected considerably.
Making the Right Choice: Final Thoughts on Selecting Your L Shaped Desk with Drawers
In conclusion, don't just focus on the price tag or brand when shopping for an L shaped desk with drawers. Pay attention to these five key features – size options, available finishes, adjustable foot glides, thermofused laminate construction, and a 10-year warranty.
These features will ensure that you invest in a desk that's aesthetically pleasing but also functional, durable, and worth every penny. Happy desk hunting, and thanks so much for reading.