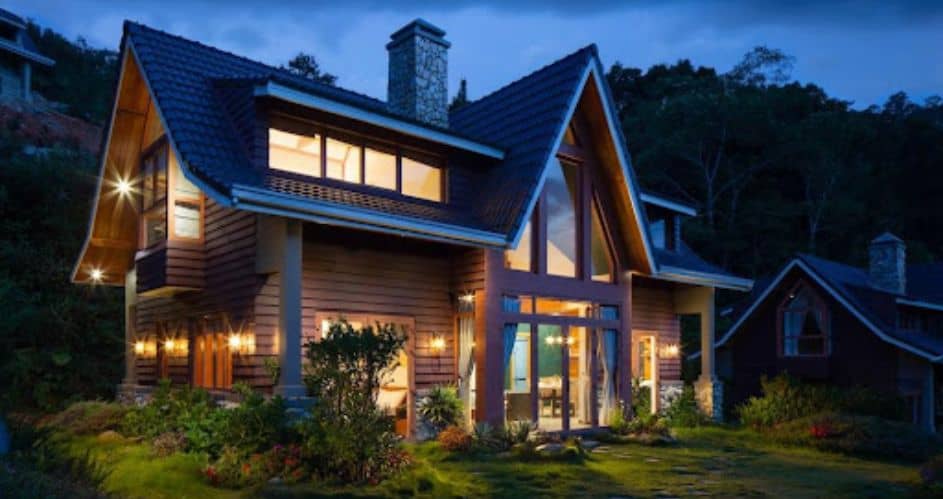 Giving your home an updated, modern look is one of the best ways to increase its value and make it more enjoyable for you and your family. With the right exterior remodeling, you can transform the curb appeal, functionality, and style of your house.
National Association of Realtors reports that exterior remodeling projects offer an average return on investment of over 70%. Beyond increased home value, a modern exterior also provides aesthetic appeal and can make your home the envy of the neighborhood.
Tips To Give Your Home's Exterior A Modern Facelift
Update the Front Door
The front door is one of the first things people notice about your home. An old front door can compromise the whole look of your house, so make sure to replace it with a more modern one; it will give your home an instant curb appeal boost.
Opt for a door with clean lines and minimal ornamentation in a bold and modern color like black or charcoal gray. You can also pick navy blue. Moreover, a plain white door never fails to impress the onlookers.
If you're unsure about the best choices for your home's facade, companies like Design Windows And Doors can offer expert advice tailored to your aesthetic and functional preferences. You can also add sidelights or a transom window for a more contemporary look.
For a cohesive look, match the shutters and the windows with the overall theme color of the house. A contemporary look demands windows and doors with very clean lines and little to no ornamentation. Today, minimalism is all the rage, so opt for frameless windows and doors to lend the most modern, sleek look.
Install New Siding
Tired, worn siding can really drag down the exterior of your home and make it look outdated. Replacing old, damaged siding is one of the best ways to give your home a modern facelift. Opting for brand-new vinyl, metal, or fiber cement siding provides a crisp, clean look that appears fresh and contemporary.
When selecting new siding, look for options that have straight, simple lines rather than ornate or complex detailing. The more minimalist and streamlined the siding profile, the more modern it will make your home appear.
Focus your siding choice on neutral colors like different shades of gray, black, or white. These colors lend a much more modern vibe than beiges, browns, or other warm wood tones. Stick to a monochromatic color scheme where the siding is all one color without too much contrast.
New siding can entirely transform the look of your exterior. It covers up flaws and damages on an old siding to give your home a pristine, almost freshly built appearance.
The straight lines and neutral colors present a minimalist look that feels modern and updated. It's a significant change but doesn't require you to fully reconstruct the exterior of your home.
Update Exterior Paint
Along with new siding, a fresh coat of exterior paint can instantly make your home look more modern. The colors you choose for the exterior paint can really impact the overall look and feel of your home.
Stick with neutral, muted paint colors in gray, taupe, and soft white shades rather than bold or bright colors. A monochromatic scheme where you use different tones of one key color is also a popular, modern choice.
Using the same exterior paint color on the siding, trim, shutters, and front door unifies everything into one cohesive, contemporary look. Matching those elements ties everything together. Soft grays, greiges, and whites have a very modern, updated feel compared to beiges and browns.
The paint finish is also important. Opt for matte, eggshell, or satin finishes rather than high-gloss. Matte finish has a classy, modern look versus something shiny.
Make sure to use exterior-grade paint that can survive rainstorms and extra hot days. With the right color and finish, a new coat of paint can transform the look of your home and exude a contemporary vibe.
Add Modern Shutters
Shutters are one of those exterior features that can make a home look quite dated if they are old, peeling, faded, or out-of-style. Replacing traditional shutters with sleek, modern versions is a simple upgrade that can help modernize the look of your home.
For a contemporary aesthetic, opt for shutters without any center dividers or ornamental cut-outs – the cleaner the lines, the better. Simple panel shutters lend the most modern look.
In terms of color, black, navy, dark gray, and white are great modern options. Shutters in bold, neutral colors look updated versus ones in wood tones or faded, peeling paint.
Modern shutters should be proportional to your windows – don't go too small or too large. They should fit the windows nicely. Installing new, fresh shutters in a modern style and color transforms your home's curb appeal for relatively little investment. It's one of the quickest ways to update the exterior.
Update Exterior Lighting
Outdated, ornate exterior lighting fixtures can really bring down the look of your home's exterior. More traditional, overly intricate light fixtures make your home appear dated and old-fashioned. Replacing them with clean-lined, contemporary fixtures instantly modernizes the look.
Opt for wall sconces or pendant lights by doors and entrances. Use pathway lighting along walkways and driveways for safety and style. Choose fixtures made from modern materials like metal, concrete, and stone instead of wrought iron.
Install lighting with an eye for symmetry and consistency. The more streamlined and complementing the lights are, the more cohesive your exterior lighting plan will be.
Remember, modern exterior lighting should be functional but also align with your home's overall aesthetic. Illuminating outdoor spaces is key for both safety and ambiance, so don't neglect lighting in your exterior remodeling plans.
Conclusion
Updating your home's exterior doesn't have to be a major renovation. With strategic updates, you can give your home's exterior a modern facelift.
Focus on minimal ornamentation and neutral colors; the end result will boost your home's curb appeal and give it a contemporary look that increases its value. With this guide to exterior remodeling, you can confidently tackle projects to make your home exterior more attractive and up-to-date.