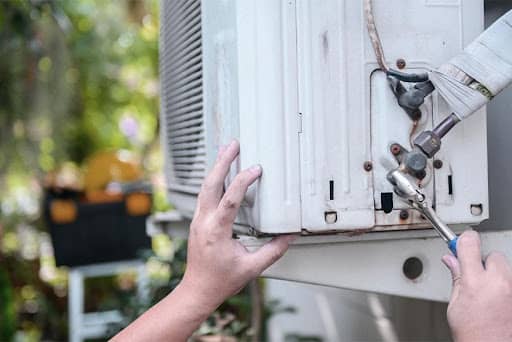 Summer is quickly approaching, so it's time to think about air conditioner installation such as a PTAC Unit installation or maintenance and hire an HVAC contractor.
But perhaps you don't have much experience hiring an air conditioner contractor. Furthermore, it can be challenging to find the best HVAC company  to meet your requirements within your budget
Here, we'll go over a few factors to consider when hiring an ac unit contractor, as well as how to get the best deal possible. So, let's begin!
8 Qualities of a Perfect Air Conditioner Contractor
If you're looking for an air conditioner contractor, there are certain qualities you should look for to ensure you get the best possible service. Here are 8 of the essential qualities:
1.Reliability:
A good air conditioner contractor will be reliable and show up on time. They will also be available at your service whenever you need them, whether for an urgent fix or routine maintenance.
2.Competence:
A competent air conditioner contractor will have the skills and knowledge necessary to properly install, maintain, and repair your air conditioner. They should be capable of troubleshooting any problems that may arise.
3.Honesty:
A trustworthy contractor for air conditioners will be straightforward about their training and experience. They'll also be frank about the cost of their services and any potential problems that may arise. They will also maintain transparency in their quotations and pricing estimates and make things easier for you.
4.Integrity:
A contractor with integrity will be truthful in their dealings with you. They'll also keep their promises and stand behind their work.
5.Professionalism:
A professional air conditioner contractor will dress and behave appropriately when working in your home. They'll also be respectful of your property and your time.
6.Communication:
A good air conditioner contractor will communicate clearly with you verbally and in writing. They should also be cooperative with your doubts and queries.
7.Punctuality:
A punctual air conditioner contractor will arrive for appointments and meetings on time. Additionally, they'll quickly respond to your emails and phone calls.
8.Flexibility:
A flexible air conditioner contractor will be willing to work around your schedule. They should also be able to adapt to different conditions and circumstances.
You should look for an HVAC contractor who possesses these and other ideal traits. If you keep these in mind, you can be sure you'll find a contractor who will provide you with the best possible service.
How to Find the Best Air Condition Contractor
Finding an air conditioner contractor may seem daunting, but it doesn't have to be if you follow some tips.
You can start by looking online or talking about it with your nearest and dearest ones or even your friends.
Once you have several potential contractors, you can start eliminating them by taking things like experience, cost, and customer service into account.
Before making a choice, it's crucial to read reviews of each contractor. You can look for reviews on sites like Facebook, Google Maps, Trustpilot, and more. You can learn more about what to anticipate from each contractor by reading reviews left by previous clients.
Once you've successfully found a few  air conditioner contractors that pique your interest, schedule an interview with them.
Ask about their experience, pricing, and customer service during the consultation. This is how you can get the answers to all your queries so that you can make an educated guess.
Before you sign a contract with a contractor, carefully go through all the listed conditions given to you by the contractor.
To ensure you know what you're agreeing to, read the small print carefully. Before you sign on the dotted line, make sure to ask for an explanation of any terms you're unclear about.
Finally, communicate with them once you've found the perfect air conditioner contractor. This way, you can be sure that your air conditioner is adequately maintained and that any problems are dealt with promptly.
The Risks of Hiring a Sub-par Air Conditioner Contractor
There are many consequences of not selecting the perfect air conditioner contractor. One of them is the high probability that your air conditioner will be compromised and stop working properly.
This can be highly frustrating, especially during the hot summer months. You'll have to spend more money to have your AC unit fixed or replaced in addition to having to put up with the unpleasantness of the heat.
Another consequence of choosing the wrong AC contractor is that you could pay more than you need. Your new AC unit's cost can be accurately determined by a reputable air conditioning contractor.
You can get lucrative offers and discounts if you purchase multiple units from them. However, if you choose a less reputable or a new contractor, you could end up paying way more than you should.
Finally, another consequence of not selecting the perfect air conditioner contractor is that your home may not be as comfortable as it could be.
A good AC unit will help to keep your home cool and comfortable during the hottest months of the year. However, your home could become quite uncomfortable if you have a unit that isn't correctly installed or maintained.
This is why it's so important to make sure that you select a contractor who knows what they're doing by taking the time to find the perfect air conditioner contractor.
Conclusion
To recap, a few key things to keep in mind when looking for an air conditioner contractor: do your research, get quotes from multiple contractors, and ensure they are licensed and insured. You can rest assured to find the ideal contractor for your home cooling needs by adhering to these tips.