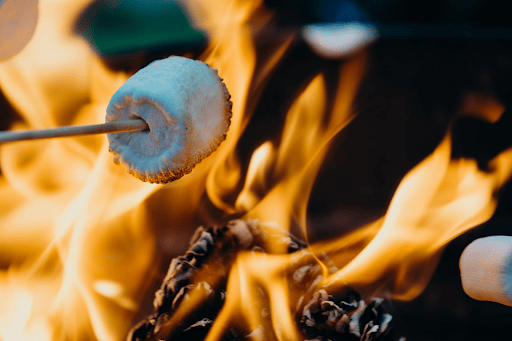 If you've ever spent time around a fire pit, you know that they help bring people together. Whether you're roasting marshmallows with the kids or keeping warm on a cool evening, fire pits are often the focal point of any yard or garden.
Although they're a wonderful addition to any home, having a fire pit can have some negative effects on you and the environment. 
Fire Pits Have a Negative Impact on Us and the Earth
The EPA reports that burning a recreational fire can result in air and particle pollution being released into the environment.
Greenhouse gasses like methane and carbon dioxide are also emitted through burning.
With the release of pollutants and greenhouse gasses, fire pits unfortunately contribute to poor air quality and climate change. 
The air pollution from fire pits may even end up exacerbating certain health conditions such as various cardiovascular diseases.
The smoke and particulate matter can trigger something like asthma in young children and COPD in older adults.
Additionally, wood smoke is considered harmful for your body and may even result in illnesses like bronchitis.  
Earth-Conscious Fire Pit Ideas
For those that love to enjoy fire pits and the good times that come with them, there are ways to make your home fire pit more eco-friendly.
Check out these earth-conscious fire pit ideas so you can minimize your impact on the Earth. 
1. Bioethanol Fire Pits
Fire pits that use more eco-friendly fuels are becoming more and more popular. Ones that use bioethanol burn a lot cleaner than wood or gas-powered fire pits.
Because the ethanol burns cleans, you won't be releasing any harmful toxins or pollutants into the air. 
Additionally, no ash or smoke is present when you burn ethanol and you don't have to worry about making sure your fire pit has ventilation.
They generally also have little to no odor, making it easy to enjoy a fire without living with the scent of wood smoke in your hair or on your clothes for days after. 
Most bioethanol fire pits are easy to set up and are portable, so you can move them around in your yard or garden to wherever you need them. Just make sure that they're at least 10 feet away from your home or other structures for safety reasons.
2. Smokeless Fire Pit Stove
Another eco fire pit idea is a smokeless stove. Smokeless stoves are designed to have efficient airflow that actually reburn any smoke produced as fuel.
This method of burning creates a hotter flame that requires less wood fuel than a traditional wood burning fire pit or stove. With these stoves, you release no smoke into the environment and get to conserve wood.
These types of stoves are typically portable and have a stylish design that will fit in any backyard. They're also well-engineered and make for easy clean up after you're done burning your fire too.
You can enjoy a quick and easy fire on the go or in your yard and be confident that you're leaving a minimal impact on the environment.
Whether you're looking to switch out your old fire pit for something more sustainable or are looking for a recreational addition to your outdoor space, these two eco-friendly fire pit alternatives are great options for any backyard.
You can sit back, relax and enjoy your outdoor fire knowing that it's better for both you and the environment.
Once you have your fire pit, make sure you brush up on some fire pit safety tips so that you can enjoy your fire without incident.
For more ways to enjoy a fire pit and lessen your impact on the Earth, check out the infographic from The Zebra below.