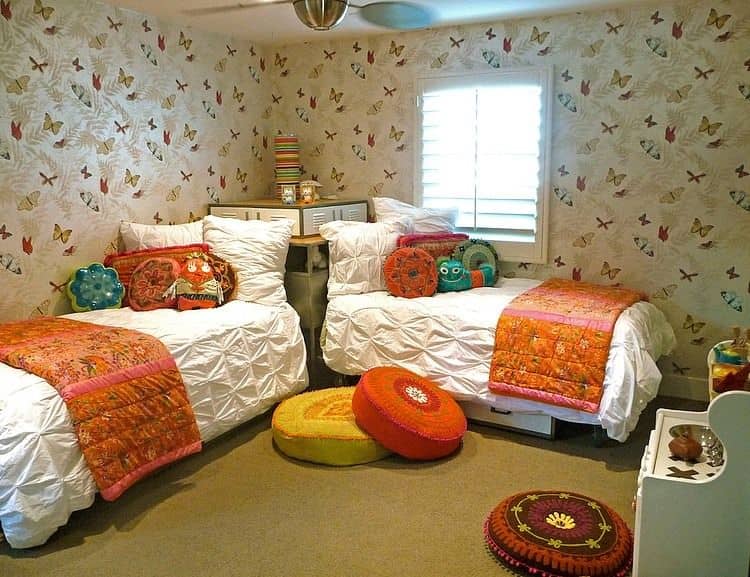 An individual averagely spends one-third of their life sleeping. To make this period relaxing and appealing for everyone, proper placement and correct advice must be recognized while constructing or designing a bedroom, especially for children.
Considering space availability as the primary problem that arises while designing a compact bedroom. Whether arranging beds for twins, young siblings, or a multipurpose guest room, not all rooms can accommodate a classic symmetrical layout. To put a period to such annoyances, let's look at some options for dealing with them.
Every mattress size and style of bed is not appropriate for every lifestyle, nor are they always compatible with the available space in homes.
Measuring And Sketching Of Room
The first and foremost step one should imply is, to begin with, understanding dimensions and sketching the bedroom. This will map out the right placement one will require to determine the design. There are fixed ways and orders one must abide by to eradicate the chances of mistakes.
Draw a Rough Outline On the Paper to Add an Aesthetic Look to the Room's Shape.
All arches and coves must be depicted in the sketch, and all doors and windows; not only this but the directions in which they open must also be listed. Correct marking will reveal which areas and potions require a fresh perspective.
Furthermore, the sketch will add up the clarity to the path for organizing furniture based on the number of doorways.
Note: To add up space and have a pleasant effect on the onlooker, never put a bed, desk, or bookcase directly in front of a closet door or an exit.
Keep some crucial details in mind below, finalizing the room outlook.
Measure the width of the doorway; this will ensure that there are no casualties left that can interrupt the procedure. Not only this, but it also reminds the reader what's the maximum size they can replace the item with.
Please note where any air vents are in your room, so you don't hide them; this will reduce the probability of any disruptions.
On a separate piece of paper, sketch each wall that will account for things like windows, electrical outlets, radiators, air vents, and any other fixed features that would make the situating of the beds problematic due to space absence.
When arranging mattresses and other furniture, you must be able to work around such fittings so that replacements may be easily accessible.
Make your sketches three-dimensional to get a better understanding of the plan. This will assist in more precise and accurate outcomes.
Measure the distance between the room's fixed points to get the amount of space available; this will aid the reader's perception with clear thoughts of what can be added in between the left-out spaces.
Typically, it is recommended that one begin at the door frame archway and work their way to the room's corner, then the room's corner to the window reveals, and finally, the other ends of the left.
How do Avoid Mishandling or Wrong Implementation of the Process?
Choose a starting point and move clockwise to ensure that nothing is missed.
Don't forget to measure the room's height and all vertical distances until the entire space has been sketched out, as this will help you select the appropriate bed for the space.
All fixed items should have their sizes and measurements measured and noted on the sketches so the one doesn't miss any crucial information.
In your sketch, indicate where the current furniture is located. If there are dressers and a desk, note the distances between them on your sketch. This eliminates any problems when fitting the two beds into the room.
Note: If you're considering acquiring a bunk bed, be very careful about knowing the height.
How Should I Make Twin-Bed Selections?
The following essential process element is to pick up the right bed size for the room since it can be highly inconvenient for the children to play and relax.
What Should be an Appropriate Size of Bed I Should Buy?
In most cases, the dimensions of a regular twin bed are ensured by 39* 74 inches or 99* 188 cm. However, this is the smallest size yet most comfortable size for the two.
10 by 10 feet is the best size room for two twin beds (3.0 by 3.0 m).
To confirm that the reader makes the right choice, a list of the enormous varieties of beds has been given below that ensure that the place looks spacious and provides total comfort to the babies.
L-shaped Bed Placements
A corner unit twin bed with storage can be purchased to allow intimate sleeping and possibly create a walk-in space in the room for the kids to enjoy. Plus, with the availability of the bed box, you will always have good storage space in the beds. Hence, both the beds should be linked in an L form and fit into a corner.
Bunker bed placements
A bunk bed, also known as a twin over a twin bunk bed, is just double mattresses placed on top of one another and saves a lot of room space. If your nucleus motive is to buy up space, then blindly biker bed is the best option. But make sure to measure the room's height before purchasing a bunk bed.
Most twins over twin bunk beds are 68 by 42 by 80 inches in height, width, and length (170 by 110 by 200 cm). Ascertain that the children can safely climb into and out of the bunk bed.
What Should I Do For Space Expansion?
Bed Risers
Attached bed risers to each side of the beds can help conserve room as they raise the beds a few feet off the ground to allow space underneath for storage. They can be put to good use and aid footwear placement. Being the best alternative for drawers, the ultimate goal of space will be achieved.
Converting of lofts
Make both beds into lofts to gain additional space. Aloft raises the bed high enough to accommodate a workstation, reading corner, or more storage beneath it. Add up shelves under a loft bed to store books, collectibles, and other items that take up excessive space room in a small room. Set up a desk, chairs, and computers beneath each bed to create a little study area.
Reached Thoughts:
With these approved procedures, one may quickly set up the bedroom without consulting a specialist. These theoretical notes are inextricably linked to good decisions.
Theoretical and non-theoretical points should be reconsidered during placements, and only then should the best decision be taken. If a lack of space is a problem, we've already presented you with the ideal answer.