The roof of a home can be said to be top of the list of important structures of the home. It provides security and protection for the building and its occupants. Additionally, it adds a defining ambience to a building and you can date a house by its roof amongst other things.
No matter where you live in the world, getting the right hands to provide roofing services for you should not be taken lightly. You need to devote enough time to search and find the right one for the specific job.
In this article therefore, we will share tips that will help you find the best licensed roofers in Greenville, South Carolina. Thankfully, these tips can help anyone anywhere in the country.
Tips for Finding the Best Roofer
One of the simplest ways of looking for workmen for your rooftop is to search online. The internet is a repository of information so you are sure of getting many options that you can check out. However, the first thing to do is to ask friends, family and acquaintances for recommendations.
You may know one or two people who have had work done on their roofs who can refer you to the roofers they used. If you do not have anyone to get recommendations from people physically, then you move on to search online.
When researching those options, there are many important factors to consider and some of them are as follows:-
Get Multiple Quotes
When you start searching for options, ensure that you do not just pick the first option that pops up. This is especially when searching online; make sure you check out at least all the options on the 1st page of the search engine result page. When you look through all those options, narrow down to at least 3 and ask for quotes.
Look out for quotes that are too good to be true (i.e. those that are way lower than others) because they may either be scam or they will not deliver the quality of work that you want. In addition to comparing prices, the quotes will help you assess the companies to gauge how thorough and professional they are.
Licensing and Insurance
Before you work with any roofer in South Carolina, be sure that they are registered with and licensed by the South Carolina Department of Labor, Licensing and Regulations. This is because only then can you be assured that the prospective hire has all the necessary knowledge and training required to do a good job.
In addition to this, they must also be duly insured because roofing can be a risky venture. The insurance must cover worker's compensation and liability.
The worker's compensation insurance covers any worker who gets hurt in the course of duty. The liability insurance on the other hand covers any damage to your property from the roofing project.
Do not just take the prospective roofer's word for it; ensure that you check them out on the official website of the South Carolina LLR department. Visit this site: https://llr.sc.gov/ for more information.
Ask About Materials and Warranties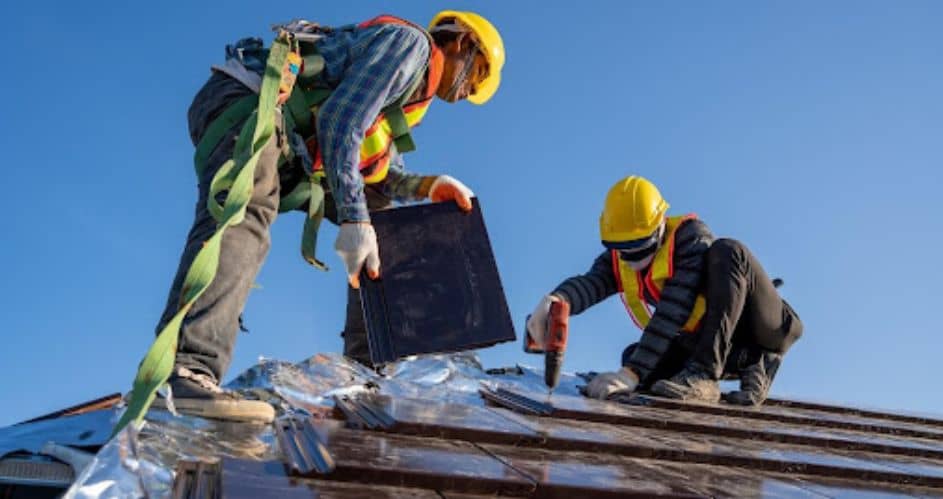 As you ask for quotes, also ask for the materials that will be used to carry out the project. It goes without saying that the type and quality of materials used will determine the outcome of the project. Additionally, the performance and durability of the roof is also dependent on the materials used.
Furthermore, you need to find out the kind of warranty that the roofer offer. Some roofers offer warranty only on materials however, the best option to work with is one that offers warranties on both material and workmanship. This will assure the client that they will take care of any issues that come up after the work is done.
Look out for Experience and knowledge of the Environment /Region
Experience is a very crucial matter in almost every form of artisanship. When you meet a workman that has carried out many successful projects, you can rest assured that they have failed a number of times and have through those failures perfected their craft.
Find out how long they have been in the business and also how many people they have worked for. Request for references so that you can contact them and confirm whatever assertions that the prospective hire has made.
In addition to experience, the person/company you are looking to hire must have ample knowledge and understanding of the terrain. This is because there are certain weather peculiarities in different regions that require specific expertise and even materials.
Look for a roofer that is quite familiar with the environmental issues peculiar to South Carolina and the weather conditions. This will ensure that you get the most suitable advice as it pertains to materials and expertise needed for the job.
Check for Proper Permits
Get a registered roofer who understands everything about the local permits, regulations and building codes. It is also best to work with a company that will handle everything about getting the permits needed; the will also ensure that the project does not fall below the legal requirements.
Any roofer that suggests that you avoid any permit or cut corners is a red flag; steer clear of them. You can click here to know what permits you need in Greenville.
Assess their Customer Service
This is an important aspect of any business and it shows you what to expect from a service provider from the get go. Do not ignore the red flag of a company that does not respond promptly to queries or will not communicate effectively with you.
The way your communication started out at the consultation stage is what you should expect throughout the duration of the project.
So look out for a company that is prompt to respond to queries, provide simple explanations to queries and are willing to keep you updated every step of the process.
Conclusion
Getting the right roofing company to work with is not rocket science and we have shared tips that will help you in your search. Ensure that you take out time to research and assess any roofer that you want to work with especially if you got them online.
Do not make price your most important deciding factor; make sure you consider value for the price you have to pay.