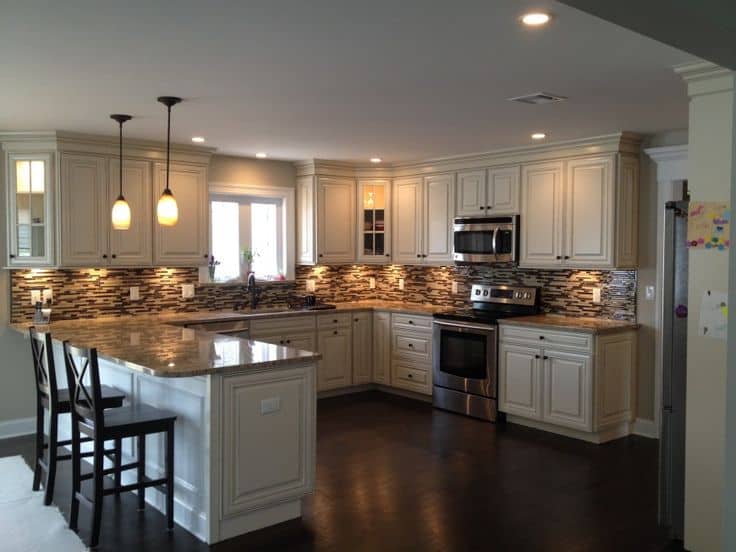 For homeowners with a large kitchen area, a U-shaped kitchen with a peninsula is a popular option. This is due to its tremendous versatility, openness, and aesthetic appeal.
Some homeowners may incorporate a kitchen island into the design for larger areas. This approach results in significantly greater surface area and storage possibilities.
If you want to add a bespoke kitchen to your home, a U-shaped kitchen design with a peninsula can be a great option. That will be useful for cooking, cleaning as well as socializing, and entertaining.
What is the U-Shaped Kitchen Layout?
As the name implies, a U-shaped kitchen layout gives a "horseshoe" shape. With one end walled off and a more extensive aisle, a U-shaped kitchen resembles a galley kitchen.
Worktops and cabinetry are installed along three of the kitchen's walls. It has an open layout for simple access and a working area in the kitchen's middle that permits unrestricted movement.
A u-shaped kitchen is popular for home buyers because it offers storage space. The chef is surrounded by units on three sides of the u-shaped arrangement, with the top of the 'u' left open for a doorway or an open-concept living area.
U-shaped kitchens can be arranged with a dining area or kitchen island if the room's width permits. One of the 'u' arms can be turned into a peninsula that can be accessed from both sides. It can serve as a breakfast bar or a storage space with two sides.
What Is a Peninsula?
A peninsula is an island with a wall extending along one side. By rising from the countertop, it forms a seating area. Your U-shaped kitchen will essentially become a G-shaped kitchen as a result. The good news is that both kitchen layouts have advantages.
An open concept can be created by extending one of the 'U's' tails in a U-shaped kitchen. Stools can then be added, and you can entertain guests or talk to family members while cooking. A peninsula can be used to formally separate the kitchen from the living area in a space with an open-concept design.
A peninsula kitchen layout provides greater seating, counter space, and storage space. This is ideal for people who like to entertain and for small kitchens.
Considerations to Make When Using a U-Shaped Kitchen Layout
1.Utilizing corner storage space
You will have two areas of corner cabinets in a U-shaped kitchen. If these corner kitchen cabinets are built well, they may be easier to access. Most individuals eventually decide to leave them unused, a waste of space.
The answer is to get corner-friendly kitchen cabinetry, even in compact spaces. You may make these corner cabinets accessible in this manner.
2.Primary kitchen sink's location
It is advised to position the sink underneath a window if one is on one of the U-shaped walls. By doing so, you will enjoy the beautiful vistas, let in natural light, and even coordinate it with your tile backsplash.
Additionally, it is advised to put the sink in the work triangle's centre, between the oven and the refrigerator. Select a single bowl sink, a farm sink, or an undermount sink to complement your tile backsplash.
3.Adjust the U-shaped kitchen to your needs and available space
The cabinet lengths can be the same or different in a U-shaped kitchen. In some U-shaped modern bespoke kitchens, one wall could be shorter than the two walls next to it.
A medium-sized U-shaped kitchen has two facing counters that are roughly 6 feet apart from one another.
Small kitchens are those where the facing aisles are separated by 42 to 48 inches. The distance between opposing counters in a large U-shaped kitchen should be at least 8 feet.
4.Kitchen color scheme
When creating your U-shaped design ideas, pick a color scheme that will go with the wall's hue. The paint and the units should have complementary colors to make the space appear more open. Make sure the baseboard and the backsplash tile match.
For instance, grey is appropriate for a backsplash and can also be used in a grey and white kitchen. Dark wood can add sophistication to an all-white kitchen. You can also choose black appliances for a stunning and contemporary effect in a white kitchen.
Advantages of a U-Shaped Kitchen
1.A spacious and productive work area
Making dinner in a tiny kitchen is the most irritating thing ever. You must continuously shuffle things around the countertop to finish even the smallest tasks. Fortunately, you can avoid this problem by designing a U-shaped kitchen.
You can simplify your life by using a work triangle in the kitchen. A functional kitchen layout has three main workstations that form a triangle. These include the space where food is prepared, the fridge, and the stove.
2.Additional storage spaces due to the u-shaped design
More storage places in your kitchen can help you work more effectively by preventing clutter on your countertops.
The U-shaped design's three connected walls offer ample room to install cupboards, pantries, and drawers. As a result, you have plenty of space in the cabinets for your kitchen tools, appliances, and other items.
3.Easy traffic flow is made possible by the U-shaped layout
Numerous cooks may work in the kitchen simultaneously thanks to a U-shaped arrangement, which also lessens traffic. The open concept between the three walls served as the inspiration for the design.
This makes it simple for people to enter and exit the kitchen. The U shape will need to be created wide enough during the kitchen renovation to allow this simple traffic flow.
4.U shapes can be used to create kitchen islands
Cooking becomes more social with a U-shaped kitchen because there are many options for adding a seating space. If your contemporary kitchen design permits it, include a central island.
An independent building that doubles as a dining or eating area in the kitchen is known as a kitchen island. It can either go well with or contrast with your floor ideas.
Conclusion –
Many house owners picture their kitchen having an island in it. The cabinets and drawers on an island might offer storage options.
Islands with sinks or cooking appliances are among the other kitchen design options. These can narrow the work triangle and free up additional space in the peninsula-equipped U-shaped kitchen.
To ensure you have the size, ergonomics, and design ideal for you, we advise working with professionals as the popularity of u-shaped modern kitchens continues to rise. Since a kitchen is a substantial investment, you want to make sure the design is one you enjoy.