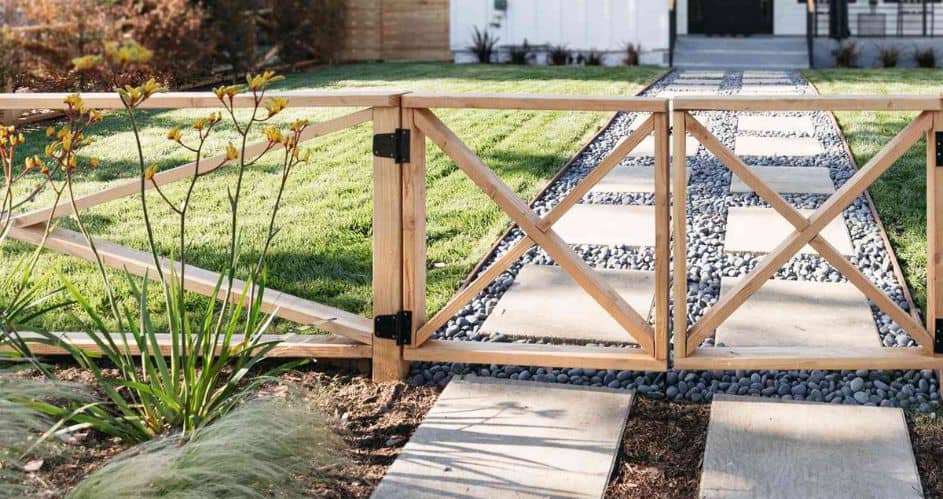 Fencing is an essential element for any property. It provides privacy and security and gives your home an aesthetic look.
There is a wide range of materials and various creative designs for fencing that can help you spruce up your home exterior and create a beautiful outdoor environment.
Whether you want a traditional or modern home exterior, the right fencing can enhance your property's look and feel. We've rounded up seven cool fencing ideas to help you spruce up your home's exterior and create a functional and beautiful outdoor space.
How To Bring Charm To Your Home's Exterior
True Built Fencing
True Built Fencing is an excellent choice for those homeowners who want more privacy and security.
The fencing is made from high-quality materials such as aluminum, vinyl, or wood, which can add warmth and texture to your outdoor space. It comes in various styles while ensuring privacy.
Decorative fence panels, like modern metal and rustic wood, make it easy to match your home's exterior. This fencing is weather resistant, long-lasting, and most importantly, you can maintain them relatively cheaply, making it an excellent investment option for homeowners.
They're also great for keeping children and pets safely contained and blocking noise from nearby streets or highways.
Decorative Metal Fencing
Decorative metal fencing is a type of fencing that is made of various types of metals. These metals were designed to enhance the appearance of a property.
Decorative metal fencing comes in a large number of styles. Generally, the metals used for this kind of fencing are wrought iron, steel, and aluminum.
While most people prefer wrought iron for fencing, it can be more expensive than steel and aluminum. However, metal fencing is a more durable and secure option. You can create a beautiful environment by installing metal fencing that adds elegance to your home exterior.
Bamboo Fencing
Bamboo fencing is a unique and eco-friendly choice that can give the outside of your home a tropical and exotic feel. It is long-lasting, strong, and lightweight, making it a great choice for your home.
This type of fencing comes in different heights and widths. And it is easy to install in your house.
The bamboo can be used either vertically or horizontally, and the design will create a sleek, modern look that complements any home's exterior. But if you cannot go for bamboo fencing, you can also try wood fencing.
Gabion fencing
Gabion fencing is a type of fence that is made out of gabions, which are wire mesh baskets filled with rocks or other materials. The baskets are made of galvanized steel and come in various shapes and sizes.
Gabion fencing is widely used in different settings, including residential, commercial, and industrial areas.
Gabion fencing is customizable and relatively easy to set up, which is also durable, secured, and requires only a low maintenance cost.
Hence, gabion fencing is a flexible option that can be used for many purposes. It can be an attractive and long-lasting solution for cool fencing designs.
Glass Panel Fencing
Glass panel fencing is a type of fencing that uses tempered glass panels instead of traditional fencing materials like metal, wood, or vinyl. Glass panels can be frameless or framed and can be supported using metal or wooden posts.
Glass panel fencing is popular in modern and contemporary outdoor settings because of its elegant look. One benefit of glass panel fencing is that it doesn't block your view of the area around you.
This can be an excellent choice for places with beautiful natural surroundings. However, glass panel fencing can be more expensive than other traditional fencing materials and may require professional help to set up.
These panels are also not suitable for every outdoor setting.
Lattice Panel Fencing
This type of fencing uses thin strips of wood or vinyl to create a pattern called lattice panel fencing.
Lattice panels are commonly used in fence design as a decorative element, either as an extension of the top of an existing fence or as a substitute for the existing fence. It is often used in gardens, patios, and other outdoor spaces.
The lattice pattern allows for greater airflow and lets sunlight in without compromising privacy. The benefit of this fencing style is its versatility.
You can use it to create a variety of designs and shapes. They can also be painted to match the surroundings.
Lattice panel fencing is relatively easy to install and requires minimal maintenance. However, lattice panel fencing may not provide as much security as the other options.
Living Fences
Living fences is a type of fence that is made up of living plants or trees. It is an eco-friendly fencing option that can add a natural element to your home exterior.
Unlike traditional fences for your exterior, living fences can provide a beautiful look to your outdoor area. Different kinds of plants can be used for living fences, like hedges, shrubs, cedar, holly, ivy, yew, boxwood, climbing roses, etc.
Living fences do not provide much privacy and noise reduction to your home, but it enhances the natural aesthetic appeal of your exterior.
Conclusion
There are numerous fencing options available to spruce up your home's exterior. Each style has unique features, from the classic elegance of iron bars to the modern look of wood fencing.
You have to carefully consider the materials, style, and maintenance requirements for your fencing, which you can do using the information from this list.