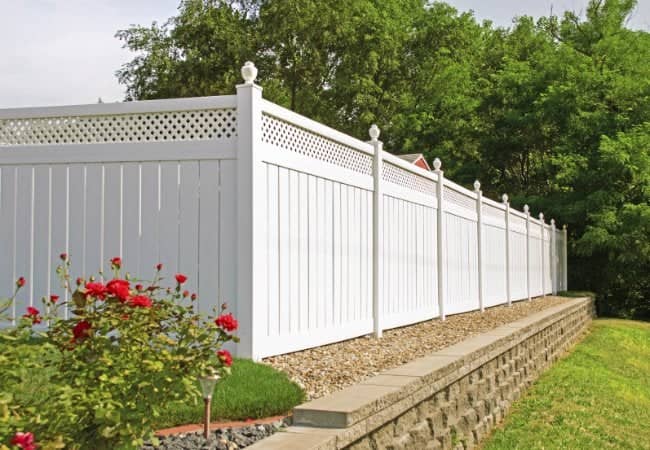 There are different reasons you may want to fence your yard. Perhaps you need secrecy, want to establish a boundary, or wish to shield away noise if you live in a populated area.
In this case, you must select a suitable material for your fence. Choosing your fencing material will depend on your yard size, housing association fencing rules, and installation costs.
5 Tips To Assist You In Choosing A Fencing Material For Your Yard:
1.Pay For Fencing Permit Fees
Before you can put up a fence, you need to liaise with your state and inform them of your upcoming plans.
It's necessary because the city surveyors need to come and check the property line, see the pictures of the type of fence you'd like to put up, and the signed permission from your neighbors to put up a wall.
So, go to the local offices in your state to know how much fence permit fees you must have beforehand. Doing this earlier enables you to avoid taking down your fence shortly after putting it up because of legal disputes.
2.Assess The Different Fencing Materials
Knowing all the possible materials you can use for your home fence enables you to select the one that works perfectly with your home's design. Each has its merits and demerits, and they're as follows:
1.Wrought Iron:
You can install this to add an artistic appeal to your homes. It can also serve as a safety feature to your home and one you can tailor to fit your yard's appearance.
2.Wood:
It's been used for a long time and consists of strong trees like pine, cedar, or cypress.
You can make it a do-it-yourself (DIY) project because of wood's simplicity of installation and ease of repair if it wears out. However, you must keep up with maintenance because wood is susceptible to rot.
3.Aluminum:
Aluminium fence panels are thin, non-rust, and affordable which enhance the beauty of your yard. You can find different shades, so select one that matches your home's color.
4.Steel And Iron:
These are heavier and more sustainable in maintenance. They're beautiful and can improve the whole appearance of your home. They can add a shiny look to your home. However, they're costly.
5.Vinyl:
It's the most used material nowadays. It's easy to clean, and water-resistant. But if there's a strong wind, it may get blown away. Extreme sun rays can also spoil it.
6.Masonry:
It's a fencing material made of block, stone, or brick. If you put it up, use high-quality materials to ensure it can last for a long time.
But you'll need to work with a professional before putting it up because of the technical details that go into it. It can be relatively expensive to set up.
7.Composite:
This has a fantastic texture and aesthetic appeal. It can add security to your home and prevent kids and pets from leaving. You can find different styles and makes.
8.Chain Link:
It's a cheap material with the simplest installation techniques. It's perfect because it's open but provides some security due to the chain links with a net-like appearance.
It also doesn't have a lot of maintenance needs. However, it may not add a lot of value to your property. Every fencing material differs in features, so for your yard, go for the one that'll last for a long time.
You may also want to combine fencing with home security systems for maximum theft deterrence.
3.Know Your Purpose For Fencing
Select your fence depending on the purpose you want it to serve in your yard. You may want a home fence for any of the following reasons:
1.Privacy:
If you feel you and your family need a quiet space without the creep of neighbors, a secure fence like wood or blocks can suffice. It's attractive and enables you to have an enjoyable time with your family without any distractions. If you also live next to the road, a tall soundproof fence can help you keep the noise outside.
2.Safety:
If you have pets and young kids, you need a fence they can't breach to get outside. A solid stone wall can do in this case, but chain link or vinyl can also prevent them from leaving.
3.Beauty:
Sometimes, the purpose of having a fence is to enhance the whole appearance of your home. Therefore, go for a good-looking fence that can add beauty, like wrought iron, to your outdoor area.
Choose one matching the structural design of your home. If you go for an aesthetically beautiful one, your property's value will always increase.
4.Boundary:
If you have problems with neighbors, you can have a fence as a boundary marker. You can surround your yard with a wall.
So, depending on your purpose, select a fence material that matches your needs.
4.Consider Fencing Material's Ease Of Maintenance And Longevity
You'd want a fence requiring little to no maintenance and is durable. Therefore, when choosing material, other than beauty, texture and style should be your priority.
The material you choose should stand any weather without accumulating rust. It should also be resistant to water damage and easy to clean should it have dirt.
5.Compare The Cost Of Materials
Fencing materials cost varies depending on their make. Some can be very costly but long-lasting, while others are light but affordable. The installation method is also a factor in determining your fencing materials.
If the material you're selecting costs a lot, the installation costs will also be high. So, whichever material you choose, have a professional do the job for you because they have the expertise.
Conclusion
Choosing a suitable fencing material for your yard gives you a classy but secure fence that'll add more value to your home.
Thus, take your time to assess every material's pros and cons and installation cost before putting them up. Also, check for any local rules before you can put up a fence.