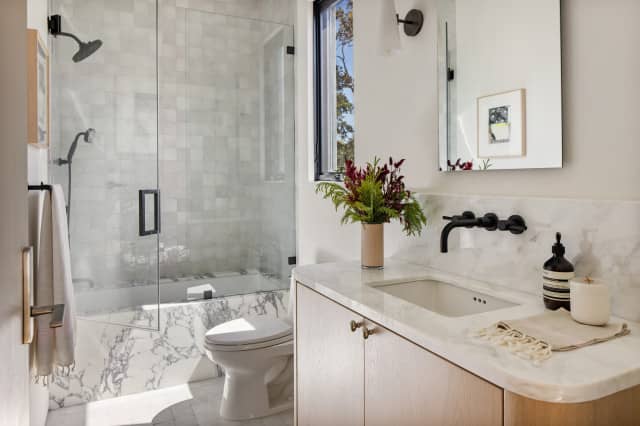 Bathroom remodeling has always been a widely demanded renovation project. Making their bathroom look ultra-modern and fashionable is something that many people frequently want to do.
You can enrich the value of your property and customize the area to suit your needs by upgrading the bathroom. There are many things you can upgrade in your restroom.
For instance, you can change the flooring with new tiles, add stylish blinds to windows, upgrade the sinks and faucets, change lighting, add decors, use unique mirrors, and more.
How To Transform Your Bathroom Into A Modern
Here are the best upgrade ideas that can help you turn your existing bathroom into a modern, stylish restroom.
Stylish Floating Vanity
By creating distance between the vanity's base and the ground, a floating vanity opens up the feeling of space in any washroom area.
Depending on your preference, you can get a floating vanity in simple solid wood designs or vanities with two sinks and storage drawers. To ensure it fits your washroom structure, think about the floating vanity upgrade early on with Bathroom Sales Direct, if you're looking to furnish a tiny space with a conventional and reasonably priced one.
Use New Hardware
Make sure to update the hardware and fixtures with stylish models while remodeling or upgrading the bathroom. Remove the outdated hardware from the existing cupboards and add creative new hardware for a simpler and inexpensive method to get a modern look.
Shower Benches
Having a seating bench in the shower will promote relaxation, and it is a fantastic tiny bathroom addition. Alternatively, it is best to add a bench made of striking material like teak, glass, or tile to the seat to fit the remaining shower area.
Add more features to the shower, like a steam function or numerous showerheads, to improve the aesthetic look of the shower bench.
Modern Shower
A stylish, high-technology shower has a lot of modern elements that increase its functionality and comfort. Some high-end showers contain amenities like heating floors, massage settings, and rain showers.
Additionally, they contain LCD panels that let you adjust the shower's settings and water temperature. Furthermore, a modern shower can be added to an existing bathroom without requiring any substantial alterations.
Modern Toilet
A more contemporary toilet can modernize the appearance of your bathroom. A 
self-contained upflush toilet
 has a sleek style that will accentuate your bathroom's elegance. The toilet's low-profile design and smooth, white finish blend in seamlessly with modern bathroom furnishings. As there is no need for traditional plumbing, and with the large tank gone, this is actually a more practical and convenient bathroom addition.
Hang A Chandelier
If you wish to give an elegant vibe to your bathroom, hanging an ultra-modern chandelier is a simple, quick way to transform a functional area into something more opulent.
If you want to enjoy a beautiful fixture while you relax in the bathtub, hang it over the tub. You can add it close to a window to reflect light throughout the space.
If you retain a classy chandelier with crystals, it is best to change the storage cabinets' knobs with faux crystal models to make them look stunning.
New Paint
By selecting color schemes that make you feel pleasant, it is possible to improve the appearance and ambiance of your restroom.
Blue, white, green, and yellow are a few well-liked color schemes that are thought to arouse good feelings and retain a positive mood.
These hues are linked to joy, tenderness, satisfaction, and optimism. It is possible to make your washroom feel calm by utilizing these color paints.
Focus On Lighting
The lighting in your restroom can easily be renovated to add a sense of elegance. The usage of LED lights, vanity lights, and recessed lighting are the most well-liked bathroom upgrades.
LED lighting is an excellent option for lavatories that will be often utilized because it is both inexpensive and long-lasting.
Recessed lighting will give a scenic look in a tiny space, while stylish vanity lighting solutions will have a more natural effect.
Bottom Line
Whether to enhance the aesthetic appearance of the restroom, increase its functional features, or want to change its outdated design, upgrading your bathroom will always be beneficial.
You can use any above-listed idea or a combination of those upgrade ideas to transform your restroom into a modern one.