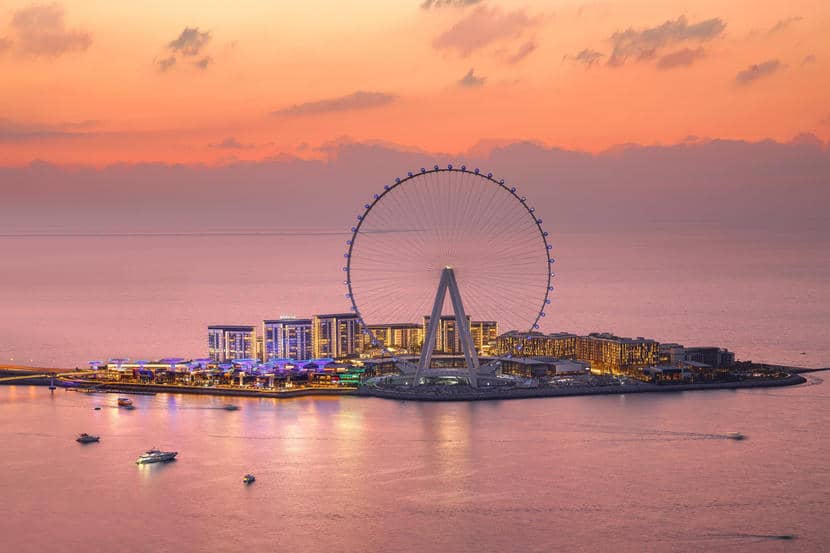 Bluewaters is a dynamically developing place to live with unique residential, retail, hotel and entertainment venues. Residents and visitors of Dubai who choose a property in Bluewaters Island are spoiled for choice in everything.
It is home to Ain Dubai, the world's largest Ferris wheel, and a true shopping paradise with shopping spots and unique restaurants.
Moreover, the Bluewaters Bridge and an advanced transportation system make this urban island easily accessible.
Visit a unique city vacation
Whether you are staying at a world-class hotel, visiting friends, or just exploring the island, you will have a great time. Shops, restaurants, and entertainment — there is something for everyone on Bluewaters.
Ain Dubai
Ain Dubai is the unique centerpiece of Bluewaters and is poised to become one of the world's largest tourist destinations.
Madame Tussauds Museum in Dubai
Visit Madame Tussauds' interactive wax attraction in Dubai! Imagine yourself on the red carpet, standing next to and chatting with 60 of your favorite superstars.
Idyllic area with luxury real estate
Offering an exclusive selection of premium apartments, penthouses, and townhouses, Bluewaters is a modern, family-oriented island with an innovative spirit of coastal life and a vibrant urban style.
Lifestyle and features
Residents can enjoy various restaurants, shops, and entertainment while admiring the breathtaking views of the coast and the skyline.
Local amenities are extensive, including fitness halls, swimming pools, basketball courts, playgrounds, and outdoor recreation areas.
Connection to other areas
A purpose-built bridge connects the island with Sheikh Zayed Street, but this is not the only way to get to the community.
So, a walk along the 265-meter pedestrian bridge will give you more impressions — take a walk to JBR and take a look at the island from the other shore!
Other amenities on Bluewaters Island
Bus service. Enjoy a shuttle bus to the community — get to other areas of Dubai, including Barsha Heights.
Prayer rooms. There are several prayer rooms on Bluewaters.
For persons with mobility restrictions. Some wheelchairs are available to move visitors around the island.
Baby changing tables. To make the walks of moms, dads, and little guests easier and more comfortable, changing tables are available throughout the island.
Toilets. Public toilets, including toilets for disabled people, can be found on Bluewaters.
Parking space. Enjoy free parking in the community.
Valet parking services. Save time and let the professionals park the car for you. Bluewaters offers various parking options in several locations.
Cafes and restaurants
Local restaurants are a real paradise for gourmets. Here are just a few of the many places:
1.88 Terrace. 88 Terrace is a combination of restaurant, lounge, and bar. Here you can relax on a modern and elegant roof around a sensual and mysterious atmosphere.
2.Alici. Inspired by the south of Italy and the Amalfi Coast, this restaurant offers many extraordinary seafood delicacies.
Located on the beautiful Bluewaters Island amidst the picturesque JBR skyline, it offers guests a relaxing and vibrant environment.
3.Dolce Green. Dolce Green is a way of life and a new way of taking care of yourself. It is created for a new healthy, happy, and bright life.
Its slogan is to eat right to keep your body and mind healthy. This motto is imbued with a quiet and peaceful place with a well-balanced menu.
4.VAGA. VAGA is a bright and upscale bar-restaurant, inviting guests to immerse themselves in a fantastic world of modern Arabic and Armenian cuisine.
The name "VAGA" comes from the term "nomad" who wanders and explores the world. VAGA embodies this eclectic approach, combining tradition and modernity of two distinctive cultures.
5.Virgin Izakaya. Virgin Izakaya is a modern restaurant of traditional and fashionable Japanese cuisine. Here, authentic elements are combined with creative methods of cooking dishes not only in the menu but also in the restaurant concept.
The traditional robata grill is located in the center of the restaurant — here the chefs prepare their dishes. Guests can watch the art and see how their culinary desires are being prepared before their eyes.
Virgin Izakaya is a style of taste, atmospheric food, dancing with DJs, and live music.
Start choosing a property in Dubai
Find out more about real estate buying opportunities in Dubai Creek Harbor and other developing areas of Dubai, UAE.
New buildings and ready-made apartments are collected in one place! Purchase at the developer's price, installments, consultations, and assistance in choosing a property for overseas investors — visit https://www.axcapital.ae/.