Everyone should have access to an interior designer who can assist them build rooms that exude comfort, luxury, and sophistication.
The desire to live in a magnificent home might be challenging to fulfill, especially if you have a limited decorating budget at the home decor store.
However, even if you have a limited budget, there are ways to achieve the style you've always wanted.
These interior designers offer straightforward solutions and tactics that can fool your guests into thinking your home is nothing less than a palace, whether it's changing the floors or simply fixing the windows.
Tips How to Design a Nice Interior On A Budget
1. Focus on the details –
The minor details are vital while designing your home to look elegant and unique. Crown Moulding can be one of them. Crown molding will be the focal point in this situation.
Crown molding ties the ceiling and walls together, providing an exquisite aspect, and making a room appear finished or polished. The rooms appear low-end or incomplete without this polish.
The good news is that crown molding is reasonably priced at the home decor store and can be afforded by anyone on a tight budget.
Consider installing crowns, high baseboards, columns, ceiling beams, ceiling medallions, rails, and other types of molding in your home to obtain the most opulent look.
2. Change the lights-
Several designers from home decor stores choose to use simple lighting fixtures that are identical and have been used many times in previous residences.
Designer light fixtures, on the other hand, can bring more elegance to a home than a beautiful chandelier. Second Hand stores and flea markets might provide you with one-of-a-kind lighting that would be worth twice as much as expensive items.
Make sure you have a variety of light sources, such as floor and table lights, in general. Replace the everyday stock shade that came with your lamp with a different alternative for a more personalized look.
This will assist in creating dimension and make light from a big-box store look distinct and exciting.
3. Accessorize-
Many homes lack accessories, but you can add them to create an attractive look. And don't be concerned! Many options will work with your budget at any home decor store.
Colors associated with richness and affluence, such as god, can be used. It provides your home with an exquisite appearance while also making the most of the available space.
The most excellent choices are gold picture frames and gold mirrors. A statement-making rug will help to ground your furniture. It ties everything together, creates the groundwork, and sets the tone for the remainder of the space.
Rather than spending a small lot on new throw pillows, give your area a new look, simply swapping out existing throw pillow covers as a cheaper alternative.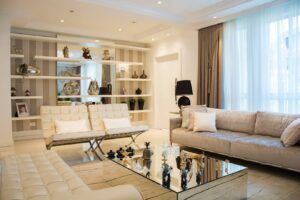 4. The windows are key-
When it comes to sophisticated interior design, having well-dressed windows is one of the most excellent characteristics.
By maintaining the rail towards the ceiling, you may trim the curtains on the window sills, frame all the glass panes, and give the room greater height.
After that, you can add a long curtain to the window. To keep everything looking stylish, keep the curtain color neutral. Install the window trim if you don't like the curtains.
A dark or charcoal wood trim would be a good contrast, whereas a lighter choice would be streamlined. Finally, add translucent drapes to really soften the light and fill the room with a pleasant, cozy, but luxurious feeling of warmth. You can find these at any home decor store.
5.Paint-
When it comes to designing a space, many people overlook the painting. A decent color palette on the wall may instantly give elegance and glitz to the entire home.
You can choose between bright and soft colors. Softer hues instantly add refinement to your home. What you choose, though, is determined by your personality.
It's also a good idea to paint the inside doors black. It gives the impression of being very expensive without requiring you to pay a lot of money.
On the other hand, if the style you desire is luxurious, a few colors will instantly transform your home.
Choose from two color palettes: dramatic and powerful hues or delicate, subtle tones.
You can easily add luxury to your home with the right hues from the home decor store. When it comes to choosing a color, it's all about your taste.
In Conclusion:
You can design a home that looks like it came straight out of a luxury magazine, even on a limited budget.
With a few easy tweaks and careful styling approaches, you can create a room that feels regal. The suggestions mentioned above can assist you in transforming your home.
We hope that this post has assisted you in giving your home a luxurious look it deserves.