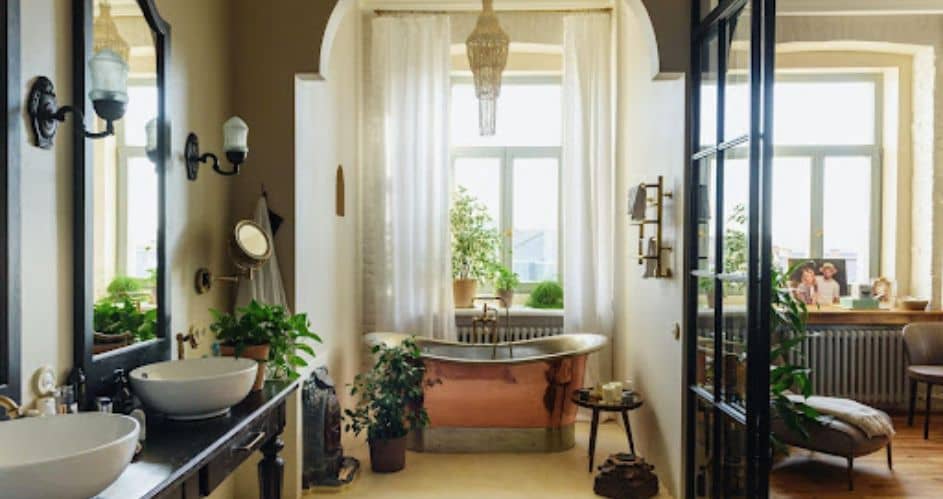 The bathroom, often overlooked in interior design, is a space to show your delicacy and sense of aesthetics. After all, it's not just a 'me-time' den.
A moderate yet classy-looking bathroom will always render an aura of cleanliness and style. However, many people just keep it as it is because of money issues. Well, that doesn't have to be the case.
With well-observed planning, the right materials, and smart interior design, you can transform your regular bathroom into a lavish space.
So, without any further ado, let's explore eight effective ways to make your bathroom feel luxe, turning it into a sanctuary of relaxation and style.
Buy High-Quality Materials
Longing for an expensive feel and look but not using the right materials isn't the right way to go. High-quality bathroom materials enhance the feel to a great extent. So, buy materials of A1 grade and type.
Consider buying natural stone or marble countertops. A countertop of such material can surely exude elegance and sophistication. Additionally, doing the flooring and walls with top-rated tiles can go a long way to make your bathroom feel luxe.
Moreover, luxurious finishes for faucets, handles, and other hardware can have a great impact. These materials make your bathroom look stunning and rejuvenated with a timeless appeal.
If you're wondering where to find high-quality bathroom vanities in Toronto, Oakville, Ontario, or nearby places, check out the best suppliers with reasonable prices and top materials.
Upgrade the Lighting
Your bathroom may not be a place to spend hours of your day; however, it does take some proper lighting to make good use of it. After all, what's the point of a stunning bathroom if it's not displayed well?
So, go ahead and install layered lighting to enhance the bathroom's ambiance. Layered lighting comes in various forms, including ambient, task, and accent. Sometimes, any of them works, yet combining two or more could be better.
Apart from creating a personalized vibe, you can install a chandelier or a pendant light to create focus. Furthermore, installing dimmer switches will give you the control to regulate the light the way you prefer.
Invest in a Spa-Like Shower Experience
Why not extend the feature of your bathroom by investing in a spa-like shower system? You can upgrade your shower to enhance your bathing experience.
You may opt for a rainfall showerhead for a refreshing shower session. Additionally, a thermostatic shower system will let you control the water temperature precisely.
Furthermore, if you want to make your bathroom look more upscale, install a frameless glass shower door. This gives your bathroom a spacious and sophisticated look.
Integrate Smart Technology
A luxurious upgrade to your house is incomplete without incorporating smart tech, which includes your bathroom, too. Using smart technology is one of the most effective bathroom upgrades to boost your home's value.
So, opt for a smart mirror with defogging and built-in lighting options. A smart thermostat will also improve your bathing experience with the perfect temperature.
There's also voice-activated tech available now for operating faucets, showers, or toilets. Adding this advanced feature can add futuristic brilliance to your bathroom.
Incorporate Elegant Storage Solutions
Decluttering is a non-tech, smart way to make any room look spacious, sophisticated, and comfortable. The more organized a space is, the cozier it looks. And your bathroom is no different.
The necessary bathroom items can be managed with elegant storage solutions. So, organize your bathroom essentials to make your bathroom feel luxe.
Use open shelving with carefully curated displays of luxurious bath products. Moreover, add built-in cabinetry to your bathroom with custom finishes for an upgraded look.
Add Greenery and Decorative Accents
Have you seen bathrooms with a touch of greenery? Don't they feel fresh and breathable? You could add that greenery feature to your bathroom and bring a holistic feel to it!
High-end materials aligned with the elements of nature can infuse a sense of luxury and serenity in a bathroom.
Place things like potted plants, such as orchids or succulents, on countertops or shelves. Apart from plants, you can use scented candles to add a romantic aura to your restroom.
Besides, you may decorate your bathroom with clad walls, green walls, etc. Moreover, using natural stone for flooring or walls can be an excellent aesthetic feature in your bathroom, bringing a more expensive feel to it.
Indulge in Heated Flooring
Heated flooring is one of the most effective ways to make your bathroom feel luxe. It elevates the comfort level of your bathroom.
Heated floors will give you a warm feeling during colder months. They will make your bathroom experience more comfortable and relaxed, not to mention the added sense of luxury and coziness.
Adding the feature of a heated floor not only gives you physical comfort but also creates a luxe ambiance all over the bathroom space. Besides, it brings a high-end spa-like feel to a regular bathroom.
Choose a Neutral Color Palette
Instead of gaudy and vibrant colors, it's wise to go for neutral color palettes to decorate your bathroom for a luxe feel. Neutral color palettes feature soft tones such as whites, creams, and light grays.
These tones are effective in instantly upgrading a bathroom's look for a luxurious feel if applied to your walls, tiles, and ceiling.
You'll get a sense of timelessness and serenity with these color palettes. They will turn your bathroom into a nice and sophisticated space.
4 Tips to Maintain Hygiene in a Luxurious Bathroom
Luxurious bathroom renovations may fall short of impressive over time without maintaining cleanliness and hygiene. A proper hygienic bathroom is equally important as a luxurious bathroom experience.
Here are some tips to keep your bathroom hygienic along with a luxe feel:
Regular Cleaning Routine:
A bathroom gets stained in many places over a week or two, depending on use. Hence, it's essential to maintain a regular cleaning schedule.
Clean the surface, fixtures, floors, walls, and accessories at least once in a week. Maintaining a weekly cleaning schedule will prevent germs and grime from building up while keeping your bathroom pristine.
Use High-Quality Cleaning Products:
If your bathroom is midrange to highly expensive, invest in high-quality cleaning products. Don't go for cheap cleaners that damage the colors of tiles, walls, and accessories over time.
Use products that cleanse the bathroom materials well with a gentle touch. A pro tip is to take advice from the manufacturers of your bathroom materials for recommended products.
Proper Ventilation:
Having a proper ventilation system in your bathroom is an effective way to maintain hygiene along with luxury.
A bathroom should be relieved of excess moisture regularly, which can be achieved by using an accessible ventilation system. So, keep windows open after bathing or use an exhaust fan to eliminate humidity.
Keep Surfaces Dry:
If you want to keep your expensive bathroom free from mold and mildew, wipe the surfaces regularly. Clean the sinks, shower walls, countertops, etc., to prevent water spots and mineral buildup.
Conclusion
Here are our smart tips to transform your bathroom into a luxurious retreat without breaking the bank. By implementing these eight thoughtful tips, you can ensure exuding serenity, a sense of aesthetics, and spotlessness in your bathroom.
Always consider using high-quality materials in the first place to make your bathroom feel more opulent and luxe. Besides, work on the lighting, smart tech, elegant storage, etc., to evenly upgrade your bathroom's ambiance.