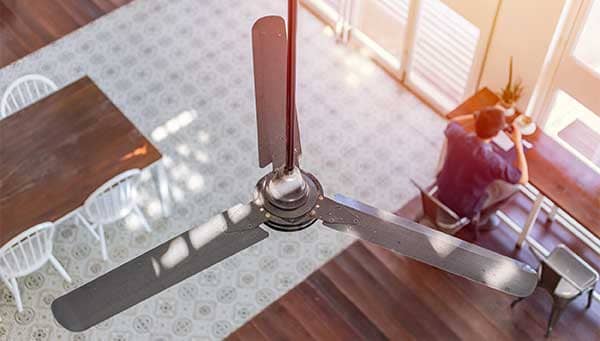 Ceiling fans are back in style in a big way, and this year there are so many new, modern ceiling fan designs to choose from! Sure, plenty of homeowners are returning to the classic wood-and-rattan look of vintage ceiling fans, but if you don't like the look of Grandma's fan then you have plenty of options.
This year's ceiling fan trends are embracing flowing, organic shapes, warm wood, glass, and aged metallic finishes as well as a return to the twee looks of yesteryear.
Don't shy away from fans with more and bigger blades, chandelier light fixtures, vertical blades, or playful, colorful modern looks. This year's ceiling fan trends are here to cool you down, lower your energy consumption, and make your home more sustainable.
Features Or Trends In Modern Ceiling Fan
Organic Shapes:
This year, homeowners are moving away from blocky, minimalist designs with sharp lines in favor of more organic curves with softer edges. Fans with swooping, curved blades go with the curved furniture trend that's everywhere this year. A swooping, modern design with two or three curved blades can satisfy your minimalist urges while remaining stylish.
Vintage Basics:
Today's modern ceiling fans call back to the days of yore with rounded corners, wood finishes, brass hardware, and extra flourishes. If you're getting into the resurgence of Parisian decor, then you'll want to choose a vintage-look ceiling fan to complement your herringbone wood floors, carved moldings, and high ceilings. Vintage fan styles are also appropriate for finishing off cottage core and traditional home design aesthetics.
Aged Metallic Finishes:
Today's designs emphasize a return to tradition and a commitment to sustainability. You can embrace both with modern ceiling fans made out of brass, bronze, and other weathered, aged metals. Flat black and sleek chrome finishes are taking a back seat to warm patinas and richly toned woods that make spaces feel cozier and more comfortable. Metallic looks are naturally elegant and sophisticated, and they're bold enough to create the ambiance you're looking for.
More and Bigger Blades:
Large ceiling fans with blade sweeps exceeding 60 inches are all the rage for homeowners who have large rooms, but even if you can't accommodate a 60- to 80-inch fan, you can still capitalize on the trend for fans with more and larger blades.
These days, you can buy fans with eight or nine blades, and while that doesn't produce more air circulation, many homeowners enjoy the steampunk-inspired look of a fan with more than the standard four or five blades.
Glass, Glass, Glass:
Glass fans are coming back in style this year as more homeowners turn to Art Deco styles for their home design. This turn-of-the-century French school adds glitz and glamor to ordinary, everyday household items.
A glass fan with clear blades, glittering metal housings and canopies, and a crystal chandelier light fixture will add a refined but offbeat statement to any room. Even fans that aren't made entirely of glass will see an increase in fluted glass light covers and other glass design accents.
Warm Woods:
These days, modern ceiling fan designs are throwing out the flat finishes that were so trendy yesterday in favor of warm wood looks that can breathe life into a room.
Wooden fan blades are a versatile design element. They look just as at home in a rustic farmhouse vibe as they do in a casual, modern setting. The organic look of warm wood finishes on modern ceiling fans with curved blades is especially appealing for homeowners who want to bring the outdoors in.
Playful Looks:
Playful, modern designs aren't just limited to the furniture pieces in your room. A colorful or unique fan design can bring personality, fun, and a pop of color to any space. Fun fan designs are perfect for kids' rooms or rec rooms. A whimsical ceiling fan design can become a focal point for the room and a conversation piece, so don't shy away from a fun color or fan design just because it's unusual. A fan doesn't have to blend into your ceiling these days.
Vertical Blades:
Vertical-blade ceiling fans offer targeted cooling and air circulation ideal for spaces where a fan with a large sweep won't fit – such as under a vaulted ceiling. The unusual look of vertical-blade fans makes them a good choice for homeowners seeking a modern eclectic aesthetic. Most models are distinctly stylish, with an elongated light fixture and curved blades that spin around the entire motor housing.
If you're shopping for a ceiling fan in 2022, you want to familiarize yourself with the latest in ceiling fan trends. Choose the right fan for your decor, so you can enjoy your new fixture and show it off to your friends.