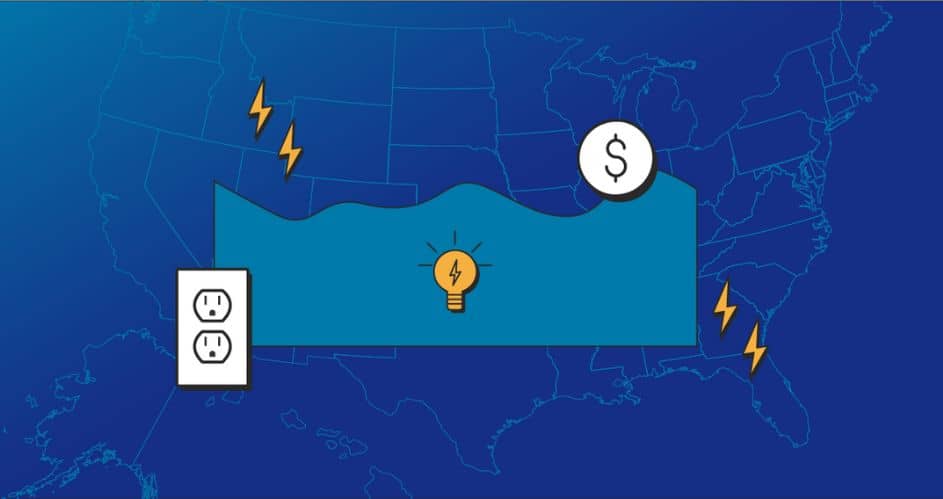 Electricity is an essential part of our daily lives, serving various purposes such as lighting, powering gadgets, and heating food. However, people often overlook the cost of electricity or the factors influencing electricity rates in Pennsylvania.
In this blog post, we aim to offer a comprehensive guide to electricity rates in PA. This includes information on average electric rates, monthly bills, electricity suppliers, and tips for finding the most affordable provider.
Guide About Electricity Cost in Pennsylvania
Average Electric Rates In Pennsylvania
In May 2023, a report from the U.S. Bureau Of Labor Statistics revealed an insightful glance into Pennsylvania's retail electricity prices. According to their data, the average cost per kWh was 19.3 cents, significantly higher than the national rate of 16.5 cents per kWh.
It's important to remember that electricity rates in PA vary widely across the state depending on different factors and cannot be assessed uniformly. These include the services of different utility providers, various geographic regions within Pennsylvania, and at different times of the year.
Fluctuations from seasonal changes significantly impact both energy demand and supply, thereby driving fluctuations in electricity rates. Notably, periods with extreme weather conditions that necessitate increased heating or cooling demands often lead to escalating rates.
It is important to note that although calculating an average rate provides a general idea, consumers in Pennsylvania may come across different expenses based on these factors.
Electricity Suppliers in Pennsylvania
Pennsylvania is a deregulated energy market, meaning residents can choose their electricity supplier. Pennsylvania's over 40 electricity suppliers offer various rates, plans, and contract lengths. It is essential to compare electricity rates and plans from different suppliers and determine what works best for your budget.
Finding The Most Affordable Electricity Provider
Conducting thorough research is crucial when searching for the most affordable electricity rates in PA. Considering factors like reputation, customer service, and available plans is crucial.
These plans may include fixed-rate options, variable-rate alternatives, or renewable energy choices. The main goal is to make an informed decision that can assist you in reducing your electricity expenses.
Fixed-rate plans provide customers with a predetermined price for electricity over a specific period. In contrast, variable-rate plans adjust their pricing according to market conditions.
Although renewable energy plans tend to be pricier, they contribute to reducing your carbon footprint. Overall, electricity rates in PA are guided by a multitude of factors.
Requirements To Setup An Account To Get Pennsylvania Electricity
When setting up electricity at home in Pennsylvania, the first step is to select your electric supplier. The state offers consumers various options to select a supplier based on price, contract terms, and customer service.
Once a supplier is chosen, contacting them is necessary to begin the service. This typically involves providing your address, desired service start date, and personal identification information. Depending on the supplier, specific documents may be required.
Conclusion: Use This Guide When Setting Up Your Electricity Services
Electricity rates in PA are regulated and determined by location, utility, and season. Residents have the freedom to choose their electricity supplier and plan.
By understanding your electricity usage and comparing prices and plans from various suppliers, you can identify the most cost-effective option for your budget. This guide offers initial guidance to navigate the intricate realm of electricity rates in Pennsylvania and reduce your monthly expenses.