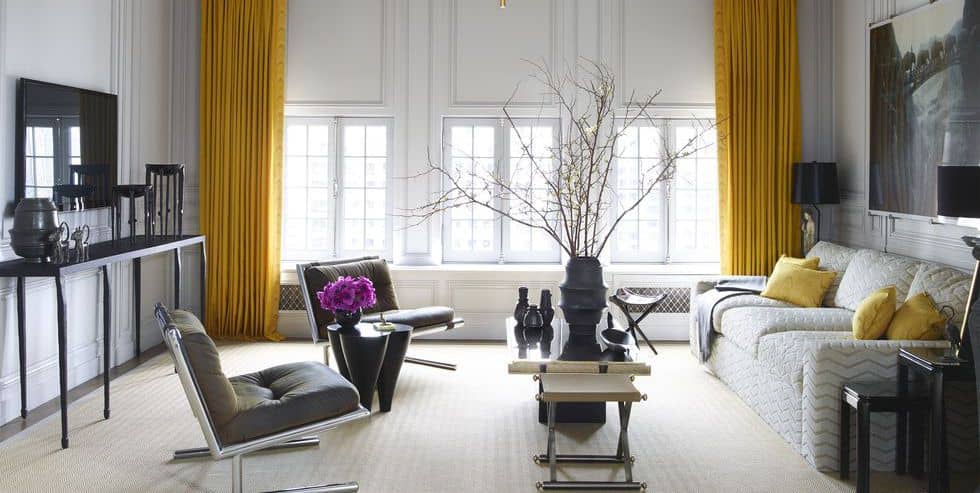 What is the first thing that comes to mind when you think about contemporary interior design?
If you thought light, airy spaces with a focus on nature and reduced clutter, you thought right. We will get into the specifics of what this means in a bit, but essentially this design style is both subtle and sophisticated.
While it may have been initially regarded with apprehension for seeming 'cold', today it certainly suits the modern palette. Additionally, it does away with wastage, which happens when you aimlessly purchase items only to throw them out later. With an increasing focus on environmental care and concern, this is only too fitting and can even be quite grounding.
Naturally, window furnishings form an integral part of the equation and must be carefully curated. Not only can they help tie the aesthetic together, they can also create a comfortable, inviting space. They can even effortlessly add that cosy, homely feel that this style needs. There are a range of options available today that will have you spoiled for choice, so get ready to explore.
What is Contemporary Interior Design?
This style is all about embracing minimalist features through design elements such as colour, the furniture and of course, window furnishings. Everything included has a purpose, so the space is created with intention. Nothing is placed for the sake of it, every aspect is carefully thought out. This is what ensures you do not accumulate 'junk', and the ethos also prevents you from bringing unnecessary items in. In the long-term, this helps you maintain simplicity without being boring.
Tips For Decorating in a Contemporary Style
The points we have covered above should help set the foundation you need. Now you can go further by fine-tuning the details. Here are some handy tips to help decorate in a contemporary style with ease:
Go for Neutral Colors: Black, white, grey, beige and brown are examples.
Use strong, visible lines: Be they vertical, horizontal, curved or diagonal, lines are a key characteristic of this style. They are typically found in both the architecture and of course interior design features.
Simple Yet Statement Furniture: Think bold colours for cushions, but no ruffles, tassels or any extra frills and fancies.
Floors are Typically Left Bare: You can create texture with carpets which can also help with warmth, but only where necessary. They can also add a pop of colour.
Artwork and Sculptures: This one might be tough, but only invest in pieces you really love. Display them prominently without overcrowding. Remember, steer clear of putting too many in a room. Open space is the theme here, so you need to achieve that balance.
Lighting: There are many beautiful lighting options available, such as track and recessed lighting. Installing controls can also help you manage the level of light in a space. You can also look at using spotlights to focus on specific artworks.
What Window Furnishings Are Perfect for Contemporary Style?
There are a variety of window furnishings you can choose from for contemporary interior designing.
Roller blinds for instance, consist of clean-cut lines that make for a neat, streamlined look. They suit the minimal aesthetic, and stand the test of time when it comes to modern design. With a range of opacities on offer from blockout to light filtering and sunscreen, you can customise DIY roller blinds too.
Double-roller blinds are just like their sibling, but with an added advantage. They can accommodate two blinds on one bracket. This means that if you want the best of both a blockout and light filtering/ sunscreen, these blinds will let you have that. The latter will help with view-through and light filtration during the day, and the former with privacy.
Venetian blinds are great if you want the benefits of blinds without the look we know them for. They consist of slats which can be individually controlled, giving you superior light and privacy control.
Additionally, you can customise the size of the slats to suit your needs, and they can be rolled up or down as well. The timber-look version also means you can use them everywhere, without the maintenance of timber.
Roman blinds are somewhat similar to roller blinds, but have an entirely different design and structure. Made up of soft fabric panels, they look beautiful both when raised and lowered.
The panels sit atop each other when rolled up, and the special stitching makes them stand-out when fully extended. You have the option of blockout or a lighter fabric, depending on your preference.
Conclusion:
Contemporary design has without a doubt taken the world by storm, and you can see why by now. Uncluttered homes also have benefits on our mental health, allowing improved clarity and focus.
It is just like when you clean your room. You feel like a weight is lifted off your shoulders, and are filled with a renewed energy. Plus with less things to throw away, you are also doing your bit for the planet.
To ensure you select the right window furnishings for your contemporary style home, get in touch with our team. We will help you narrow down your options, so you make the best possible decision.
The aim is to accentuate your home and keep it functional, without overwhelming the space. So go ahead, let us know how we can help you achieve this goal.