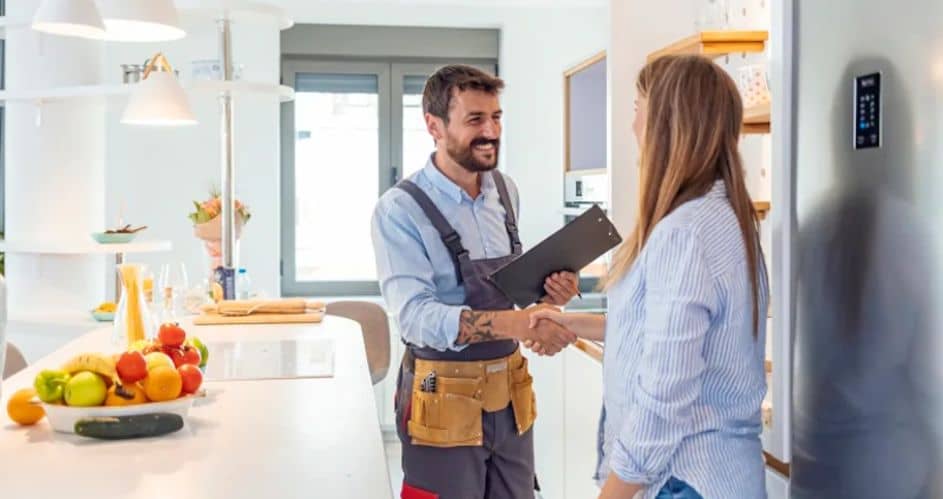 When it comes to embarking on the often arduous task of home improvement, choosing the right contractor can make or break the success of the whole project.
Going with a reputable contractor helps to ensure that your project is completed on time, within budget, and to your satisfaction. Conversely, a bad contractor can cause delays, run over budget, and provide shoddy workmanship that needs rectifying.
In the worst-case scenario, a rogue contractor can leave you with a project that needs to be completely redone or result in legal disputes that end up in court.
It makes sense to carry out some due diligence before hiring anyone to work on your property, as having to sue a contractor in small claims court is a headache best avoided.
According to the Better Business Bureau (BBB), home improvement and construction services accounted for a combined 3.8 million complaint inquiries in 2021.
In 2022, the Federal Trade Commission (FTC) reportedly received over 82,000 reports related to issues with home repair and improvement services and products.
Essential Questions To Ask Before Hiring A Contractor:
1. Are they licensed and insured?
Any contractor worth their salt should be licensed and insured. Licensing is proof that the contractor has met certain qualification standards, such as passing exams and fulfilling other educational or training requirements.
Additionally, Insurance protects both you and the contractor in case of an accident or incident resulting in damage to your property. So, ask for proof of both before hiring a contractor, and give any contractor unwilling to provide evidence a hard pass.
2. How long have they been in business?
When it comes to contracting, experience matters. A contractor who has been in business for several years is more likely to have the skills and knowledge it takes to handle your project professionally and to a high standard..
3. Can they provide references?
A reliable, experienced, quality contractor should be able to provide a collection of positive references from previous clients.
Don't hesitate to contact the references given and ask about their experience with the contractor, including aspects such as quality of work, communication, and timeliness.
4. What is their estimated timeline for the project?
Timelines are an essential tool for helping to ensure that the work is completed within a reasonable timeframe. Ask for a detailed timeline and make sure it includes realistic and reasonable start and end dates, as well as any potential for delays.
5. What is their estimated project budget?
Contractors should be able to provide you with a detailed estimate that clearly breaks down all costs associated with the project. Make sure the estimate includes materials, labor, and any other expenses, as well as some contingency funds for any hurdles that may crop up.
A trustworthy contractor will be willingly transparent about pricing and should not surprise you with unexpected costs down the track.
6. Will you provide a written contract?
It's crucial that both you and the contractor are on the same page regarding all aspects of the project, and that's why it's essential to get a comprehensive contract in place.
The contract should include details about the project, including the scope of work, timeline, and budget. Be sure to read the contract carefully before signing.
If a contractor is hesitant to provide a written contract, consider it a major red flag. Verbal agreements can't be fully trusted as they're hard to enforce in court.
Having everything in writing ensures that if something goes wrong, you have a clear record of the agreed-upon terms.
7. Who will be working on the project?
Contractors often work with subcontractors or other employees to complete projects, and you have a right to know who will be working on and in your property. Ask for proof of any subsequent worker's license and insurance documents.
8. What is their process for handling changes or unexpected issues?
Unexpected issues can (and often do) rear their ugly heads during the course of a home improvement project.
A good contractor should have a process in place for handling changes or unexpected issues, including how they will communicate with you and how any additional costs will be managed.
9. Ask about the payment schedule
A Payment Schedule is another important aspect to discuss with a contractor before deciding whether to hire them.
Most contractors require an upfront payment before starting a project, which is generally around 10-15% of the total cost; ultimately you need to check that the payment schedule is fair and reasonable – some contractors ask for far too much upfront, which can also be a red flag.
Additionally, it's important to establish a payment schedule that aligns logically with the work being done.
For example, if a contractor is building a deck, it makes sense to pay for the work in stages, such as after the deck's foundation has been built and then again after the structure is completed.
Breaking the payments down into progress-related steps helps to ensure the contractor stays on track and completes the work to your satisfaction.
10. What warranties or guarantees do they offer?
A warranty or guarantee can provide some added peace of mind that you have some protection in place in case of defects or other issues.
Ask prospective contractors about the warranties or guarantees they offer, and make sure they are included in the written contract.
Final thoughts
Choosing the right contractor can make all the difference to the success of your home improvement project, and how smoothly it runs.
By asking these essential questions and doing your due diligence, you can ensure that your project is completed to your satisfaction and avoid legal disputes.